How to market your local wedding venue
The biggest planning decision a bride and groom can make for their wedding day is where they're getting married — and there are plenty of venue styles to choose from. Whether it's vintage, classic, rustic or timeless elegance, the venue helps sets the tone for the occasion. And if you're operating a local wedding venue, there's a good chance you'll be the perfect location for the happy couple.
For most brides, their first impression of a wedding venue will come from images they've seen online, in magazines or via social media.
Brides might also learn about a venue through videos, referrals, or storefronts on wedding websites. Because a picture really is worth a thousand words, you need amazing photos of your local wedding venue (and an understanding of where and how to use them).
8 ways to market your local wedding venue
Here are just a few ways to market your local wedding venue and help your location stay booked.
Start with a website.

Post to Instagram.

Use hashtags.

Create video footage.

Use wedding websites.

Provide tours.

Local bridal expos.

Offer discounts.
Want to hear wedding bells every weekend of the year? Then keep reading to see how you can keep your venue filled.
1. Start with a website
When we think about the images of your venue, what feelings and emotions do you want to portray? The first place to convey that feeling to your ideal bride is your website.
The key is to showcase images that evoke emotions and draw people in, allowing brides to envision their wedding day at your venue.
The images should capture the space empty and set for a wedding, from various angles, while showcasing each part of the venue that couples would be using. Once you have the perfect photos and know the emotions you'd like them to convey, you can also use these images in magazine ads, social media advertisements, and to display at wedding showcases.
Editor's note: Need a website that's as beautiful as your local wedding venue? We've got you covered. Check out GoDaddy's GoCentral Website Builder. You can add stunning images and rich content that will make brides-to-be swoon.
2. Post to Instagram
Instagram is one of the biggest social media platforms for wedding industry professionals, and you can create sponsored posts to reach a wider audience and drive traffic to your website for brides to schedule an appointment to see your venue.
Nowadays, everyone wants to have everything at their fingertips, and most brides will often search Instagram for images or visit your Instagram profile before visiting your website.
By posting images on Instagram, you're able to show wedding photos in real time and won't be constricted by space or storage limits that most websites might hold you to. You're also able to communicate with brides in real time, answering their questions right away.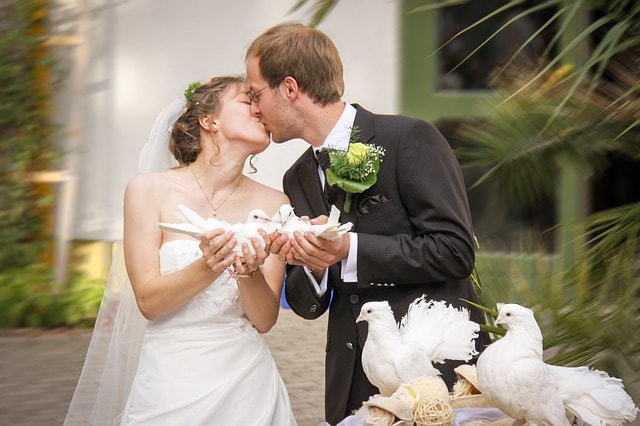 3. Use hashtags
Using Instagram, you can also incorporate hashtags into your posts.
Hashtags are an excellent way to market your local wedding venue and have become a new method of searching for brides-to-be.
You can use up to 30 hashtags in your posts, and your hashtags can be anything you can think of that will help your local wedding venue stand out, but should pertain to your city, region and style so that your wedding venue can be easily found in the searches.
4. Create video footage
Just like photos, videos are also an amazing way to market your venue. They show off the nuances of each part of your space and allow viewers to visualize themselves at your venue.
You can incorporate videos into your website, storefront, and of course
Instagram
 and other social media platforms.
Your videos should consist of wedding day setups and behind-the-scenes footage, which has become increasingly popular. These videos give the client an opportunity to see the people they'll likely be working with and how your crew works to set up for a wedding.
5. Use wedding websites
Another place where you can market your local wedding venue is a storefront on a wedding site, such as The Knot or Wedding Wire. Many brides don't know where to turn and often start with one of these platforms. This avenue increases your SEO and also allows for a bride to see reviews from past couples on their experience with your venue, and gain necessary insight that will help them select your venue for their wedding day as well.
6. Provide tours
Venue tours are also among the ways that you can market your location. To be able to truly visualize her wedding day, every bride should see the venue in-person ahead of time. You can host private venue tours based on appointments or have open houses several days out of the year where you're showcasing your venue to a group of brides and grooms. You can inform brides of your open house dates by posting information on social media or through email campaigns.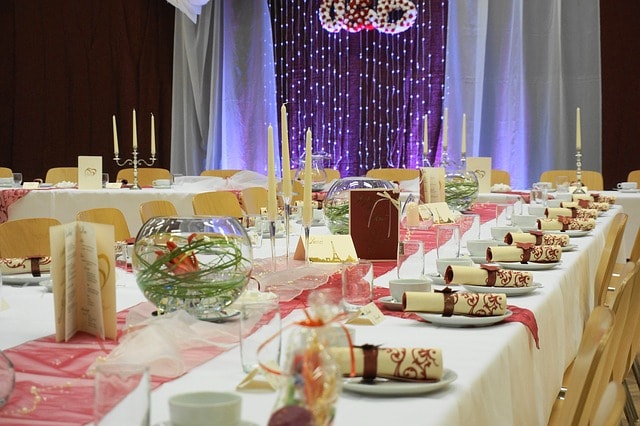 7. Local bridal expos
During engagement season, you'll want to participate in local bridal expos that bring together hundreds of brides and other wedding professionals in the same place at the same time. Brides are often excited to attend and very eager to solidify many of their wedding day vendors, while other wedding professionals are looking to make connections and have vendors to refer their brides to.
Making connections with other wedding professionals is just as important as connecting with brides.
Because the wedding date isn't truly set until the venue is booked, bridal expos are a prime opportunity for you to lock in the wedding dates of many brides.
8. Offer discounts
Wedding season runs from March through October, and most brides book their preferred venues quickly to ensure their date is confirmed. To keep your local wedding venue booked all year long, consider offering discounted pricing on Fridays, Sundays and during off-peak months.
In conclusion
There are many avenues for marketing your local wedding venue, from photos and videos to in-person meetings. But the real key is to make a connection with potential brides and other local vendors. Because planning a wedding is such an emotional experience for a bride, once she is able to imagine her wedding at your local wedding venue, you've won half the battle.