How to start an online boutique with a Facebook business account
Is it time to start an online boutique? Imagine if pajamas worked as business casual. Imagine replacing conference rooms with your couch. There are myriad ways to set up an eCommerce operation and become your own boss, but with that endeavor comes just as many questions.
Maybe you're trying to start an online boutique on Facebook. Considering the staggering first-quarter statistic of 1.65 billion active, monthly Facebook users, you're making a smart move. If your brand doesn't have a Facebook page already, you should definitely create one now.
There are two ways to sell your products on Facebook: setting up a Shop Section on your brand page or connecting a third-party eCommerce service to Facebook.
This post will cover both approaches, but it's important to note that Facebook's Shop Section is a new feature that's still being tested — it might not be available to everyone.
Start an online boutique with Facebook's shop section
Once you have a business page, you can set up a Facebook Store by adding a Shop Section to your page. This feature will allow you to sell products to your customers directly from your page, and it will appear next to the other sections on your page, such as Timeline or About.
How to add a Shop Section

Creating a Shop Section is easy, and you can accomplish it with three simple steps:
Go to the far right of your current Facebook page sections, click +Add a Section, and then click Add Shop Section. You must agree to Facebook's Merchant Terms & Policies to continue.
Enter your business's email address and physical address.
Stripe is the service Facebook will use to process payments on your shop. If you already have a Stripe account, click Connect to an Existing Stripe Account. If you don't, click Submit. You will receive an email from Stripe — follow the instructions to create an account.
It's free to set up a Shop Section on your Facebook Page, and Facebook won't take any portion of the money you make. However, Stripe takes a small percentage of each item's final sale price and an additional fee for each successful charge.
It's always important to factor in potential charge fees from your merchant service.
Now that you've got your shop up and running, it's time to add some products.
How to add products
Start your online boutique by adding some products. Note that you can only sell physical products in your Shop Section at this time. Click into the new Shop Section on your Facebook page and follow the steps below:
Click Add Product, and then click + to upload product photos. After you have finished, click Use Photos.
Enter all your product details. If your product comes in various sizes, types, etc., click Edit Variants to enter available options. You can add a custom tax rate for any product, if necessary, by clicking Advanced Options.
Click Save when you're done. Repeat this process for each product you want to add to your shop.
If you have extensive product offerings, it might be beneficial to organize your products into categorized collections so your customers can easily find what they're looking for.
Note: Any collections you create will only display in your shop once they contain products.
How to manage orders
Once you have all of your collections and products set up (you can always add more), you'll want to know how to manage your orders so you can get paid. Facebook has made it easy to access them in your page's Shop Section:
Click the settings drop-down menu, and then click Manage Shop.
The following options display:

Products
Collections
Pending Orders
Past Orders
Merchant Settings
View Shop

To manage your orders, click Pending Orders or Past Orders, depending on which you'd like to view.
Pending Orders. You will see a list of your pending orders. Select the order you want to manage by clicking the checkbox to its left (you can only manage one product at a time). Click the Actions drop-down, and then select an action. You'll be paid when you mark an order as shipped and enter carrier and tracking numbers. You can also print a packing slip, cancel the order, or contact the customer.
Past Orders. A list of your past orders displays. Select an order by clicking the checkbox to its left (you can only manage one product at a time). You can choose to print a packing slip, refund the order, or contact the customer.
Get an advantage after you start an online boutique
Assuming you activated your Facebook Ad Account, you can pay to boost a product listed on your Shop Section to increase its visibility among visitors. Additionally, you can share a product on any page you manage to display it on the Timeline.
Your Facebook Business Account gives you high-level insights into your Shop Section, including views, clicks, purchases and the total sales of your products.
Adjusting these numbers can result in more revenue once you're up and running.
To access these metrics, go to the top of your Page, click Insights, and then drill down to the Shop category.
Connect a third-party eCommerce site to Facebook
You will also need a Facebook Business Account if you wish to sell on Facebook through a third-party eCommerce site.
Not every third-party eCommerce site will allow you integrate with, or sell, on Facebook. If you do not already have an eCommerce site, make sure you select which will let you sell on Facebook with ease, such as GoDaddy's Online Store.
With this particularly robust online-selling tool, it only takes six clicks to set up your Facebook Store:
In the uppermost menu in your Online Store, go to the Promote tab, and then click Promote.
Go to the Sell on Facebook Section, and then click Turn On. A window displays.
Click Create Facebook Store, and then log into Facebook if you are not already signed in.
Click Choose Facebook Pages.
Select the page where you want to add your store.
Click Add Page Tab.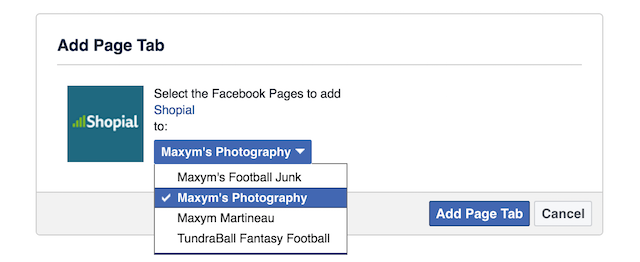 That's it! Your Online Store is now connected to the Facebook page you selected.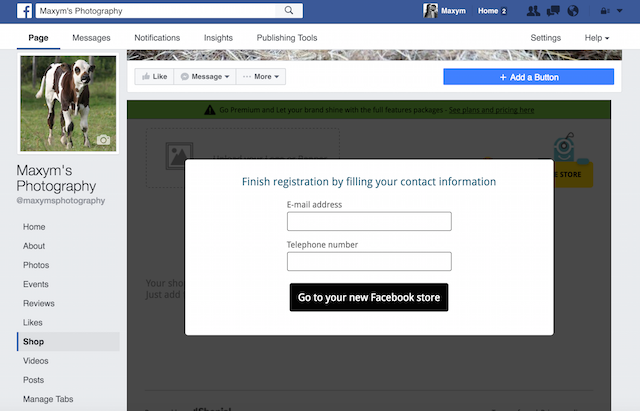 All the products from your Online Store will now display on that page. You can view your Facebook Store by going to your Facebook Business Account. Visitors to your page will see your products. When your customers click on a product on your Facebook store, they will go to your Online Store's product page where they will complete their purchases.
So now you know how to start an online boutique. But what avenue is the best fit for you and your business?
Which approach should I choose?
There isn't a one-size-fits-all approach to selling products on Facebook. However, depending on your business's size and maturity, there is certainly a best-fit solution for you.
Choose Facebook's Shop Section if:
You want to experiment with this feature, and it is available in your account.
Your business is small and does not experience rapid inventory turnover.
The items you want to sell are physical goods.
You want your customers to be able to purchase your products without leaving Facebook.
You are seeking a simple way to sell your products on Facebook for free (granted you don't promote them).
You currently don't have a dedicated website or eCommerce site to sell your products on.
If Facebook's new Shop Section feature is available on your account, it's certainly an a tool with a lot of potential. Why not give it a try?
Keep in mind that the products you list in your Shop Section live solely on Facebook.
There is currently no way to synchronize your inventory or product listings with another eCommerce system.
Many Facebook users are not yet familiar with, or aware of, this offering and might not know to look for the Shop Section on a Facebook Business Account Page. Promoting your products on Facebook and promoting your Facebook's Shop Section externally is highly recommended.
Choose a third-party eCommerce site with Facebook integration if:
You want a professional web presence with on-brand aesthetics.
You run a more mature business that would benefit from automated product updates within your Facebook store.
You want a dedicated website, hosting and shopping cart for your storefront.
You want to offer deals on your products, such as coupon codes.
You need or want access to a support team 24/7.
You want to offer your customers the ability to rate or review your products.
You want to promote your products beyond Facebook.
You are seeking analytics that are more advanced than Facebook's current offering, such as the ability to integrate your eCommerce site with Google Analytics.
You want to offer customers customized products, such as engraving, etc.
You want built-in SEO functionality to boost your store's visibility in search.
If you want more options and control over your online storefront, a third-party eCommerce site is the way to go. You'll find all of the features listed above, and more, with GoDaddy's Online Store. Set up is easy for online novices, yet if you're a website pro, you can add your own customized code.
Setting up a dedicated eCommerce site is a good idea if you're aiming for real business growth (and who isn't!?) at a very affordable cost. After that, setting up a Facebook store takes just a minute — literally.
Let's hear your questions and stories
If anyone out there is already running their own online boutique, we'd love to hear your story. What eCommerce application are you using? Are there any pitfalls you'd let us know about? And if you're just gearing up to start an online boutique, here's your chance to get those questions answered. Please share in the comments.
Image by: Studio Amore via Visualhunt.com / CC BY-ND