Intuitive artist uses YouTube marketing to share her gift
If you have any doubts about the potential of YouTube marketing to grow your small business, let me introduce you to Rachel Archelaus.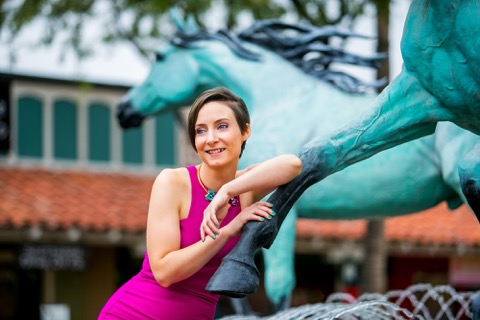 Rachel founded Phoenix-based Intuitive Art Academy in Phoenix in 2012 because she wanted to share her gift for getting in touch with a higher power through artwork. "My philosophy is to always be authentic and do what feels right," she says. "I teach people how to connect with themselves and get clarity and wisdom, so if I'm not doing that first, I'd be leading by the wrong example."
Embracing YouTube marketing to forge personal connections
She's reached customers around the globe via her YouTube marketing and other creative content marketing efforts. Her YouTube channel now features more than 400 videos that tell her unique story. As Rachel explains:
"My YouTube channel connects me with like-minded people all over the world. I love sharing helpful tips with people, and video seemed like a natural way to do that. I've been approached many times in person and very often through email from people who have resonated with my message or who have re-sparked their creativity because of finding Intuitive Art. They see my videos and feel a personal connection to me. I'm also told that people can feel my joy and authenticity through their screen. Expressing emotion can be harder to do through writing alone. It's amazing how much comes across through video. That feeling of personal connection creates trust, something that is crucial to a successful business."
Rachel also recognizes YouTube's power as a search engine, so she experiments with different class titles to attract new students. "The first class I put on YouTube in 2012 has almost 4,000 views and others have less than 100," she says. "They all help to build my email list and find students for my paid courses."
Entrepreneur from the start
"I knew as a teenager that I wanted to be my own boss," says Rachel. Growing up in the Internet Age just made the transition into entrepreneurship easier.
Rachel started selling artsy handmade stuff online as soon as she discovered Yahoo's plug-and-play e-commerce option at age 17. "It was so much fun to make things and put them up for sale," she says. "Over the years my offering has changed dramatically, but that is where it all started."
Then, sometimes, life interrupts.
Rachel says she was at a low point in her early 20's, her self-esteem bottomed out in an unhappy marriage, when she realized she needed to "grab onto something that I knew could help me figure myself out." She shot an email to a local healing center to see if they would consider adding her Intuitive Art service to their menu. That email changed her life.
"Me stepping out and offering my modality to others was a huge turning point. I was terrified of emailing [a local healing center] and it took everything I had to follow up after they emailed me back. I knew, though, that if I didn't develop myself I would end up living with my father forever and in a marriage that was very unhealthy."
Rachel parlayed her intuitive skills into part-time work as a psychic — and learned that many of her clients shared both her holistic outlook and entrepreneurial spirit. "I noticed that everyone who came to me for coaching and intuitive guidance was creative and also wanted to start their own business," Rachel says. " My niche picked me!" She saw an opportunity to make a full-time living training other "Lightworkers" and educating the public about the power of intuitive art.
"That decision was pivotal," Rachel says. "When I wanted to see if I could make a living using my gifts, I realized that there was a lot I didn't know. I had to learn about business. That set me on the course to really creating something."
Becoming a business owner
"There is no straight path to success. It takes constant attention and occasionally correcting your course. And feedback is everything." ~ Rachel Archelaus, Intuitive Art Academy
Like many creative entrepreneurs, Rachel brimmed with talent and passion but lacked experience marketing and selling her services. She wasn't sure how to create recurring revenue or use content marketing. "I had to become a business person," says Rachel, who found mentors, took online courses, and, of course, relied on her intuitive powers to "help me know which steps to take and which advice to listen to."
Rachel does most of her business online, creating and sharing free content — including Intuitive Art classes and videos — for customers worldwide. She uses email and YouTube marketing to both educate her subscribers and promote her artistic services. Rachel sells certification courses for her Intuitive Art method, in addition to offering local classes with a simultaneous webcast.
"I'm intuitive with my clients and know what they need next," Rachel says. "I love marketing and making each piece of content feel like a personal message. I also love the behind-the-scenes work of creating programs, bringing together the tech, and automating my systems."
Check out our free step-by-step guide to selling your art online.
With a little help from technology
Rachel relies on a few key tech tools to run her business. She uses Optimize Press for her marketing pages, and Simplero for contact management and hosting membership site. She turned to GoDaddy to register domains including Intuitiveart.com and rachelarchelaus.com, and to host her websites.
A WordPress fan, Rachel built the Intuitive Art Academy website using the Genesis Framework theme. And she keeps her emails to customers professional with a business-class email address via Office 365 from GoDaddy.
"Having these tools to rely on makes my job easier," she says. "I can automate things like emails, blog post publishing, and sales funnels so I can spend more time creating new content."
She shares that content on her YouTube channel and Instagram, Facebook and Twitter accounts.
Growing plans
Rachel's goal is to continue growing her Certified Intuitive Artist program each year. "My vision is to have thousands of people teaching Intuitive Art in all types of settings and with all types of people," she says.
"In five years I'd love to see the Archelaus Method of Intuitive Art represented in more mainstream healing outlets," Rachel adds. "My aim is to have this modality be as common as reiki and yoga."
More than a decade and 400 YouTube videos since she trusted her gut and started her business, Rachel is sketching, teaching, and filming her way to that goal. It's a journey she encourages other creative dreamers to share.
"There is no failure in business, just valuable information to use when making future decisions," Rachel says. "As long as you have a drive to continue and don't give up, you'll find your success."