Is your business ready for a multilingual social network? Be prepared with these 3 tips.
If your social media outreach is only in English, you might be missing out on engaging with a larger audience. After all, 42 percent of Facebook users worldwide didn't select English in their language settings. As for Twitter, among the users that selected a language preference, 49 percent selected a preferred language that wasn't English. In fact, one study showed that only half of Tweets are written in English. Needless to say, it might be time to establish a multilingual social network for your business.
Non-English speakers make up a large market demographic.
This is especially true if you ship products worldwide or serve areas that are linguistically diverse. Your business could be leaving money on the table by focusing only on English content for social media.
If you're looking to post in other languages, you'll want to be prepped. Here's what you need to do ahead of time:
3 things to do before you establish a multilingual social network
Research your following and do your homework.

Decide if you want separate language profiles or one account.

Create multilingual content.
1. Research your following and do your homework.
Start by putting some legwork into pre-launch research. You're going to want to figure out a few key facts, including:
Who follows you on social media?
First, figure out the type of people who follow and engage with you on social media. This is the simplest indicator that it's time to go bilingual or multilingual.
Check your social media metrics to see your followers' locations and languages.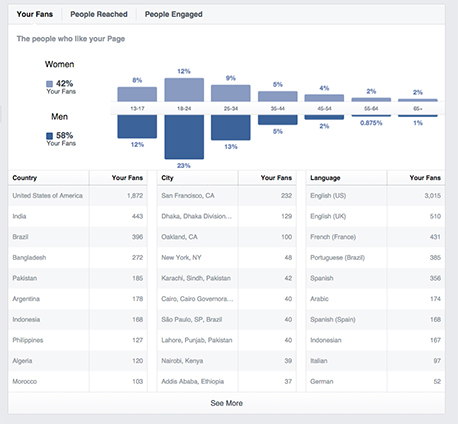 For example, if you use Facebook Pages, view the "People" tab on your Page Insights. You'll see the top languages used by your followers, users you've reached and the users who have interacted with your posts. Twitter and Pinterest analytics also display the languages used by your audience.
Alternatively, you can look at cities or countries where your audience comes from. This will give you an idea about the languages they speak.
What new markets do you want to reach?
Apart from studying existing customers and followers, define new target markets you want to expand your business to. Research these new markets with languages in mind. For example, refer to statistics from the U.S. Census Bureau, Statistics Canada or the UK's Office for National Statistics, depending on the location of your target customers.
If you promote your business on Facebook, the Audience Insights tool can help. While Audience Insights is mainly used to create ads, it can also estimate the size and demographics of different audience groups.
Let's say you decide to sell more products to Baby Boomers in Los Angeles. Using Audience Insights, you'll find that roughly 900,000 Facebook users fit under that category, and that 12 percent speak Spanish. If reaching that 12 percent provides a good opportunity for your business, go ahead and plan for it.
How much can you invest in putting out social media content?
Your ability to provide multilingual content depends on your resources. Determine how much time, money, and people you need for each language. You can then estimate the types of posts and the posting frequency you can afford.
2. Decide if you want separate language profiles or one account.
There are two approaches to creating multilingual campaigns: keep them in a single profile, or separate profiles per language. There are distinct benefits and challenges to either approach.
Single profile
You can have all your posts in a single profile, regardless of the language. Because this requires only one company profile per platform, this is a common approach among brands that don't have a large following.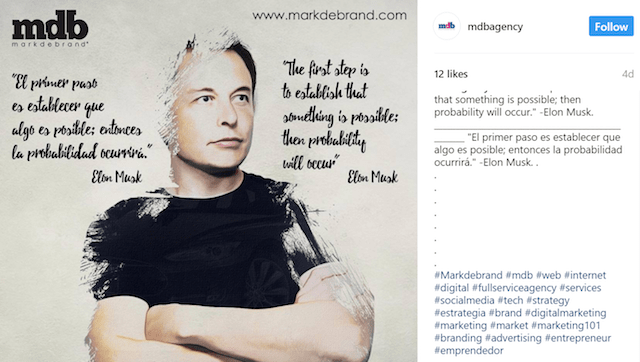 One downside is that it's possible customers might be confused when they see many posts they don't understand. You can work around this limitation by adding translations when possible or by prioritizing more visual content rather than text.
For example, Halen Môn, a sea salt producer, has a Twitter account that's primarily in English, but occasionally posts in Welsh. Sometimes, these are accompanied by English translations.
Separate profiles
You can also keep your social media updates in separate profiles, per language. Followers will be able to understand every update you post, and each profile can have its own editorial calendar.
Managing each profile includes not only posting, but also responding to comments and increasing your followers.
Because of this, separate profiles are commonly used by large brands that can afford dedicated staff for each language. A good example is the NBA's separate English and Spanish profiles.
Just because you aren't a big brand doesn't mean this approach isn't right for you. You can use separate profiles if the audience you want to reach has a high percentage of people speaking another language or if you're targeting a specific language group. You'll just need to plan for how much of your resources go into each profile.
Pro tip: You don't need to make a unilateral decision for all the social networks you're using. Choose the most suitable approach for each social network.
3. Create multilingual content.
Creating multilingual or bilingual posts requires more than using Google Translate on your existing content. Here are some other things to keep in mind:
Maximize multimedia
You have many opportunities to use different languages in a single post. Use images, captions, emojis, comments and hashtags. If you use video, provide subtitles in other languages. This wealth of options is why some businesses are successful with the single profile approach.
In one example, Halen Môn posted a seascape superimposed with Welsh words. The translation is in the captions, but non-Welsh speakers who don't immediately see the caption can still admire the photography.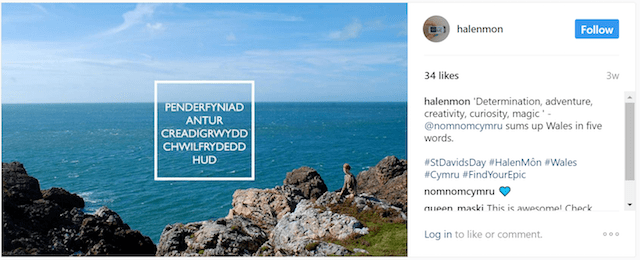 And Halen Môn isn't the only one capitalizing on this tactic. Memrise, a memorization app, is popular with language learners. Their Facebook page connects with users by sharing language-related memes that aren't targeted only to English speakers.
Cultural specificity
More than just translating posts, your content needs to have cultural specificity. This means recognizing the experiences and events relevant to different groups.
In the example above, DHL greets Hindu customers with a message celebrating the festival of Holi. While the post is in English, it still gives a nod to DHL's Hindi audience. This approach is a good alternative if you want to reach out to your diverse audience, but don't yet have the resources to create content in the different languages they speak.
Don't neglect other areas
Take note that your strategy should include more than posts. Don't forget the following areas:
Your profile. Make sure your profile's "About" section contains translations in the other main languages you're using. Take a cue from Liberte Canada's Facebook page, which includes both English and French version of their company description.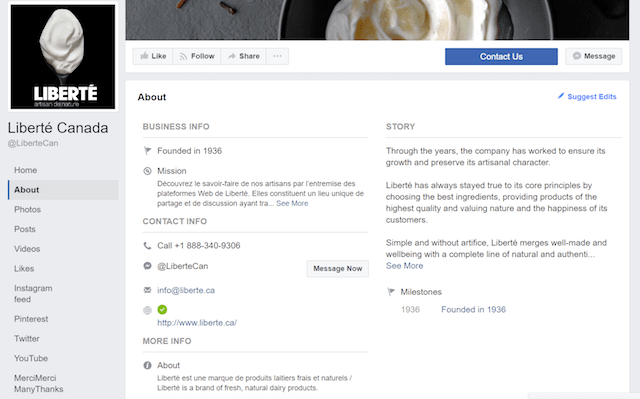 Ads. With detailed targeting available in most platforms, you can now create distinct ads for each language group you want to reach.
Support. Because you have bilingual or multilingual posts, your audience might start expecting support in other languages. Have a plan for keeping your customer service standards in these situations.
Going multilingual on social media
Publishing bilingual or multilingual content on social media isn't for everybody. But if you find that the markets you want to reach have other preferred languages, it makes sense to try. As long as you're posting interesting visuals and are culturally sensitive, you can win over an audience in another language.
Image by: Helder da Rocha via Visualhunt / CC BY-SA