Is your office ready for Global Employee Health and Fitness Month?
Creating a healthy workplace not only benefits employees — it can also help the bottomline by increasing productivity. In fact, the CDC found that companies with outstanding safety, health and environmental initiatives performed better than the S&P 500 by three to five percent. And what better time to focus on your organization's health and fitness programs than May: Global Employee Health and Fitness Month (GEHFM).
GEHFM strives to raise awareness of the issues surrounding unhealthy work environments, while promoting wellness programs, activities and initiatives to improve workers' mental and physical well-being.
Celebrate Global Employee Health and Fitness Month with these employee wellness tips.
Encourage small changes to sedentary routines
It's estimated that the average person sits for 12 hours every day. Leading such a sedentary lifestyle can contribute to diabetes, high blood pressure, heart disease and mental fatigue, but a little movement can go a long way.
Promote wellness in the workplace by challenging employees to make small changes to their daily routines to combat the sedentary nature of office life.
You can help workers bust out of their sedentary rut by encouraging:
Standing instead of sitting
A study of 8,000 adults published in the Annals of Internal Medicine found that the risk of an early death coincides with how long a person sits. The research concluded that people who sat for less than 30 minutes at a time were at the lowest risk of early death.
Encourage your employees to break up long stretches of sitting by standing and stretching. Invest in a few standing desks to make it more convenient.
Talking instead of emailing
Emails and messaging apps like Slack make communication easy, but they also encourage unhealthy behavior. Urge employees to physically walk to another employee's desk to discuss projects. Not only will this promote physical activity, but it can also help build stronger working relationships and reduce miscommunication.
Taking the stairs instead of the elevator
Do your employees know they can burn more than 100 calories by walking up and down the stairs for 10 minutes? Spread the word!
Create a nutritious environment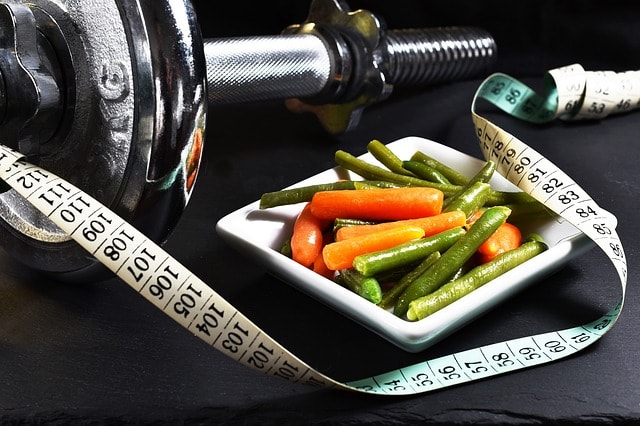 Studies have shown that poor nutrition and eating habits are directly linked to depression, stress, mental and physical fatigue, and decreased productivity. If you want to help your employees improve their alertness and problem-solving skills while also decreasing their risk of chronic diseases and obesity, then make a concerted effort to create a nutritious environment.
Promote good nutrition in your office by:
Buying reusable water bottles
Drinking water is one of the easiest ways to improve nutrition. Even mild dehydration can decrease brain performance, memory and energy levels. Promote more water consumption by buying employees reusable water bottles, which will encourage them to drink more water and reduce their plastic water bottle waste.
Stocking the office with healthy snacks
People often struggle to maintain healthy eating habits because it can be expensive and difficult to prepare nutritious meals for the workday. So why not provide healthy snacks to your employees? Blueberries, for instance, are loaded with antioxidants that can reduce stress. If your office building has vending machines loaded with unhealthy snacks, work with the landlord to replace those temptations.
Bringing in a nutritionist
With so many fads diets out there, it can be difficult to know what's healthy and what's not. Celebrate Global Employee Health and Fitness Month by bringing in a nutritionist or dietitian to meet with employees individually or in a workshop setting. An expert can answer questions, provide easy recipes and even create individual meal plans.
Think outside the box for Global Employee Health and Fitness Month
Challenging employees to move more or eat healthier snacks is great, but if you really want to do something creative to promote Global Employee Health and Fitness Month, then consider:
Hosting an event
Encourage employee health, support a meaningful cause, and promote corporate activism by hosting an event like a kickball or softball tournament. Many organizations host 5Ks or walkathons to raise money for charities. Focusing on a specific event can help motivate your employees, while improving your brand equity in the community.
Holding an office-wide fitness challenge
There's a reason fitness challenges are so popular — they get the competitive juices flowing. Incentivize employees to be more active by creating an office-wide fitness challenge with prizes.
There are several ways you can structure your fitness challenge. It can be an individual competition or a team challenge, and you can also base it on different metrics like total weight lost, fat percentage lost or participation levels.
Regardless of the format, you'll need to reward the winners with prizes that employees actually want. Whether it's monetary prizes, extra vacation days or an all-expenses-paid activity, your rewards should entice people to participate.
Promote your initiatives
No matter how many resources you throw into corporate wellness initiatives, the ultimate choice comes down to the employee.
To really change your employees' health and nutrition habits, you have to change their mindset.
That starts with promoting your programs and their importance to your employees through a carefully developed internal communications plan. Outline your reasons for asking employees to take the stairs instead of the elevator. Ask them which healthy snack they prefer before you stock the fridge with perishables.
It's important to get buy-in from your employees first.
You can also use your health and wellness initiatives to highlight your brand identity. By sharing these programs on social media or through blog posts, you can showcase your company's values to both internal and external audiences. Plus, corporate wellness programs can be a valuable differentiator during the hiring process and help you recruit more health-conscious employees.
Improved employee health and fitness is a marathon, not a sprint
While Global Employee Health and Fitness Month is a great time to start the conversation about improving wellness programs in the workplace, it's important to realize that these changes can't happen overnight. As we all know, habits are hard to break.
As an employer, it's important that you recognize the role you play in your employees' well-being inside and outside of the office. Do your part to improve the health and wellness of your employees and strive to create a nutritious and healthy environment. Always remember: The road to a healthier life takes one step at a time.