November 2018: What's new in GoCentral
It's a busy time of year, and if you have a business or a side hustle, that may be especially true. If you haven't already done so, sketch out a year-end plan for your website. GoCentral makes it easy to run holiday specials, share seasonal greetings and score a few more sales or bookings. Read on for the latest new features to help you meet your goals.
Website Builder
New theme: "Spaces"
Your GoCentral theme creates the look and feel of your site. Once you choose a theme, you can make it your own with colors, fonts, images and content. Now introducing our newest theme — Spaces: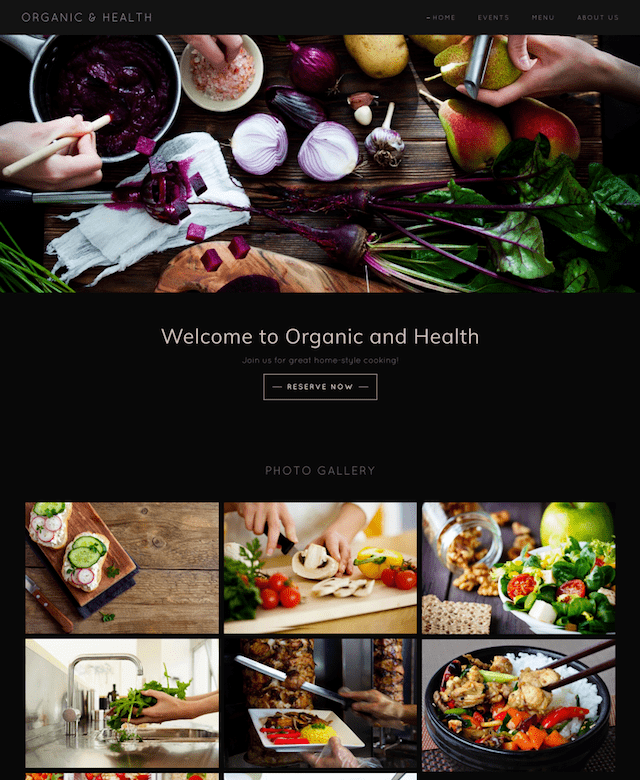 To try the Spaces theme, go to your GoCentral Editor and look for Theme in the menu:
Blog social sharing
After you create a new blog post, be sure to promote it to your social network. GoCentral makes it easy to share your latest content on Facebook and Twitter. After you've published your new post, you'll see the Share and Tweet buttons: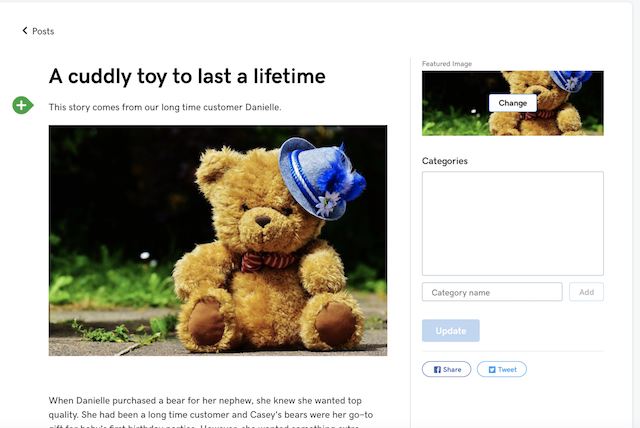 If you haven't previously connected to a Facebook Page, you'll be prompted to do so: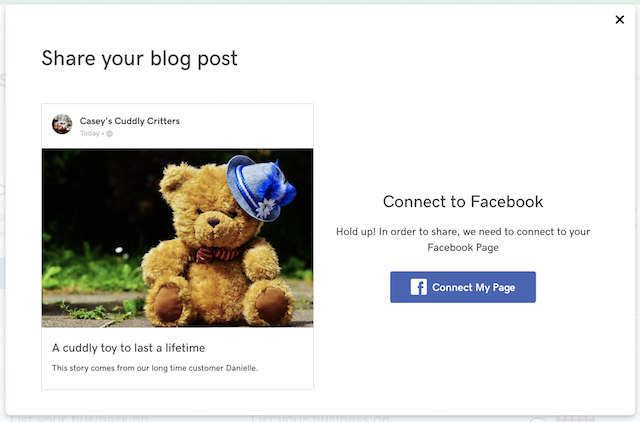 Your published post will look something like this: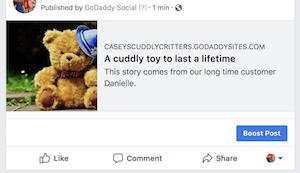 If you want your readers to be able to share your posts with their network, that's also a snap.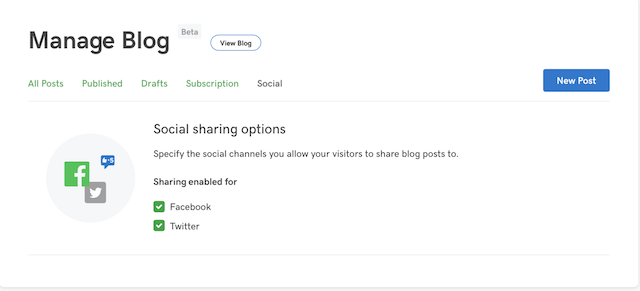 Here's how:
From your GoCentral Editor, navigate to My Blog and click Open.
Click Social.
Select the social share buttons you would like included on your posts.
Here's how your posts will look with this functionality: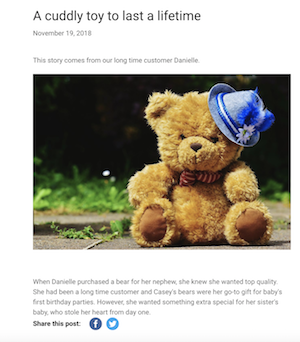 If you haven't started a blog on your GoCentral website, read this short Help article to learn how.
Google My Business improvements
Complete Google My Business (GMB) listings get five times more views than incomplete listings. GoCentral has made it even easier to complete your listing. Now you can upload photos from your GoCentral Image Library right to your GMB listing.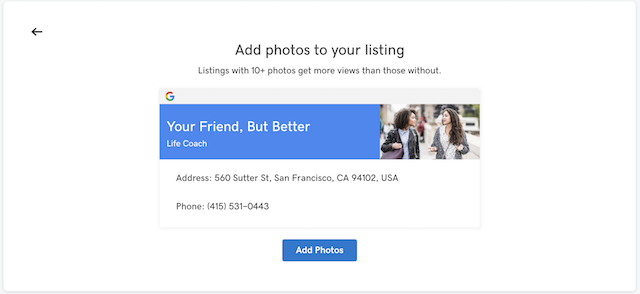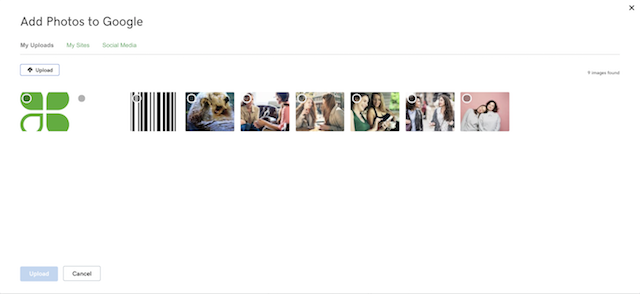 If your listing lacks a business description, GoCentral will prompt you to add that important "about us" content: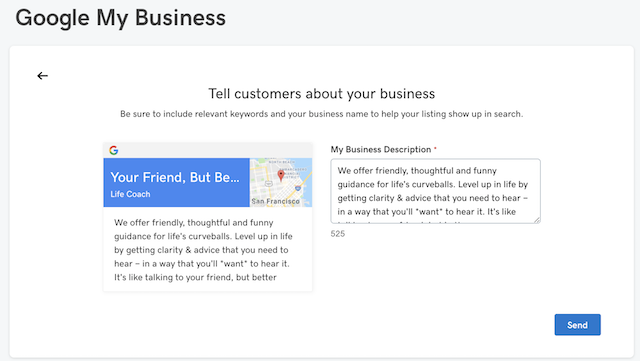 GoCentral Online Store merchants whose stores are connected to Google My Business can also post featured products to their GMB listing. Select a product from your Featured Products to create a post that includes an image of the product, an "Order Online" button and a link to your product page.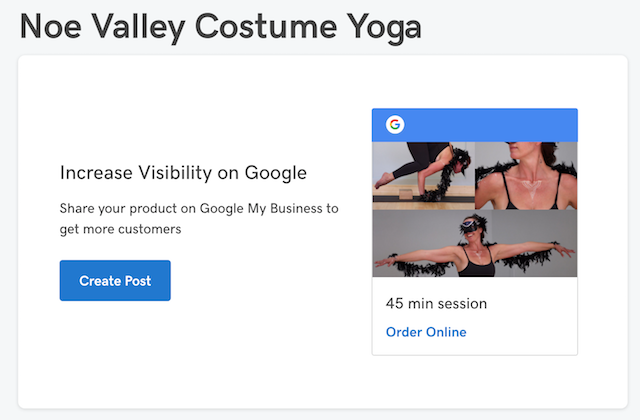 The GoCentral Google My Business listing feature is included in Business Plus and Online Store plans. To get started or manage your GMB listing, go to your GoCentral Dashboard and navigate to Marketing > Social & Listings > Google My Business.
Promotional banner updates
Decorate your website for the holidays! Seasonal decorations are now available for website promotional banners. For instance, you can include snowflakes to create a winter-themed banner. You can also add a link to your promotional banner to send your visitors to a specific page or section of a page when they click.

Here's how to add or update your promo banner:
From your GoCentral Editor, select Pages > Home > Header.
Click Promotional Banner.
Toggle Show promotion on.
Customize your message.
If you want your promo banner to be clickable, toggle Add Link on and choose your destination.
If you want a Seasonal Decoration on your banner, select one from the drop-down menu.
Finish your edits and Re-publish your website.
Facebook Pixel ID
If you're advertising on Facebook, it's now possible to add a Facebook Pixel ID to track conversion events on your GoCentral website.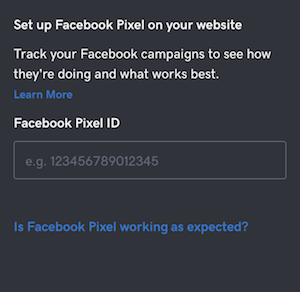 Here's how:
From your GoCentral Editor, choose Site Settings.
Select Facebook Pixel Code.
Paste your code in the field labeled Facebook Pixel ID. (If you need more information. Check out this Facebook help article.)
Re-publish your website.
People of GoCentral: Meet Bill
A ton of smart people are hard at work to make GoCentral better than ever. Meet Bill, a senior manager of software development on the GoCentral team.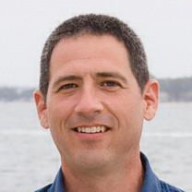 Here are a few fun facts about Bill:
Is particularly great at: Listening, being pragmatic and getting stuff done.
Hails from: Arizona.
Dreams about: Traveling the world with my wife if I can ever afford it after putting my three children through college.
Loves GoCentral because: It's easy to use and helps small businesses succeed online.
GoCentral Help Resources
If you have questions, check out these GoCentral resources. And remember — we offer 24/7 phone support. Call us!
Note: If you don't already have a GoCentral account, you can start a free trial today.