Offer a clothing rental service? Here's what you need to know
Consumers' relationship with clothes sure has changed over the last decade. Today, with the help of a clothing rental service, anyone can wear a high-end designer piece for a night, a week or even a month — all for a fraction of the cost.
It's a trend that's here to stay.
According to Allied Market Research, the clothing rental market is estimated to reach $1.8 million by 2023. Clothing rental retailers such as Rent the Runway, Le Tote and Bag, Borrow and Steal have already seen much success.
If you're thinking about getting into the clothing rental service game, here's everything you need to know.
Related: How to start a business — The checklist 
Create a business model and a budget
According to Fat Bit Technologies, a successful business model for your clothing rental service should be based on partnerships with top designers so you can give your customers access to the newest outfits and accessories.
As for your budget, make sure to factor in realistic costs for important items, including advertising and in-store necessities (i.e., a cash register and computer programs that can track inventory, customer traffic, invoices, employee wages and bills). If you plan to have a brick-and-mortar location, you'll also need funds for furnishing your clothing rental service store with portable clothes racks, bookshelves, three-way mirrors and comfortable seating.
Related: Small business expense planning for your new online startup and 5 best business plan templates 
Get a domain and professional email address
It is never too early to buy your domain name, so as you are deciding on your business name, check to see if the domain is available as well. Remember that .com domains will have more competition and cost more, so be prepared with options and consider alternative domains, like .shop or .clothing.
Already have a domain in mind? Search now to see if it's available!
When you have your domain name secured, you'll want to set up a professional email address, too. This lets customers know you're serious about your business and builds trust and credibility in your brand.
Related: 10 tips for choosing the perfect domain name 
Build a website and social media profiles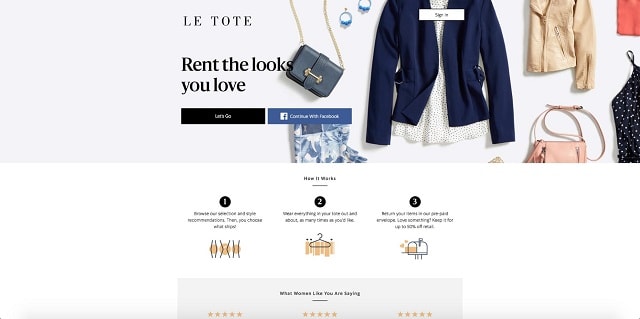 The website for your clothing rental service needs to grab the customer's attention and provide information about how the service works.
Content should include:
Monthly fee options
Customer sign-up/sign-in options
User account information, including upcoming orders and order history
Types of clothing offered organized by category, occasion, color, cut, etc., along with a size and fit guide for each brand
Amazing images of the clothing you offer, from different angles
Calls-to-action to encourage website visitors to well, take action
Featured listings, which allows designers to feature their offerings in prominent sections of the website in exchange for a monthly fee
FAQs
Helpful tips
Customer service contact information, whether via email, phone, live chat or in person at the store location
Gift cards
Blog posts ranging from company news to designer profiles to fashion trends
About the company
Store locations
Press
Share icons, so customers can easily post your content to their own social media pages
Social media links to your company's Facebook, Twitter, Instagram and Pinterest profiles
Related: How to make a website to sell clothes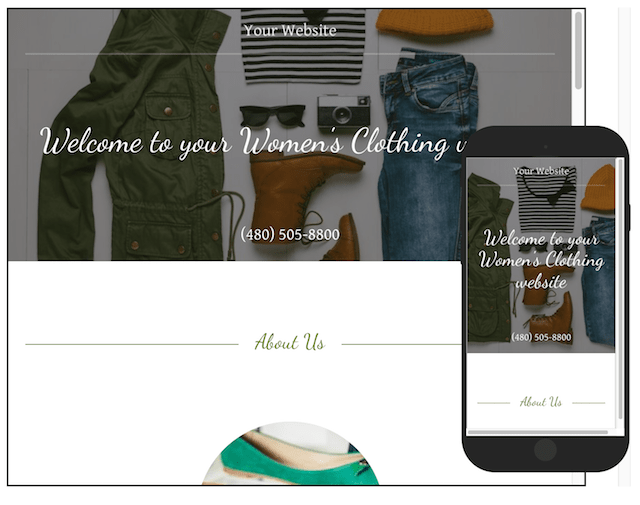 Set a subscription fee for your clothing rental service
Clothing rental services typically charge a monthly fee that allows users to wear the clothing for a set period of time. Customers then return the clothing without paying shipping or dry cleaning costs.
One well-known example is Rent the Runway, which started in 2009. This online service allows users to rent high-end designer items at a fraction of the retail price and currently offers a two-tiered subscription plan.
Rent the Runway CEO Jennifer Hyman told the Los Angeles Times that "by using subscription rental services, consumers have access to thousands of products, more than they would usually be able to afford, at a fixed monthly rate. It gives consumers more value and more choice for a lower price."
Do a little research to figure out what your subscription fee should be. Will you have multiple tiers at different price points or just one?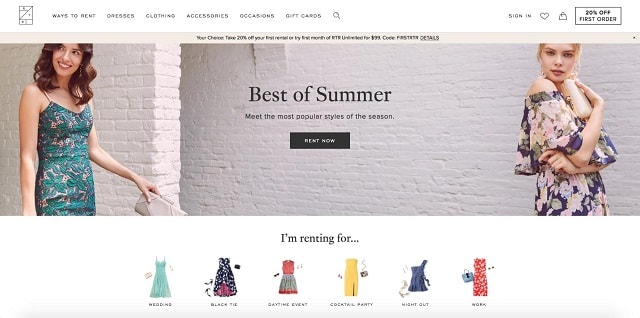 Related: Subscription boxes for your eCommerce store — should you use them?
Stock a lot of inventory
In that same Los Angeles Times story, Le Tote President Brett Northart noted that clothing rental services have taken off "because consumers want flexibility in their wardrobe. In addition, the recession made people less enamored with owning things."
Having a large amount of clothing options in stock is key to growing your clothing rental service.
Related: An insider's guide for how to sell clothing online
Partner with designers, stylists and dry cleaning services
Sometimes you need to partner with another visionary to expand your clothing rental service. That's what Rent the Runway has done. The company receives wholesale pricing, quantity discounts and full-size runs of each season's trendiest dresses. The company also partners with young, unknown designers for exclusive collections only available through Rent the Runway. In 2016, Neiman Marcus partnered with Rent the Runway to attract more millennials to its San Francisco store.
Dry cleaning services also need to be taken into consideration.
The Houston Chronicle states that building a relationship with a local dry cleaning service can help you get the best service for the least amount of money for your clothing rental service.
Use data to make good decisions
Most businesses run on data, and a clothing rental service is no exception. "Data's a big part of our business [encompassing] everything from the whole fashion component to metrics around utilization of a given dress," Hyman told Forbes. "We have an analytics team of six people internally, who look at rental statistics, such as how many long dresses get rented, how many short, how many red, black, orange and so on."
The more you can track, the more informed your decisions will be about your future inventory.
Make sure you have the systems in place to gather your own data as customers choose what to rent.
Related: 5 best practices for customer data management
Research shipping, returns and packaging
Rent the Runway's analytics team also considers how long a rental period should be and which shipping methods are best.
"When people are typically renting for a Friday or Saturday night when their events are, you need to make sure you have the dress back quickly so you can use it every weekend," Hyman said. "There was a series of variables like where should we locate our warehouse, and what shipping partner has the best pricing and the best zones to enable our map of customers to actually get the most efficient and cost-effective shipping."
Find a shipping company that can deliver on time and at the right cost.
Keeping customers happy is an important part of owning a clothing rental service and shipping logistics are an important part of that equation.
Related: Everything you need to know about Fulfillment by Amazon