Old-school vibe meets modern tech at The Noble Barber Shop
Frank Hartley caught the proverbial entrepreneurship bug in his late 30s. He wanted something different for his life — the independence of running his own business. A life where nobody could tell him "no." A life where he called the shots. He had a vision, he believed in himself, and slowly but surely, he made his dream come true. He recently launched The Noble Barber Shop in Pompano Beach, Fla.
Striking out on his own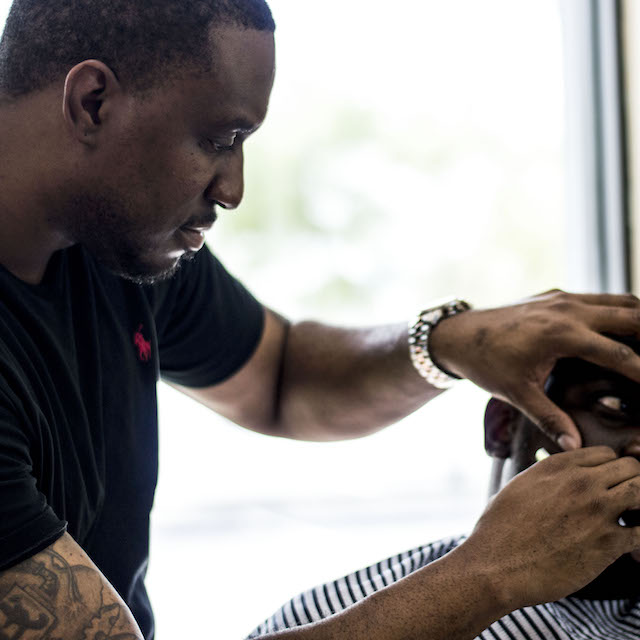 Frank, 38, knew that he wanted to build a business that would give him a lot of independence and flexibility. "The freedom to manage my business day to day and the ability to adapt my schedule to my personal life is important to me," he says. "I coach my daughter's lacrosse team three to four days a week, in addition to many other activities, which can cause a conflict when working for someone else."
To get the ball rolling, Frank researched what it would take to launch a successful business. "I did a lot of research on startups, looked over case studies, and observed others who have documented their own experiences in starting their business," he explains.
For Frank, the most difficult aspect of the startup phase was pacing himself. "I wanted things to happen immediately," he says.
"Growth is a process in itself, and doing things the 'right way' takes time." ~ Frank Hartley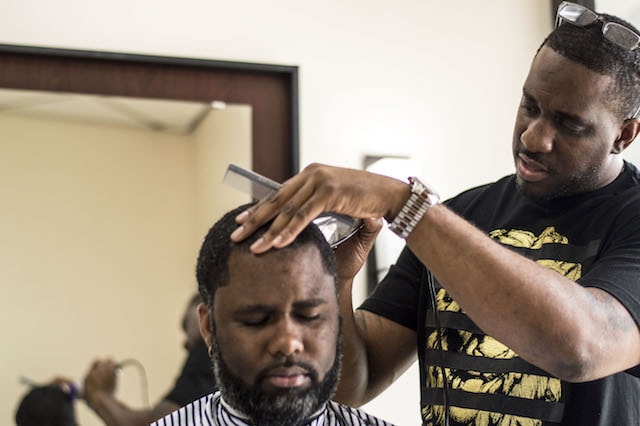 "Finding the right location was difficult. In my research, a lot of hours were spent at different locations during various hours of the day. This helped me observe foot traffic and the ongoing trends at each potential location," he explains.
Frank says the most valuable lesson he's learned on his entrepreneurial journey is the need to set goals and formulate a plan. "Write things down, bounce ideas off of friends and family," he says. "And most importantly, make decisions that you are going to be happy with — let them be YOUR decisions!"
Creating a unique barbershop brand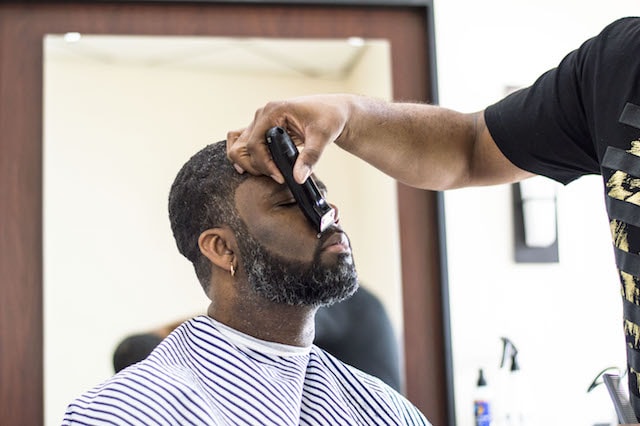 Frank's guiding business philosophy might be described as the golden rule of hair. "I cut your hair as if it was my own," he says. "Who wants to mess up their own hair? This way, a client knows they will always get my best effort."
Before opening his shop, he spent a lot of time observing and comparing his vision to what was already out there in the local barbershop market. He knew that to stand out, he wanted to be seen as really passionate about his work.
Three words that say "success" to Frank Hartley: Consistent. Genuine. Evolving.
Frank is a people person and a networker, and he thinks those qualities are assets as a business owner. "I think my personality goes a long way," he says. "I'm a very passionate and genuine person. I feel that my clients will receive an exceptional experience and service." With his people skills, social media knowledge and some savvy advisors in his corner, Frank has a seat at the table.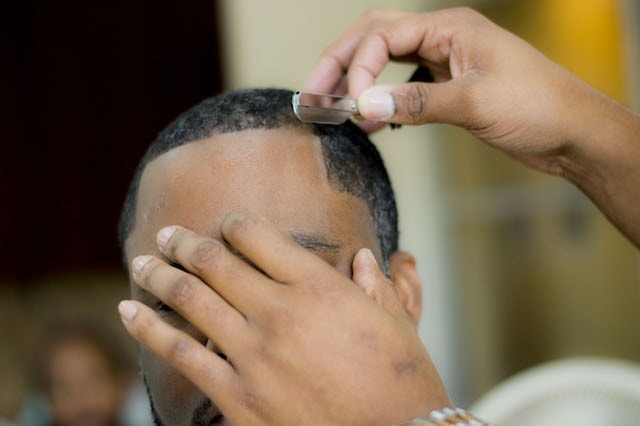 Building an online presence for The Noble Barber Shop
Frank knew that having a modern, mobile-friendly website would be key for his barbershop. He had used GoDaddy's website builder products for previous projects, so he decided to build his barbershop website with the new GoDaddy GoCentral Website Builder.
"Building my website through GoCentral was a satisfying and ever-evolving adventure," says Frank.
He built the site on his faithful MacBook Pro over the course of a week. He's very particular when it comes to details, and he wanted the site to be just so. Frank appreciated how GoCentral recommended specific website sections and features based on the type of business he runs. "The sections and features really help give you a base to expand your ideas," he says.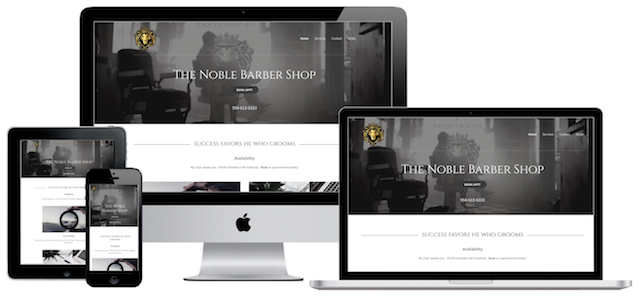 In addition to TheNobleBarberShop.com, Frank also has a business presence on Facebook, Twitter, Instagram and Google Plus. He has also verified his business on Google, Yelp and Bing. In short, he's planted the seeds to help people find his business online.
Using technology to run a successful service business
Because Frank knows that his potential customers are online, often on their mobile phones, he wanted to offer online appointment scheduling on his barbershop website. Luckily, GoCentral offers a built-in online appointments tool.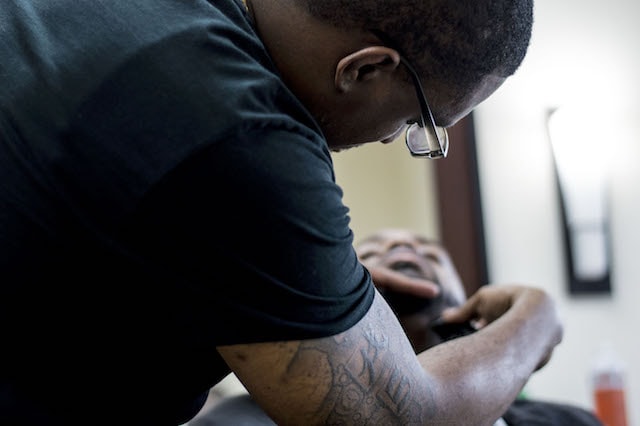 "I really enjoy the appointment-setting feature embedded directly into the website," says Frank. "I explored every appointment setting app on the market, and when discovering the ease of use and management, I was excited to find a solution within the GoDaddy platform."
He also knew that to compete with chains, he would need to accept credit cards. Frank chose Square because he was already familiar with it and it seemed easy to use. "It was the first tool I was introduced to, and I never looked back. I have since researched and inquired into other companies, but am happy with my experience using Square thus far."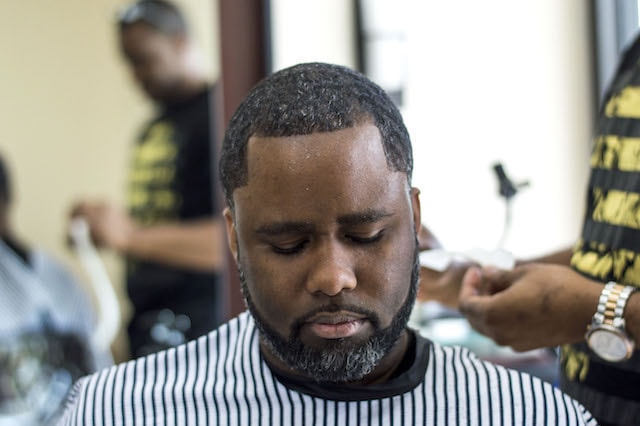 Square also integrates with his GoCentral online appointments tool, so if Frank wants to collect appointment deposits — or payments in full — upfront, he can do that in a snap.
"GoCentral helps give me an identity and provides an extension of who I am," says Frank. "I will continue to update and add to it to further reach potential clients and showcase what my business is about."
"As for Square, it helps me accept business that I could possibly lose," he adds. "In today's market, not everyone carries cash or always has cash on them. I feel that any legitimate business is able to take credit cards, and Square helps me accomplish that along with help track my daily and annual numbers."
Striking a balance between work and play
When Frank isn't working on his business, he can often be found listening to music. "I love music. I own DJ equipment, and I love playing music for family and friends." He also likes to watch movies and sports.
Spending time with the people closest to him — especially his daughter — is also really important to him. Frank and his daughter enjoy playing video games together. And Frank's daughter definitely played a role in his desire to become his own boss. He wants to show her that goals are attainable.
Frank won't rest on his laurels. Down the road, he'd like to expand his barbershop business into new ventures. "I have some ideas, so stay tuned," he says. But as his business grows, Frank wants to retain his personal touch. For instance, kids' cuts come with some jokes and a prize. If you're ever in Pompano Beach, stop in for a Nobleman cut and a Royal Shave.
Try GoDaddy GoCentral for free
Inspired by Frank and his Noble Barber Shop website? Try GoDaddy GoCentral for free. Build a simple site in less than an hour, and add additional features like online appointments, email marketing and an online store when you're ready.
Bonus: GoCentral is entirely mobile-friendly. Build and preview your website anytime, anywhere, on your phone or tablet, and add or change photos as often as you like.