Pet marketing: Partnering with your pet to distinguish your brand
When I first started my communications consulting business, I named it after my cat. It was a practical decision—"Cooper" Communications was easier to spell and remember than "Kaldy" Communications. I decided to use him in my marketing, so I bought a pet-sized bomber jacket. I planned to photograph him in this outfit for mugs with the picture and tagline "Flying High with Cooper Communications." I figured I would send these out to clients and prospects. My pet marketing tactic seemed like a great idea, but getting a cat to wear a costume and pose for a photo was harder than I thought. After two hours of scratches and blurry photos, I gave up.
Pet marketing that works
With the right idea and the right pet, however, adopting a pet marketing strategy can really help distinguish your brand.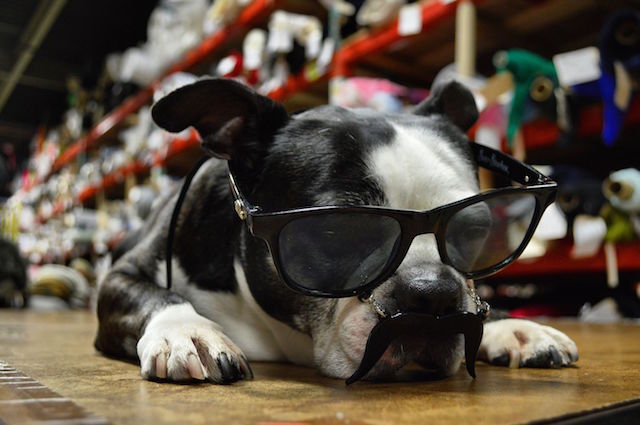 It worked for Eric Sauma, one of the owners of Mood Designer Fabrics in New York City. He adopted Swatch, a Boston terrier, and began bringing him to work. The charismatic canine was a hit with staff and customers alike. Then he appeared in season 3 of Project Runway, the Lifetime show which frequently sends contestants to Mood for fabric, and Swatch became an instant celebrity. As Eric says:
"Every season he became more and more popular. Now the crew demands that he be on every episode. Hundreds of people come in weekly to meet and take pictures with him."
The pup's name and image appear on T-shirts, buttons and other items. You can even buy Swatch-themed fabric. "He has a huge following, and he is a big contributor to the popularity of our business," Eric says. "If we get a minute of air time [on Project Runway], he gets half of it."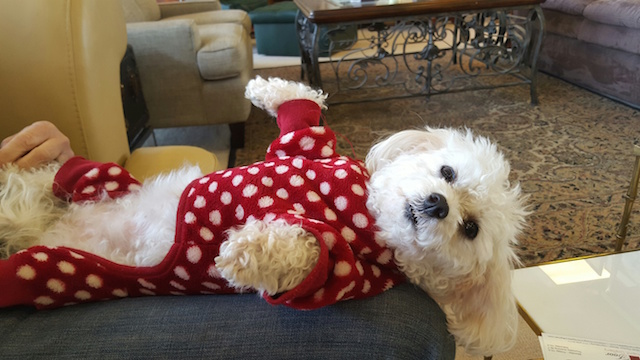 Jessica Berman, owner of the Red Door Consignment Gallery in Harrisburg, Pa., also knows the magic pets can work in business. When she opened six years ago, she started bringing her dog, Cotton, a fuzzy white mixed breed, with her to work. The adorable pup would lounge in her bed on the counter, sometimes in fashionable outfits, and greet customers.
Jessica soon realized Cotton's pet marketing value and began using her in advertisements, in contests, and on social media. Cotton even leads a tour of the store in a video on the Red Door Consignment Gallery website:
Cotton definitely brings people into the store, although Jessica can't vouch for the pampered pup's sales skills:
"I can't say people buy things because of her. However, she does make them feel happy and relaxed, which is more conducive to shopping."
At the same time, when families come in, the kids enjoy playing with the dog so their parents can browse the shop at leisure.
Put your pet's best interests first
While both Eric and Jessica credit their canines with contributing to their success, neither suggest running out to get a pet for this purpose. "It has to happen organically," says Eric. "We never forced [Swatch] to do anything. He enjoys coming to the store, walking around, playing with customers, and greeting people. He made himself a celebrity. It was a natural progression."
Jessica agrees: "It has to be mutually beneficial for the dog, and it has to be something that your pet enjoys doing."
Caring for the pet's needs must be part of the equation. Eric says that his employees all are eager to take Swatch out for bathroom breaks. Jessica says that if she is unavailable, her father and uncle, who both work in the store, are happy to accommodate Cotton's needs. Of course, it is essential to ensure that any animal on your premises is up to date on vaccinations, licensed, and well behaved with both human and animal visitors. It also is advised to talk to your insurance company about liability issues.
Rescues and revenue
Don't have a Swatch or Cotton to buoy your pet marketing efforts? No problem. Local shelters and rescue groups can provide a win-win solution.
Ask Evelyn Bertoni from Faulkner Subaru of Harrisburg. When she was asked to produce TV commercials for the dealership, she agreed but with the stipulation that she must be able to use homeless dogs in the ads. "Nearly 80 percent of Subaru buyers own dogs, so we are appealing to our target audience," Evelyn says. At the same time, "We've had people say they've come into the dealership because of the commercials. I know we sell more cars because of the commercials, but we also find homes for the animals."
The connection with the animals helps to humanize the car dealership. As Evelyn says:
"Our customers understand the bond with animals. They appreciate our commitment to finding homes for dogs, and they have really responded to our commercials."
The stories are powerful and promote the dealership's successes. For example, Evelyn tells the story of one dog that had been at the Humane Society for more than a year. "He was a good dog but shy and skittish. We put him in a commercial, and he was perfect. The first day it aired, a woman adopted him."
Of course, pets don't appeal to everyone — so a pet marketing strategy won't work for every business. "Find out what is important to your company and your clients, and try to align it with something that you are passionate about," Evelyn suggest. "The sincerity of the effort will come through."