PHP 7 now available on cPanel hosting plans
Looking for a way to speed up your website? Here at GoDaddy we are always looking for ways to improve our customer's experience. For our web hosting customers on cPanel Shared or Business Hosting we just made available the ability to upgrade to PHP 7. Let me explain the what, why and how.
What is PHP 7?
PHP is a server-side scripting language designed primarily for web development. Popular website apps that use PHP are WordPress, Drupal and Joomla. PHP 7 is the latest version of PHP.
Why should I upgrade?
Are you looking to improve your site speed? Look no further than PHP 7! Benchmarks for PHP 7 consistently show speeds twice as fast as PHP 5.6.
How do I upgrade?
Currently, PHP 7 is available for cPanel customers on either Shared or Business Hosting. We made the upgrade to PHP 7 very easy; however before upgrading, I recommend that you check compatibility on your site to ensure that your website and plug-ins will run as you expect.
Things to Check for Popular Apps
WordPress – PHP Compatibility Checker (Link)
Drupal – Drupal 7 and above is PHP 7 compatible
Joomla – Joomla 3.5 and above is PHP 7 compatible
So, once you checked your compatibility and have decided to pull the trigger on upgrading here are the steps:
1. Login to your hosting account by navigating to GoDaddy.com and sign-in with your login


2. Under My Products go click the Manage button associated to your hosting account. This will direct you to the cPanel dashboard.


3. Within the cPanel dashboard navigate to the Software section and click on Select PHP version icon

4. Under the drop down select PHP 7 and click on Set as current.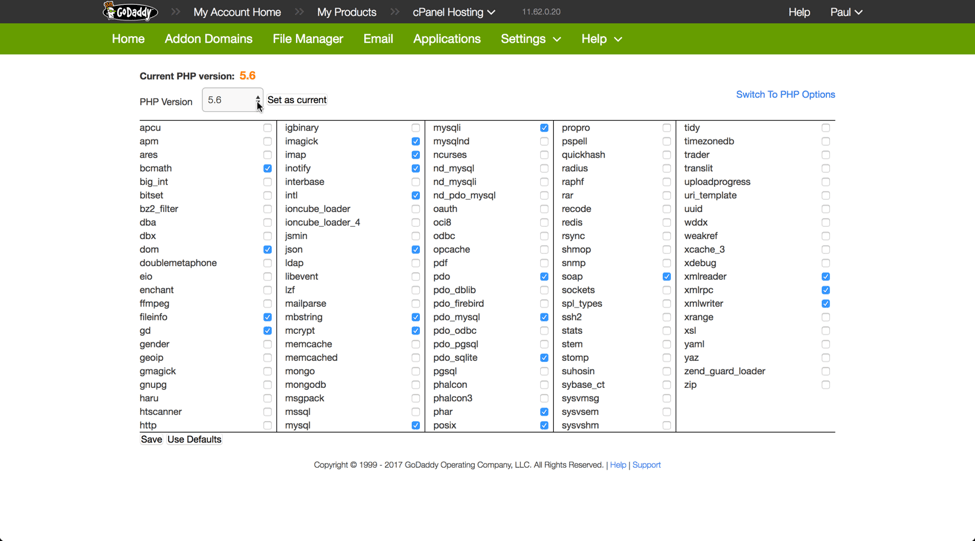 You are now upgraded to PHP 7! And if you need hosting for your site, you can learn more about GoDaddy business hosting's features here. Also, check out our cPanel Hosting details page.
Image by: Photo via VisualHunt