Pierre Mosley carves a niche for Tiki Republic
After a stressful day at work in Arizona, Pierre Mosley unwinds in Hawaii.
Well, almost.
The veteran air traffic controller at Phoenix Sky Harbor International Airport spends most nights and weekends carving tikis in his oasis of a backyard. Armed with a chainsaw, chisel and plenty of creativity, Pierre crafts the tribal wooden statues for the small business he's been slowly building for the past decade — Tiki Republic. It's both his retirement plan and his reprieve from the pressures of a high-stress career.
"When the planes get on the ground, I take over," says Pierre, 55. "My job is so stressful, I live 'Survivor.'"
Ah, "Survivor." You might call Pierre a mega-fan. He's seen every episode of the reality show (often set on a remote island) and has auditioned for it six times, almost making the cut last year. "I've created a villain in my head. I'm going to show everybody that I can kick ass," Pierre says. "Hey, who else can carve fake immunity idols?"
When the kid who'd rather doodle than watch TV grew up and into a decidedly left-brained profession — working his way up from baggage handler to air traffic controller over almost 30 years — he needed a creative outlet. Enter tikis. "I thought, 'Wait a minute, I'm an artistic guy and there's a lot of palm trees out here.'"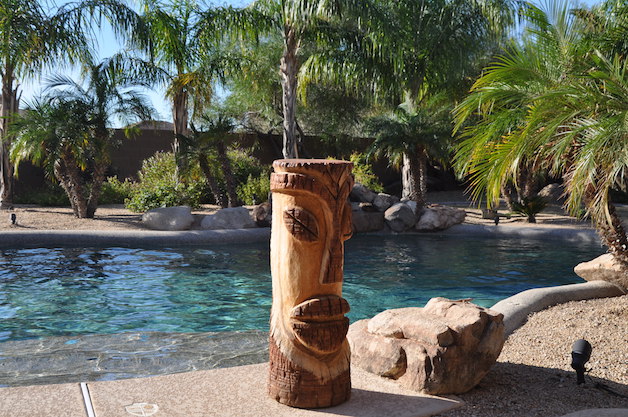 Honing his craft
On the back patio of his Phoenix-area home, surrounded by the lush island-style landscaping and surfboard-laden tiki huts he designed and constructed himself, Pierre carefully transforms salvaged palm trunks into works of art that evoke a Hawaiian surf vibe. He uses chalk to translate the idea in his head onto the wood before chiseling, sawing and smoothing the design to fruition.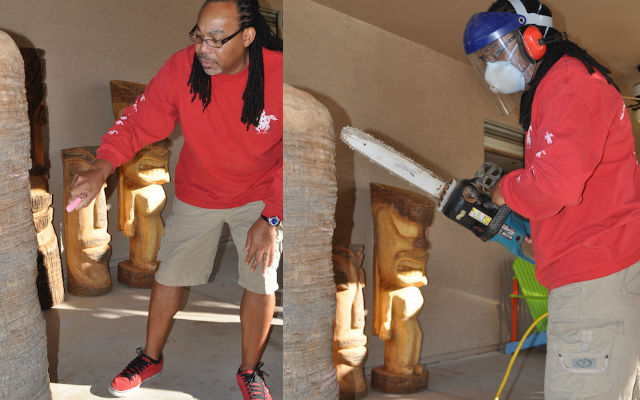 "I use an electric saw so the neighbors don't hear me," chuckles Pierre, who's been known to create one of his "shorties," smaller tikis, in less than two hours. "It's like something's guiding my hands." With his earbuds streaming R&B or rock into his head, he might carve for eight hours straight to create a larger statue. "If it's good music and it makes me feel good, I'll just jump in and go crazy."
Pierre's attention to Hawaiian tiki tradition — carving his interpretation of tiki gods like Ku and Kanaloa — has earned him respect from the Polynesian community. Everyone else just loves his work because it's awesome. Pierre constantly pushes himself to take his art, and his business, to the next level.
"To me, the island lifestyle is a positive lifestyle. I want to create a brand that's global. I feel like I'm in my 20s so I've got plenty of time to make it happen."
Building a business
A few years ago Pierre listed a few of his tikis on Craigslist, and "the response blew me away." Contractors, landscape designers, wedding planners and others loved the statues and their affordable price tags ($75 to $750). The interest confirmed Pierre's hunch that there was a niche to be filled. The Phoenix area's significant Polynesian population, many backyard pools and lack of locally produced tikis sounded like opportunity knocking.
"I don't want to watch somebody else do their own thing; I want to do my own thing. I want to be in the game."
In addition to the signature tiki statues, Tiki Republic offers apparel, decals and mugs. True to form, Pierre taught himself ceramics so he could handcraft mugs that echo the popular tiki drinking cups of the 1960s and '70s. When the brand takes off, he wants to sell custom Tiki Republic surfboards.
Using online tools
When the inspiration for Tiki Republic struck Pierre 10 years ago, he immediately registered a domain name to represent his idea — tikirepublic.net. "In the airline business, they teach you to think way in advance," says Pierre, who snagged the .com version of his domain name as soon as it became available a few years later. A business-class email address connected to his domain rounded out the first steps Pierre took to establish an online presence for Tiki Republic.
He took a Photoshop class so he could design his own logo. "I tried to create a South Pacific image that would grab viewers' attention and pull them in immediately," Pierre says. The face on the logo is a tiki god meant to scare away evil spirits, and the eyes represent a volcanic eruption beyond the horizon, symbolizing "a burning desire of untapped potential within all of us." The circling shark fins stand for strength. And the tiki torch flames fronting the tropical foliage represent life on the island.
Pierre turned to a friend to help him create a custom website, complete with surfboard-shaped buttons. "I wanted something fast, but now I'm ready to redo the site," Pierre says. "I have the ideas in my head, so instead of trusting somebody else, I want to do it myself." He took website design classes to prepare for the task. To up his online ante, Pierre now is planning to launch a new online store (from GoDaddy) attached to tikirepublic.com. It will serve as the sales hub for his tikis and other branded merchandise.
"Times have changed. You can't just go on TV and do print. You need a website and social media."
He uses the Tiki Republic Facebook page to post photos of his work and share other posts and images that inspire him. Pierre makes a point to engage with his followers. To further build credibility and reach his target audience, he launched a blog on which he reviews Polynesian restaurants. He uses his travel benefits to sample and write about island cuisine in cities far and wide.
Tiki Republic will make its big public debut as a vendor at the Arizona Aloha Festival in Tempe from March 7-8. That's also Pierre's target date for launching his new website.
Pierre's advice to other entrepreneurs
"Be focused. Be driven. Believe in yourself. Everyone is born with a talent — take advantage of it," says Pierre. He points to a Maui and Sons sticker in his home office. That global company's memorable logo represents the batch of burned chocolate chip cookies that prompted company founders to ditch their first business idea and try again. Their phenomenal success after initial failure is one of Pierre's greatest inspirations.
And it doesn't hurt that they sell surfboards.