Ponderosa Cactus: Connecting with customers through desert creations
Andanette Valderrama and Daniella Carrasco, sisters, best friends and owners of Ponderosa Cactus in Los Angeles, are fulfilling their dreams by bringing stylish and drought-friendly cacti designs to life. While working with a rotating selection of cacti, they get to connect with their customers and build lasting relationships.
The story behind Ponderosa Cactus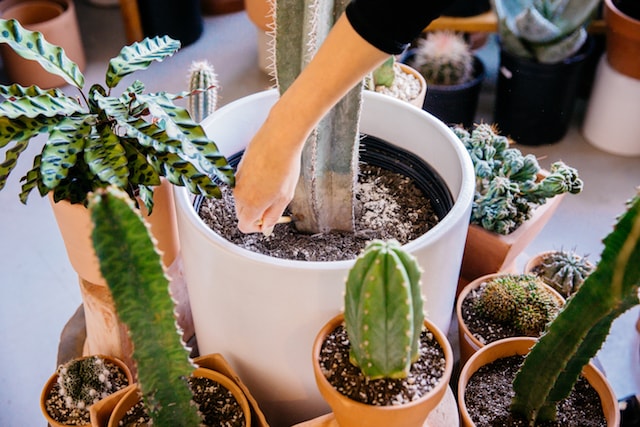 How would you describe Ponderosa Cactus?
Andanette Valderrama: Ponderosa Cactus, is a sanctuary for a lot of people …
Daniella Carrasco: Including ourselves.
AV: We have an assortment of unusual cacti that we handpick through the week. And we have a rotating selection of really cool, not-your-standard kind of Home Depot cacti.
DC: We've been open about two years now. April of 2016 is when we opened our door.
What's the origin story behind your business? How did all of this come about?
DC: We definitely didn't have …
AV: The intention.
DC: We grew up in a cactus nursery in Tucson, Ariz., owned by our parents. But we went to college, did our own things — got regular jobs in corporate offices, which is great — but didn't really find a creative outlet. And then we were like, OK we need to do something else. We're best friends and sisters, so we decided to do something together — it was natural.
AV: Our parents were pretty hesitant at first. But after we expressed the idea, they fell in love with the concept of us opening up a shop. Our dad said, jokingly, that we would always go back to what we were raised with. So when we finally said, "We want to start a business," they were all for it. They're extremely supportive, but they saw it more out in the open space, like Arizona. They weren't really into the idea of …
DC: … a small shop.
AV: Once they understood we wanted to be selection-focused, they were all about it. They understand our concept.
What were your doing before starting Ponderosa Cactus?
DC: I was working in clinical trials research straight out of college. Andanette worked in accounting at a law firm … Totally different from what we're doing now.
It's amazing. Every day we come in, we're able to do something creative and work with one another, so it doesn't feel like work.
I mean, we do work — probably harder than we did at our normal jobs. But every day goes by and gives us enjoyment, and we're excited about the next step.
What's your favorite part of the day?
AV: I guess my days are always fun because we get to search for plants and fulfill orders. Then try to find those pieces that kind of tie into the store that week. We like to have something that really stands out from the rest of the cacti. So it's always nice to see those pieces go home with someone who connects with them.
It's just like … we're fostering. Waiting for the right person to take the cactus home.
That's one of my favorite things about the day-to-day.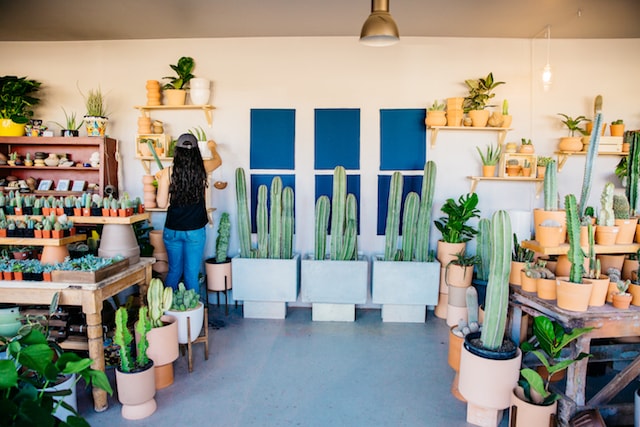 Was there anything you've found particularly challenging about the non-creative side of making a business happen?
AV: The laws — the city laws compared to the state laws, the administrative stuff. Because we thought, "Oh, when we open shop, we're good to go." … But there's a lot more than just updating your seller's permit.
DC: And adding people to our team and making sure everything is good to go … It's challenging to learn everything, but afterward, it's natural.
You said that you probably work harder doing this than you did at your other jobs — what makes it worth it? Why work so hard? What is it that keeps you inspired every day?
DC: Connecting people to items that they will benefit from. Living things — whether it's a plant or a dog — have energy you can benefit from.
AV: Just being able to provide something to someone and being so happy about that. Whether it's their first time or not, when people come in, their faces are in awe the entire time.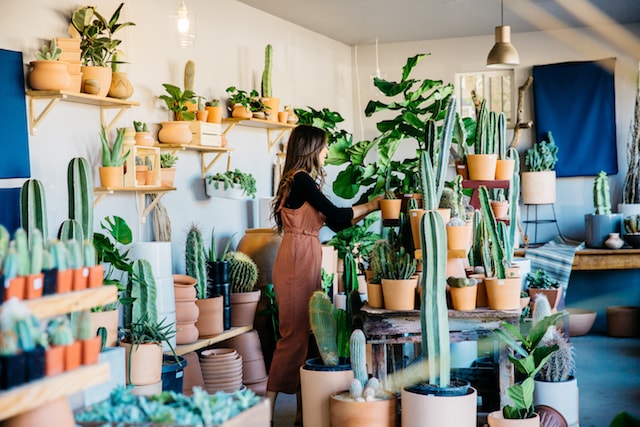 They want to know about cacti. They've killed things in the past, and think cacti are a safer way to go. It's nice to know they are open to the idea, whereas in Arizona everyone is surrounded by cacti, so they don't think about it.
The returning customers are the people who say, "Oh, so-and-so recommended me to your shop," and it's a great circle.
DC: Or the man who comes in to tell you how his cacti are doing — so cute.
AV: Those connections, those daily encounters, make our work meaningful.
DC: We never thought we would have regular customers. It's not like coffee shop, so …
What sort of advice would you give to someone else who wants to start their own thing?
DC: Well, first of all, you have to get rid of any doubt you have. Educate yourself, and go for it. You just have to do it. I think that's the biggest step, and then once you're there, you'll figure it out … If you're super passionate about something, I think the rest will follow.
AV: You learn as you go — your findings — you are learning to fly. Once you take that leap, it's just so easy. And it's funny how your mind and your intuition know when you are ready to take that leap. So when you have that gut feeling, you should just do it.
How do you guys measure success? You've been open for two years now — what does a successful business mean to you?
AV: In my previous job, I wasn't fulfilled — even just on a day-to-day basis. It was monotonous. Today, I could go home and know I had a different interaction. I still sold the same plant or the same cactus. But it's just more fulfilling knowing that someone is really happy instead of just an email saying "thanks." There is a different connection, so my heart is always full by the end of the day.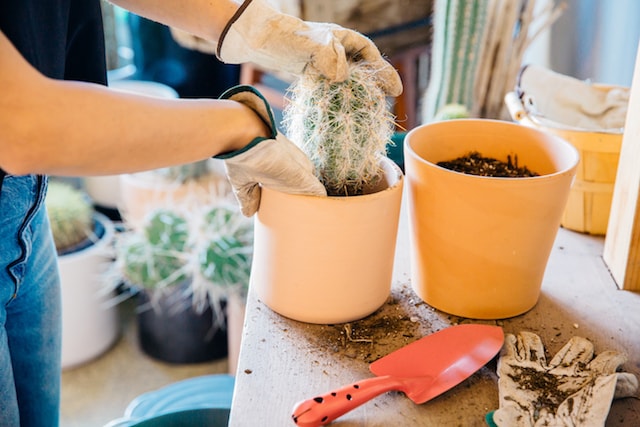 Any last parting thoughts?
AV: Cactus aren't as scary as people think. They might be spiny, but Daniella and I grew up running through cacti groves. I mean, we have scars, but we learned — they're more approachable than unapproachable, I think.
DC: Like with a person — touch them gently.
Thanks for sharing your story, Andanette and Daniella! Please be sure to check out the Ponderosa Cactus website and follow the business on Instagram.