Post-tax preparations: Organization tips for easier filing next year
According to the Government Accountability Office (GAO), millions of people overpay their taxes every year — to the tune of $945 million — due to overlooked deductions and missed itemizations. Individuals who may be most susceptible to overpayment are those who don't follow a tax organization system. Having unorganized paperwork leading up to tax time, and then as post-tax clutter, can make mistakes more likely year after year. If you had trouble managing your finances for 2016, you can make your life easier by taking a better approach for 2017.
Since it is critical to do your taxes correctly, start preparing now to make filing easier next year. By implementing an organization system post-tax time, your 2017 filing will be more efficient and accurate, while saving you time and money next April.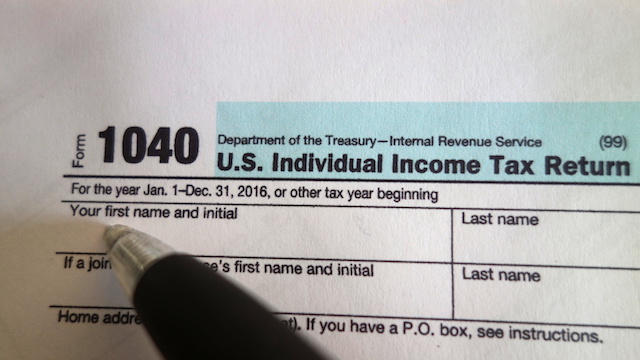 Creating a tax organization system for next year
Although each individual's tax situation is unique, every taxpayer has one thing in common when it comes to tax preparation and filing: paperwork. Take control of all the forms by creating a financial organizational system based on the following tips:
1. Organize paperwork
No matter how technologically advanced we become, there is always one tax constant — hard copies. Keeping hard copies is especially vital for the self-employed, who generally take a lot of deductions. When you work for yourself, you must have the paperwork to back your deductions up, as you are more likely to be audited than most. Your organization system can begin with a simple accordion-style file folder with categories for income, expenses and deductions. Color code each category, then create folders on your computer as well.
2. Scan receipts and documents
Scanning receipts and important documents is one of the most convenient ways to simplify your tax organization scheme. If you have a smartphone, snap pictures of your receipts, scan them into your computer, and attach the pages to the tax return for the previous year. Continue creating digital versions post-tax time every year, as financial experts say receipt management is still the best way to access your spending habits. While you are organizing receipts, you might want to utilize an online financial application to make tracking expenses easier.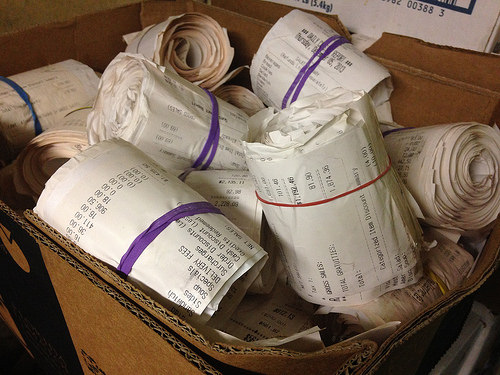 3. Manage electronic and paper documents
Every year, new gadgets and programs come along to help take the pain out of document management. Take the USB-supported Better Binder from Staples. This nifty tool is a notebook with a USB storage slot and can keep hard and electronic copies in one place. Your smartphone can also help you manage your paper document through mobile applications.
4. Safeguard your most important documents
Certain documents should be kept indefinitely, such as closing documents on a home, investment transactions, retirement documents and records related to insurance claims. Consider a safe deposit box at the bank or a home safe for these documents. You can also keep a file related to them in your computer for easy reference. If you decide to use your computer for sensitive data, invest in an off-site file backup service in case of computer crash. They are inexpensive and extremely reliable.
Keeping documents post-tax filing
How long should you keep your tax documents after April 15? Business Insider offers an extremely useful list of important documents. Keep it with your financial records to remind you of what to keep and for how long. Purge old records when appropriate.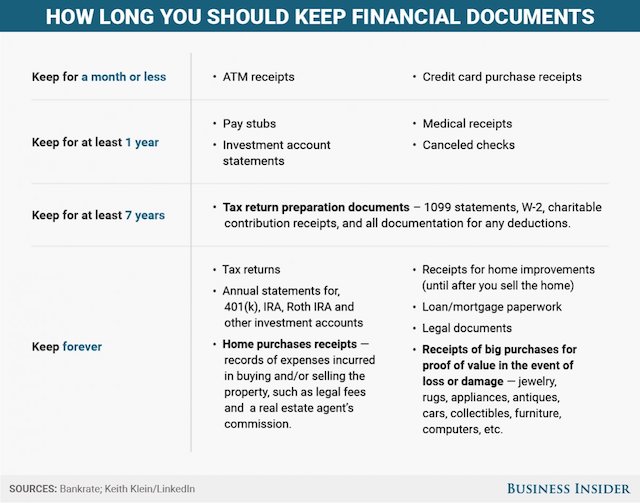 If the above systems aren't to your liking, create one that is easy for you. Hard copies can be kept in all manner of containment systems; find the one best for you.
Tech tools for tax organization in 2017
The days of keeping receipts in envelopes is somewhat old-school, as all financial data can now be stored on your computer. Internet technology has become so advanced that we use it for almost everything we do. Thus, it would be logical to find an online program for organizing your taxes.
Using a cloud-based organization system can be one of the best things you can do to organize your tax paperwork.
Examples of the most popular programs include:
According to its website, over 1 million businesses use this app to do everything from organizing receipts and business cards to tracking mileage and creating expense reports. Documents are saved online forever and it even integrates with QuickBooks, Wave, Evernote, Xero, etc. The premium service sends you envelopes to use to mail back your receipts, and it then adds them to your account. Tax expert and author Kay Bell says, "These are entries that the Internal Revenue Service looks at closely. If you just guesstimate, an IRS examiner is likely to want more information."
Google's cloud-based system makes document sharing effortless and can help you with your tax document management system. Upload your receipts, create folders and, voilà, instant gratification! The color-coding option makes finding a specific folder easy.
Link FileThis with your online accounts to stay on top of your payments (you may never be late again with this program). FileThis securely organizes your online statements, bills and other documents from the last three years, as well as new statements whenever they're ready. Your documents can be retrieved via the FileThis cloud or sent to your PC or programs, such as Evernote, Evernote Business, Box, Personal, Dropbox and Google Drive. With all the features FileThis has to offer, you can truly go paperless with ease!
If you travel a lot with your business (especially if you're self-employed), this is a program to check out. Forward all your hotel, flight, car rental and restaurant confirmation emails to TripIt and they do the rest by creating a master itinerary so all of your plans are in one easy-to-locate spot.
This service connects with your bank account, business credit cards and even eCommerce platforms. Enter your income and expenses and let them categorize it for you. At year's end, go to the "Taxes" tab and you'll receive a tax-return-ready Schedule C. How simple is that?
Creating a more efficient and organized financial records system post-tax season this year will make business filing less stressful next year. Gone will be the days of rushing around to find a document spur of the moment and paperwork taking over your kitchen table. Taxes can be filed with greater ease and efficiency and, if Uncle Sam decides he needs to audit you, you'll have all of your ducks in a row.
Image by: mpfl via Visualhunt.com / CC BY