GoDaddy Pro Sites integrates with Amazon Lightsail
Back in March 2018, Amazon Web Services (AWS) and GoDaddy partnered together to empower their customers around the world by providing them with all of the help and tools they'll need in order to be successful online.
Our latest integration between GoDaddy Pro Sites and Amazon Lightsail gives Lightsail users free access to GoDaddy's WordPress website management capabilities. This integration is a result of GoDaddy and Amazon working together, providing customers with an array of tools and products for building and managing a powerful online presence.
With GoDaddy and Amazon Lightsail, WordPress designers and developers can continue to focus on the fun parts of running their businesses instead of the tasks of regular website maintenance."
Amazon Lightsail WordPress web designers and developers that are faced with challenges of maintaining multiple WordPress sites can now more easily access and manage all of their sites from a single dashboard. GoDaddy Pro Sites dashboard also include WordPress website management automation tools, saving Lightsail WordPress designers and developers a ton of time on the administrative tasks of managing multiple sites.
What is Pro Sites?
For those of you not already aware, the Pro Sites dashboard lets users quickly and easily handle a variety of tasks crucial to maintaining WordPress websites, all from a single dashboard, regardless of where their websites are hosted. In other words, Pro Sites works great with Amazon Lightsail.
Pro Sites supports Lightsail designers and developers regardless of the number of WordPress websites that you manage. You can benefit whether you have a single website, or run a firm with a 1,000 website portfolio. The moment a website is added to the Pro Sites dashboard, you get access to a bunch of free and premium features.
Why use Pro Sites?
Our goal can be summed up in one sentence.
Everything that you need on one dashboard, on one screen.
Easy, one-click access
Forget login spreadsheets, bookmarks and password managers. Once you added your websites to the dashboard, all are accessible from one place, with a simple click.
Save time
From bulk updates on all of your websites, automated backups, performance and security checks to proactive monitoring features – you can handle hours of website maintenance with just a few clicks.
Let Pro sites take care of your everyday maintenance tasks, so you can focus on the work that matters.
Peace of mind
Pro Sites let you monitor your website's uptime, performance and security from one place. Setup email alerts and you'll always be the first to know if something is wrong. And with regular, off-site backups you can have a peace of mind knowing that site restore is just one click away.
What can you do with Pro Sites?
Bulk Update Everything
Constant updates are one of the most vexing tasks when it comes to WordPress website maintenance and a real time-sink by keeping those plugins and themes constantly up-to-date.
With Pro Sites you can apply WordPress core, theme or plugin updates to all your websites simultaneously.
All the plugin, theme and WordPress core updates are compiled into a single, intuitive list. Update them all with a single click, put them on the ignore list, bulk install, deactivate, or install an older version over the current one – the choice is all yours.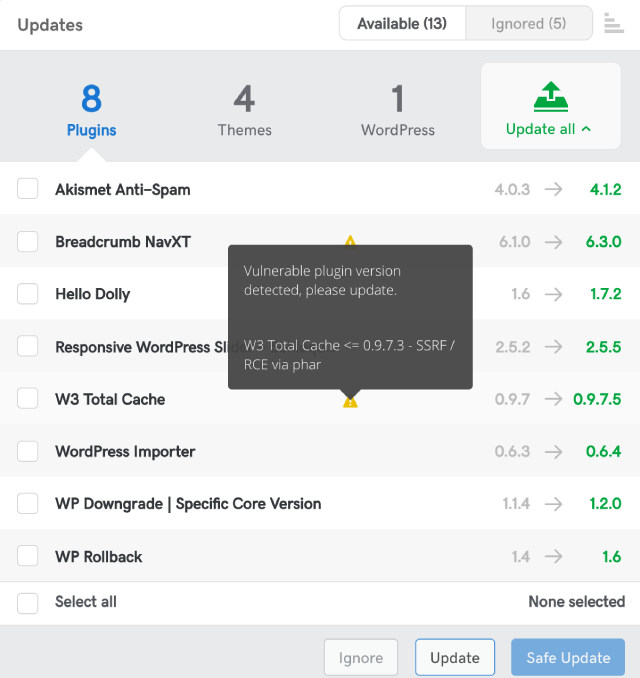 Safe updates
Our Safe Updates feature involves a 7-step process that ensures your WordPress core files, plugins and themes get updated in the most secure way possible. It starts by creating a restore point and even comes with a rollback feature in the event something goes wrong.
You can use it to safely update your themes and plugins or even automate it completely.
Backups
Incremental, automated, reliable cloud backups that come with an off-site storage, and capable of running up to an hourly cycle. Everything you need from a great backup. You can even schedule them to run during the times you aren't typically working on the website, or maybe when you know the traffic is at its lowest.
The backups are stored offsite for 90 days, and with the premium version you can download them to your local computer or automatically upload them to the external destination of your choice.
Organize your websites
In case you are managing multiple websites from your Pro sites dashboard, you can tag or filter your websites across different criteria. Either label them any way you like (example: live, in development, staging, testing, etc.) or filter them according to available criteria (WordPress or PHP version, language, client, SSL, etc.)
Keep tabs on your websites
Pro Sites also comes stocked with additional monitoring and reporting tools designed to help you keep tabs on each of your WordPress websites:
Security Check
We all know keeping a WordPress website secure requires constant vigilance. An on-demand malware scan and blocklist check help do just that. With the premium version of this feature, you can schedule recurring scans and be notified immediately if a problem is detected.

Uptime Monitor
The Uptime Monitor is exactly what it sounds like. This tool constantly monitors any websites you activate it for and sends out a notification if the website goes down for any reason. It will even let you know when the website comes back up, which is especially helpful for any brief interruptions. So you don't always have to scramble to the nearest coffee shop or wi-fi hotspot the moment a website goes down.

Performance Check
If your client's website takes more than a few seconds to load, then visitors are significantly less likely to stick around or come back. Pro Sites lets you check the performance when you need or schedule them out ahead of time.
Performance Check gives you a high-level snapshot of a website's speed, as well as more detailed suggestions for improvement when applicable.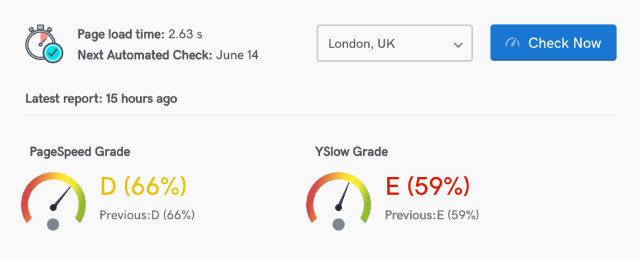 Link Monitor
One of the premium features, Link Monitor, actively checks websites for broken links. Whenever it finds a link that is not working properly, you are immediately notified. It even lets you address problems right from the Pro Sites dashboard. You can modify the link, add a "nofollow" tag or even unlink it all together. If you prefer to handle the problem outside of Pro Sites, then you can export the list of broken links.
SEO Ranking
Like security, managing SEO is a never-ending task. From the dashboard, you can add up to 100 keywords and Pro Sites then tracks and displays how the website stacks up against competitors. It also keeps tabs on changes to website visibility.
Keep your clients in the loop
Keeping a WordPress website a well-oiled machine is not easy, so it's nice to let your clients know how much effort you're putting into it. Client Reports provides details from any Pro Sites features you've enabled and compiles them in an easy-to-read report, which you can send to your clients. It also allows you to add custom information, so you can include details about the work you do outside of Pro Sites.
Client Reports supports custom branding, as well as localization in 28 languages, so you can better tailor it to your individual clients.
Get Started
As your business grows, your hosting and WordPress management can both scale, with Lightsail and Pro Sites respectively. You can learn more about Pro Sites on the GoDaddy website. Then, when you are ready, just add your sites, and enable the features you want for each site.