Rejuvenate your salon's Instagram in 2020
This post was originally published on October 19, 2019, and was updated on Dec. 18, 2019. 
New year, new Instagram marketing strategy. Now is the time to revamp your salon's Instagram feed so you can bring in new customers and get your loyal fans excited to book an appointment.
As more businesses join Instagram to try to capture customers' attention, it will be increasingly difficult for your business to stand out among the crowd. That's why you need to approach your salon's Instagram feed in a smart, strategic way.
Related: 5 ways to upgrade your business's Instagram strategy
Rejuvenate your salon's Instagram
These five savvy tips will help make your salon's Instagram shine in 2020.
Keep your grid in mind.

Highlight your talented staff.

Share news about your products and services.

Start a contest.

Target locals with the right hashtags.
Let's take a closer look at each strategy.
1. Keep your grid in mind
When Instagram users go to your salon's Instagram page, the first thing they'll see is your grid, or your nine latest posts. Make sure your grid is in tip-top shape by using high-quality photos and videos, consistent filters and captions that are written in your unique voice. And consider using your logo as your profile picture to reinforce your branding.
Related: How to plan out your Instagram feed in Photoshop
Pure Nails Salon in Austin, TX does a great job of using its Instagram grid to show off their services in a varied, but consistently on-brand way.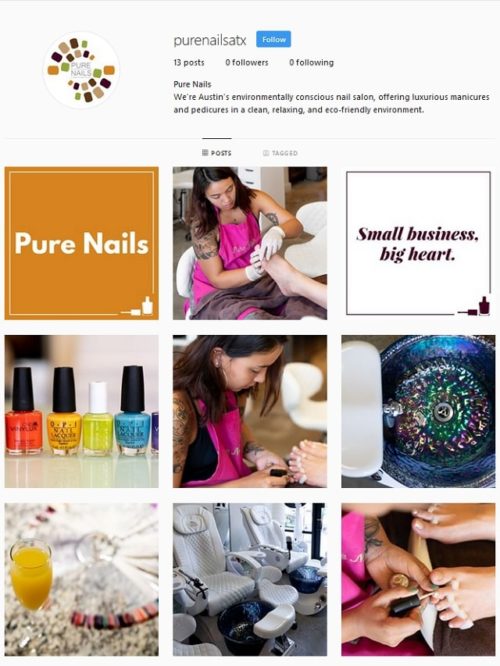 2. Highlight your talented staff
One of the benefits for customers who visit your salon is seeing the familiar face of their favorite stylist. Post pictures of your team at work on your salon's Instagram. Not only does it allow you to show off your talented staff, but it also gives users an authentic view of what to expect when they walk through your doors.
Immortal Beloved, a salon in Washington, D.C., did just that when it featured one of its stylists — an expert in curly hair.
New York's Doreen's Family Hair Spa & Tanning Salon used one of its posts to feature the results of one of its stylist's beautiful color work.
View this post on Instagram
Giving current and potential customers a glimpse of your team's skills will help them feel more comfortable with your staff and services.
They'll be more confident that they'll walk out of your salon with a great, new look.
Related: 3 ways to engage your employees in social media marketing
3. Share news about your products and services
The new year is the perfect time to let customers know about the new things happening at your salon. Did you just add a new line of hair care products? Or maybe you upgraded your massage chairs? Post about it.
In this post, Austin salon Milk + Honey shows off its new hydrating face mask. This post works on two levels: First, because it was posted on a Friday, the service will be top of mind as customers head into the weekend, which is when they'd be likely to stop by the salon. Second, it's a repost from a fan, which helps reinforce how much current customers love their products and their salon.

4. Start a contest
Running a contest can help get more eyes on your brand, and it isn't hard to do.
You can either set up a simple contest, like a "tag a friend" contest where you ask users to tag a friend to enter, and then choose a winner at random. Or you can ask customers to post photos at or about your business. Then you choose a winner and message them directly. It's a nifty way to get new eyes on your business and more engagement with your salon's Instagram posts.
5. Target locals by using the right hashtags
By including hashtags that are unique to your city in your captions, you can reach locals looking for a salon like yours. Many potential customers use Instagram to research salons by searching for hashtags. Think about what those potential customers will be using and add to your salon's Instagram posts so your posts come up in their search results.
This simple trick will get your salon in front of people who are most likely to book an appointment.
Plus, Instagram now gives users the opportunity to follow hashtags in the same way they follow other users. So, every time you use that hashtag in your posts, anyone who follows that hashtag will see your new post.
Related: 3 reasons your brand should be tagging on Instagram
One Austin-based hair stylist used local hashtags, such as #austinhair, #atxhairstylist, #austinsalon, #austinhairstylist and #atxlife, to get in front of salon-goers in her city. And she smartly used periods in her caption to keep the hashtags from cluttering her main message.
The new year is the perfect time for a makeover for your salon's Instagram. Revamp and rejuvenate your feed so to attract new customers and engage your loyal fans.