Rubans Rouges Dance: How Noelle Rose Andressen turned her pain into beauty
Noelle Rose Andressen is the Artistic Director and Principal Dancer/Choreographer of Rubans Rouges Dance, a professional, multi-media dance company in North Hollywood, Calif. She took time out of her busy schedule recently to answer a few questions about business, beauty and life.
The beginning of Rubans Rouges Dance
You founded Rubans Rouges Dance in 2008. What inspired you to start a dance company?
Several things inspired me. For one, my own true life story about my "Red Ribbons" gave me courage and inspiration. I was abused as a child and later successfully battled breast cancer. I had fiercely fought my internal enemies and won. As many often experience, I found myself thinking, "Now what? How does one put their life back together after having seen and experienced all that I had? How does one return to a normal life … and what is that life?"
"Rubans Rouges" is the French translation for "red ribbons." Tell us about that.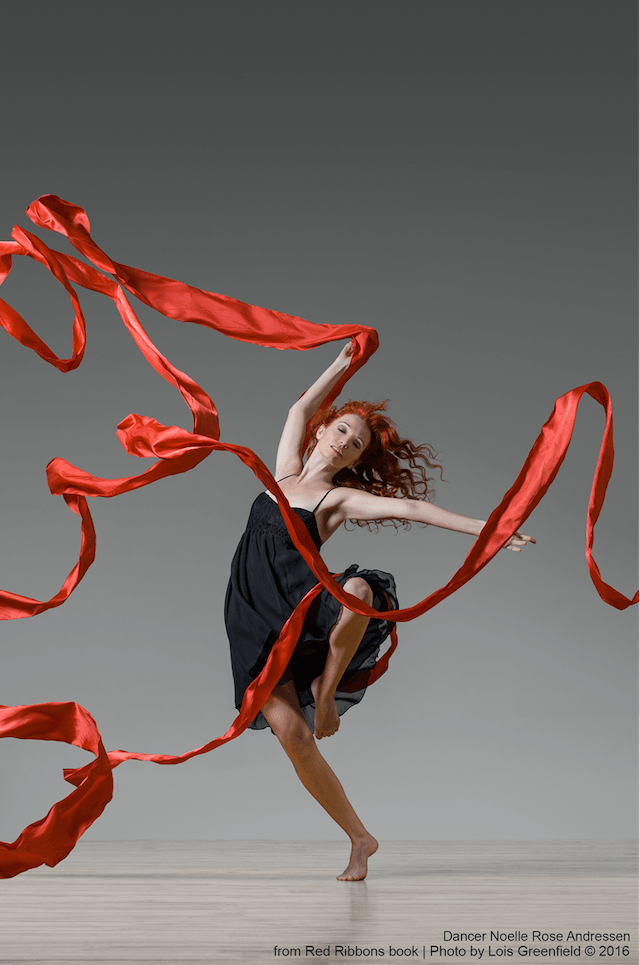 Overcoming the scars from abuse and cancer gave me strength — but what to do with it? All I saw was my life in shards before me on the ground. I had to find a way to put it all back together so that I would no longer be broken. And perhaps I could help others, too.
In the process of my quest, I met a beautiful woman — my ballet instructor who inspired me to dance.
My husband, Kristopher, an Emmy-nominated music composer, often scored the emotional and inspirational sound tapestry for my dance pieces. This created a beautiful marriage on stage and behind the scenes.
Ultimately, I danced my scars to show others that they too could heal. Thus began the beginning of Rubans Rouges Dance, my company and business.
With my instructor's encouragement and my husband's music, I began to dance and create based on my hurtful experiences in order to heal other people. I didn't realize that my ballet instructor was also receiving healing from my dances.
What was your biggest obstacle to starting Rubans Rouges Dance?
The greatest obstacle was financing. Being a survivor of abuse and cancer can leave you feeling less confident. I learned how to gain my confidence, and it reflected in my work ethic.
There's nothing more contagious and attractive to investors than being a part of something special — that and working with someone who takes pride in the work of their hands … or in my case, their feet.
Once I found my confidence, others also became confident in my work.
How did you find your particular niche in the world of professional dance?
My husband and I did a lot of research about what we believed was our niche and found that we didn't fit into any one specific category. We had something very distinctive, which can be a good and bad thing. Good because we knew it was a fresh approach to live performance art. It was bad for the same reasons — we had to find and define our audience.
Rubans Rouges Dance is not only entertainment. It heals and feeds the soul using a multi-media approach that incorporates filmmaking.
There's a great need for healing in our world, we just found a different way to accomplish it. For us, the audience becomes a part of the performance when we use dance drama as a universal language art. It was another challenge to overcome, but we did it.
What's your business philosophy?
We see leaders and potential for leadership in everyone. We treat others as we would want to be treated. True integrity is an ethic that flows deep from within and shows in every aspect of our business. It's how we treat clients, employees and collaborators.
When you build up others, you ultimately build up yourself.
We don't create a cut-throat environment to strive to be "Number One." We encourage others to be their best. Sometimes, competition can be convoluted when "climbing the ladder to success."  However, competition ceases to be healthy when you don't use ethics; it can then become malevolent manipulation.
Tools for the art
What digital tools have you used in growing Rubans Rouges Dance?
Our domain name is with GoDaddy, and we use GoDaddy's Website Builder for our site. We like keeping all our domain, website and email accounts with the same company, as it makes billing easier for our accountant.
Previously, I'd taught myself HTML coding and a few other programming languages in the 90s and wished there was a less-expensive and easier way to build a website at the time. It was tedious learning essentially a "foreign language."
We were all so grateful to find an easier way by using GoDaddy that also incorporates HTML  coding to further customize our website. We have an excellent web designer/programmer who's long since taken the computer programming out of my hands — with a huge thanks to GoDaddy and their support team! This saves me so much time and funds and allows me to do what I do best: dance and choreograph.
Editor's note: Want to take some initiative like Noelle? Try using GoDaddy's GoCentral Website builder, and create an online presence of your own in under an hour.
Parting advice
What are your most valuable lessons?
Never give up. I was a survivor who became a THRIVER! I knew I was called to do something bigger than myself. I knew I survived breast cancer and child abuse for a reason. If I let little setbacks thwart me along the way, I'd never be where I am — embarking on our 10th dance season, having reached thousands of hearts.
Know your brand. This is my biggest advice for other entrepreneurs. Please take the time to research your field and get to know your brand and the inner workings of your community. If you're starting from scratch with a niche, much like we did, know that you're taking an additional risk. It's not impossible, but will add to the challenge.
A business can fail if you don't know who you're aiming your product toward.
You must get to know your clients personally, and don't be afraid to get feedback from them. They know what they want and want to get that from you. Be brave and do the work.
Thanks for taking the time to talk with us, Noelle. Stop by Rubans Rouges Dance, or check them out on Facebook, Instagram, Pinterest and YouTube. 
Image by: Nicolas Heredia of Noelle Rose Andressen