Sell flowers online with these 5 tips
When we started selling flowers in 2009, a strong online presence that drove sales was a necessity right out of the gate. As small business owners in the age of the internet, we knew that to be successful we would have to learn to sell flowers online.
The minute we opened MaryJane's Flowers & Gifts, we knew we'd have to put our business online.
To help you start or grow your online floral business effectively — and prepare you for the challenges specific to this industry — we've put together these tips.
The 4 secrets to selling flowers online
For many, flowers are a tactile purchase so selling them online presents some challenges. Use these tips to succeed.
Find an online partner you like.

Choose a great domain name.

Prepare your site for shopping.

Bring buyers in your door.
Now let's delve into the details of each.
1. Find an online partner you like
Unless you are both an internet expert and a florist, you will probably need some help developing your shop's online presence. As a small shop, we wanted to partner with a company that would take some of the online load off us.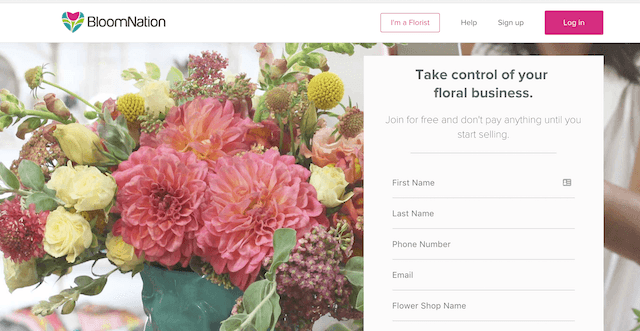 Though we worked with both Flower Shop Network (FSN) and FTD, we ultimately decided BloomNation was the right online floral partner for us.
BloomNation hosts websites for local, independent florists across the country and allows them to sell flowers online on the BloomNation marketplace. Florists are paid 90 percent of every sale, and BloomNation takes 10 percent, including the credit card processing fees. In addition to hosting the website, BloomNation uses SEO (search engine optimization) best practices to ensure that florists' sites are performing well in local areas. They also provide email marketing services to interact with customers, and PR opportunities to reach new audiences. In addition to a custom design option, BloomNation encourages florists to use their own designs instead of a seasonal catalog.
What really drove the partnership home for me was the idea that, since BloomNation only makes money if I make sales, they don't succeed if I don't succeed. We're happy with BloomNation because we know they're invested in our success.
Want to keep 100-percent of your profits? Try GoDaddy GoCentral Online Store, including quick-start templates for florists.

2. Choose a great domain name
Choosing the appropriate domain name is important both for SEO and brand building; a small business's domain name can lend credibility to the site while attracting potential customers. When choosing our domain name, we wanted to keep it short, memorable, and as close to our shop name as possible.
Ultimately, we landed on MaryJanesFlorist.com for our web address.
We also wanted our name to convey that visiting our website would allow you to purchase flowers just the same as if you walked into a store.
Can't find the domain name you want in .com? Try .florist, .gifts or .shop.
Enter your flower shop name in the box:
3. Prepare your site for shopping
Before opening your online shop to customers, it's crucial to ensure that the site is optimized for selling flowers online, both in terms of security and consumer experience.
In order to protect our customer's transactions, we rely on BloomNation's secure checkout system. All BloomNation websites feature SSL certificates and use Stripe to process payments. The SSL certificate means our website displays an HTTPS prefix, telling visitors that all communications between us are encrypted and their transactions protected.
Once you've secured your website so that your customers can make safe purchases, it's time to think about how to arrange your site in ways that encourage visitors to buy.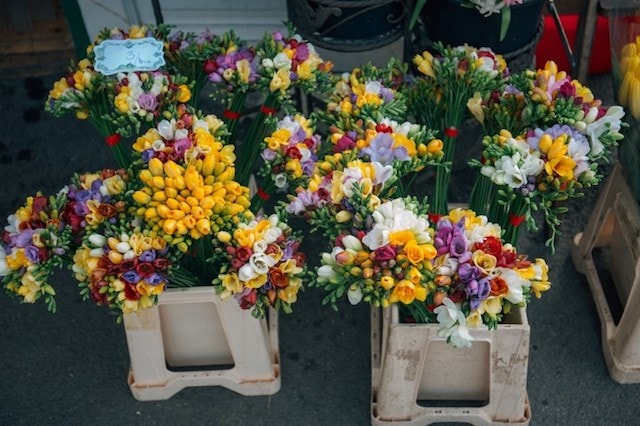 Keep your offerings fresh
Start by rearranging your offerings seasonally to better reflect the designs that your customers are more likely to buy at any given time. Our shop found that a variety of colors beyond standard pinks and reds appealed to shoppers.
Track best sellers
Monitor which of your items are best sellers, and move those items towards the top of your page to increase conversion.
Ask for merchandising help
If you don't work with a site like BloomNation that has customer service representatives to help you merchandise your site, work with an online merchandising expert to help you sell flowers online effectively.
While it might take you some time to determine the purchasing habits of your customers, merchandising your site will increase your orders and help you retain customers over time.
4. Bring buyers in your door
Now that your shop is online, secure and designed to appeal to shoppers, it's time to get customers to your site so you can sell flowers online.
BloomNation uses a combination of SEO tools to ensure that our shop ranks well in searches for flower delivery in our area, including keyword-rich content, extensive metadata, clean URLs and local neighborhood pages. Each of these tactics is designed to help drive traffic to our shop through search engines, but that's not the only way to reach customers. (Learn how to do this for your website here.)
Maintaining a social media presence, at least on Facebook, is an important way for small businesses to establish credibility and maintain communication with customers. Encourage customers to follow you online for exclusive floral offers. Post updates with promotions, deals, press, or new arrangements, and engage with reviews. This strategy, combined with SEO best practices, will help you sell flowers online to old and new customers alike.
You can sell flowers online
According to a 2016 study commissioned by the Society of American Florists (SAF), two trends work together to make selling flowers online an increasingly lucrative business.
Local florists remain the No. 1 channel for flower buyers, with 82 percent of consumers using a local florist to purchase their florals.
Online purchasing has increased in popularity since 2009, with millennials more likely to favor this trend than other generations.
As these two trends work together, it's clear that an online strategy is an integral part of any floral business. Once you've put the work into your online shop, enjoy the benefits of an eCommerce revenue stream and access to new customers.
Image by: Katy Belcher on Unsplash