Sentry: Home security and fall detection for seniors
We're chatting with Uday Kiran Chaka, founder of Sentry to see how he's using technology to improve quality of life for senior citizens. A resident of Mountain View, Calif., Uday uses Flare — a GoDaddy app built to help entrepreneurs source feedback and bring their idea to fruition. Check out the website and follow the startup on Twitter to keep tabs on the growth of Sentry.
Creating Sentry
What inspired you to start your business? When?
My grandmother gets the best possible care, but she absolutely hates it!
She's nearly 85 and lives in a nursing home where everything is designed to keep her safe and healthy. But she misses her large family of daughters, sons, grand kids and great-grand kids a lot. Given her health risks, this was considered the best place to provide her the care she needed.
I've always thought that there has to be a better way for seniors to age gracefully and have peace of mind in their later years.
At a Health 2.0 conference my co-founder and I attended, the participants were invited to come up with creative technology solutions for seniors 65 and above. Our team was a runner-up, and we received a cash prize to explore the idea further.
Thus began our journey to build Sentry, a personal assistant for seniors that manages home security, activity tracking, fall detection and fall prevention. I hope to bring my grandma back home, and I hope to help others like her, live at their own homes, surrounded by their close families.
What first steps did you take to launch the business?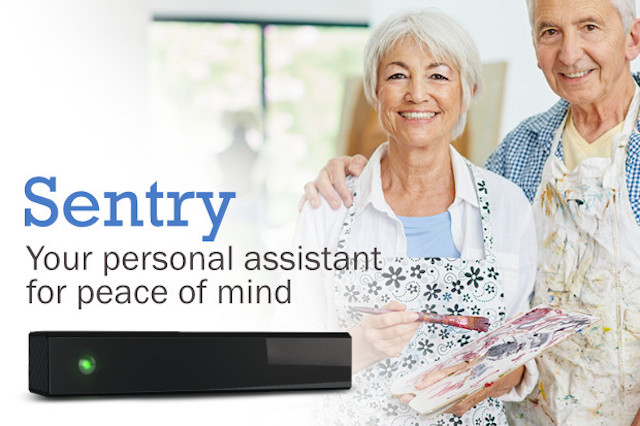 Team. We started by building a team of business and technology experts who can help us develop the product. Then, we talked to industry experts, senior citizens and geriatricians to confirm that there is a real need for such a product. After that, we analyzed our market opportunity, competition and our core product development skills.
Legal. We incorporated a legal entity, bought a domain name from GoDaddy, and built a website to promote our startup and the product vision.
Prototype development. Among various potential solutions, we picked a prototype design that looked the most promising and started building a hardware and software solution to detect falls and monitor the activities of seniors.
Beta trials. We signed up an independent living facility for seniors and selected a senior to test our prototype. As the trial was successful, we signed up more seniors to try out our solution.
Market validation. Apart from the trials, we participated in and won an American Association of Retired Professionals (AARP) Foundation Prize for building solutions that help seniors, and that validated the market need further.
What obstacles did you face as a startup, and how did you overcome them?
We faced many challenges in building the business, and they taught us lessons that enabled us to emerge as a stronger business:
Our prospective customers did not sign up for Sentry.
The senior housing facility did not extend the beta trial to place a product order.
Others who expressed interest backed out, as they were worried about liabilities they might assume with a product like ours.
Because of this, we pivoted to a direct-to-customer model where we didn't need intermediaries like senior housing chains. We extensively used Flare where we interacted with customers directly to get them interested in our product.
Flare gave me an opportunity to put my idea in front of new people and get honest feedback. I've been gaining followers for my idea, and I'm asking them if they can participate in the product development.
Sticking to our mission to improve the lives of seniors has been essential to our survival.
Our mission attracted other like-minded people to join the startup, fill in for the departures, and continue the product development.
How did you identify your niche in the market?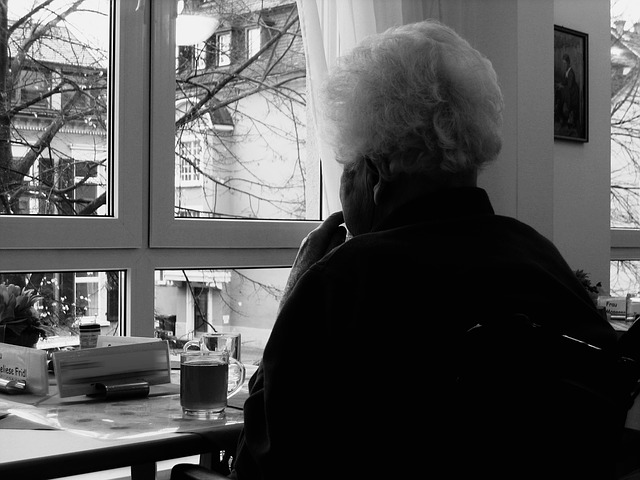 Seniors are often ignored by most technology companies. For us, this was a great opportunity!
Personal assistants (e.g., Siri, Alexa) work for those who are technology savvy and want to order pizza or change the music on their surround sound system. Home security companies target younger families. Activity trackers covet fitness-conscious, active adults.
Solutions for seniors are an afterthought for most startups.
We turned the idea on its head and started with seniors. We designed a comprehensive solution that addresses their security and health needs, using many of the same cutting-edge technologies.
Tell us about your business model.
Our business model is based on using intelligent software that works 24/7 to improve the quality of life of seniors by enabling timely interventions for falls, break-ins and other such unfortunate events. Automation helps us keep our costs low, and we are able to target mass adoption.
We want Sentry to be a must-have for seniors.
We offer a basic service for as little as $20/month and a one-time $50 installation fee. All value-added services — such as professional installation, 24/7 emergency response, periodic check-ins, concierge service, etc. — are optional and add to our revenue stream.
Goals and philosophy
What are the goals for your business?
We want to improve the quality of life of seniors using the latest technologies. Seniors should be able to live in their own homes and communities with dignity, surrounded by family and friends. They should be able to count on Sentry to be '"invisible, yet ever present," like a guardian angel, ensuring they are safe and healthy.
What's your guiding business philosophy?
Building a company that aims to improve lives of an under-served population is never easy. I put in our best efforts and keep moving in the right direction to improve lives of those in need. Success will eventually follow.
What three words epitomize success in your book?
Empowerment, Family, Happiness.
What strengths do you bring to the table as an entrepreneur?
I have a solid foundation in business and technical education from reputed schools. In addition, as a management consultant, I advised senior executives in technology companies to grow their organizations and focus on their missions.
Since then, I have focused on entrepreneurship as a way to give back to the community. I started and/or invested in five companies, and I learned a lot from the experiences. Over the years, I have cultivated a large network of mentors, engineers and investors who can help me grow this venture and more to come.
Where do you see your business in five years? Ten years?
In the next five years, Sentry will build reputation as a must-have product for seniors who want to live a safe and healthy life. With a large market share in U.S., we will be ready to expand to the rest of the digital economies — Japan, Europe, etc.
In 10 years, Sentry will have a complete suite of products and solutions for any technology level and any price point to help safeguard a senior even in emerging and remote areas. For this phase of growth, we may take the support of philanthropic organizations, governments and insurance companies to make Sentry a funded benefit for most of the senior populations all over the world.
Products and tools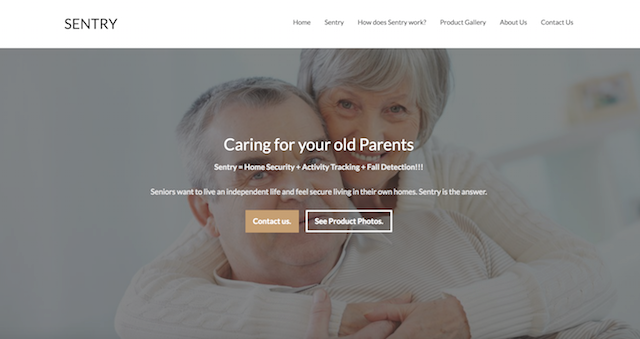 What online tools do you use for your business?
Domain. We needed something relevant and easy to remember. We purchased our domain name from GoDaddy, and we continue to use their domain management tool today.
Email. Our business email hosted by GoDaddy is tightly integrated with our domains, and it it serves our need to communicate with our team, customers and investors.
WordPress. We use an open-source WordPress product to share our product and contact information in a professional, clean way.
OpenCV. This is a rich, open-source library of functions that helps us extract people from an image or video, and track their locations over time.
What difference have these tools made to your business?
These tools from GoDaddy and others are absolutely essential for us to run the business. Without a physical store, we are now able to maintain an online presence, and inform our potential customers and partners about our products and services. Over the next few months, we will add other tools for marketing, web security, eCommerce and order fulfillment.
Advice and personal
What's the most valuable lesson you've learned since starting your business?
Stay true to your mission. The initial plan may or may not work, but if you focus on your mission, you'll find other ways to get there.
What's your best advice for other entrepreneurs?
Aim for the most impact — aspire to touch the lives of millions of people. The biggest capital you have is your mission and your personal commitment to the mission. Don't waste it on a me-too product or service.
How do you unwind?
I love reading, hiking, doing yoga, and spending time with my family.
Was there a turning point in your life that led you to where you are today?
In 2009, I realized that there are two ways forward — I can continue to grow the corporate ladder and play it safe, or I can challenge myself and apply all my education and professional experience to a social cause and impact millions of underserved people. I chose the latter, with the support of my family, and here I am today!
How do you balance the needs of your business with your personal life?
I prioritize family needs over everything else. In turn, my family understands what I'm aspiring to achieve and supports me in my endeavors.
Thanks for taking the time to tell us about your startup, Uday, and best of luck as you bring Sentry to the masses!