GoDaddy guide to SEO for business.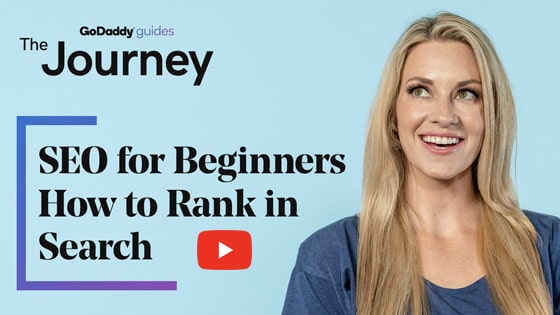 In today's digital world, entrepreneurs who understand the basics of SEO for business stand a stronger chance for success both online and off.
Ready to learn all about search engine optimization best practices, local SEO tips and the best SEO tools? You're in the right place.
This handy resource guide will introduce you to SEO fundamentals, give you the latest SEO info to keep you up-to-date, and help you keep a step ahead of the competition.
SEO for business
What exactly is SEO? Take a deep dive into the basics of search engine optimization with our beginner's guide.
Search engine optimization is key to getting your site and your business found online.
Ever pull out your phone to try to find a restaurant or business quickly? The top hits in your search results are usually the businesses that have successfully adopted SEO best practices. That's why putting those mobile SEO strategies to work for your business is a must.
Once you understand the nuts and bolts of SEO for business, the next step is to get to know the SEO tools at your disposal.
Tools like Google Analytics and expert SEO services (such as GoDaddy's SEO Services) can help you to better optimize your online presence for search engines like Google. And that's how you get your venture noticed in today's competitive landscape.
And while a global reach might sound tempting, many businesses benefit most from connecting with local customers. From restaurants to retail stores to real estate agencies, having an online footprint is important, but getting found by a local audience is crucial.
SEO can help with that.
But, remember this: SEO is a constantly changing, ongoing process for your business. The rules for SEO best practices can change quickly, so the most effective SEO strategies adapt and evolve.
Continually refining your SEO processes and planning ahead for the future will turbocharge your chances for search ranking success.
Ready to jumpstart your SEO strategy? If you're ready to take the first step or the next step, our resource guide is here to help you out.