Smart advertising tips for catering services
Catering businesses have to be creative to find the best ways to advertise their services. Unlike restaurants, many don't have a public venue so they fewer advantages in terms of visibility. Catering services depend more on word of mouth, thoughtful local advertising and promotions to get customers and grow their revenue.
Having a strong local advertising strategy is key since caterers are doing most of their business inside a specific geographic area.
Due to the nature of their business and the logistics of the service they provide, staying within a certain local area is usually important. So what approach should caterers take to get the word out in their local markets? Let's have a look at some of the best local advertising avenues and strategies.
5 surefire ways to get more catering clients
Watch your local listings.

Spread the word through social media.

Invest in digital ads.

Networking and co-marketing.

Get out into your community.
Hungry for more? Read on for the how-tos.
1. Watch your local listings
Online business directories like Google My Business, Bing places for business, and Yelp will help customers find your business when they're searching the internet for catering services like yours. Sign up is easy and free and, the more directories your business is listed in, the more chances you have to be found by potential customers. Also, having multiple listings helps you rank higher in organic search results as search engines will assign "authority" to your business and to your website.
It's important that your listing information be identical across all of the directories you're listed in.
Errors or inconsistencies in your business name, address and phone number will defeat the purpose of having multiple listings. Also, be sure that you appear on all the appropriate, relevant sites and that your business category is correct. It won't do your catering business any good to show up when someone is searching for an attorney.
Want to get your business listed everywhere, all from one place? Check out
GoDaddy's Get Found
 solution.
One last thing to consider is that if you don't set up a listing for your catering services, most directories will set one up for you based on whatever information exists on the internet. So, search the best directories for your business, claim your listing, and make sure it's complete and accurate.
2. Spread the word through social media
Social media sites like Facebook, Instagram and Twitter give catering services a wealth of opportunities to advertise and promote their services. Aside from attracting followers organically — i.e. having your posts shared on others' Facebook feeds — you can buy highly targeted ads to reach potential customers at an affordable price.
Building ads and setting up campaigns is easy, and there are lots of resources to help you.
You can try different ads to see what's most effective; it's as simple as setting a budget and sticking with it. Best of all, through their targeting methods, you can direct your advertising towards a specific geographic area and to your exact ideal customer (e.g. retirement, bar mitzvah, etc).
3. Invest in digital ads
You also have other local advertising avenues open to you. Digital marketing companies can help local catering services set up targeted ad campaigns using display ads and search engine marketing. They can also help in your search engine optimization efforts. If you are digitally savvy you can set up and run these types of campaigns yourself through search engines like Google — but having a professional handle it for you will probably save you money in the long run.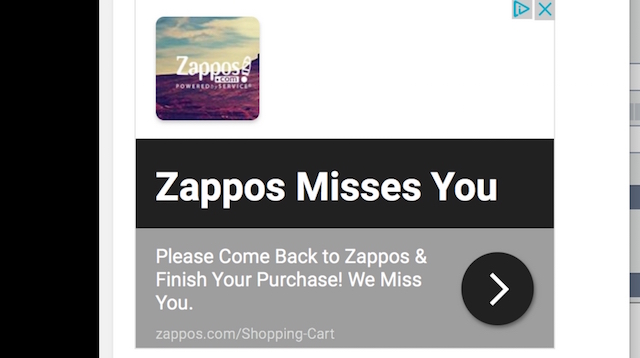 Retargeting or remarketing is a method of advertising that targets potential customers who've already shown an interest in your services. For example, if a bride visits your website, your retargeting service places a cookie on her computer. For the next couple of weeks, as she surfs around the internet, your ad will continue to be displayed to her.
Since choosing a caterer for an important event is a big decision and one that's likely to take a little time, staying top-of-mind with potential customers is a big advantage. With search engine marketing campaigns, you can target your local market geographically through specific keywords and phrases (e.g. "miami caterer") that potential customers might use to look for a catering services like yours.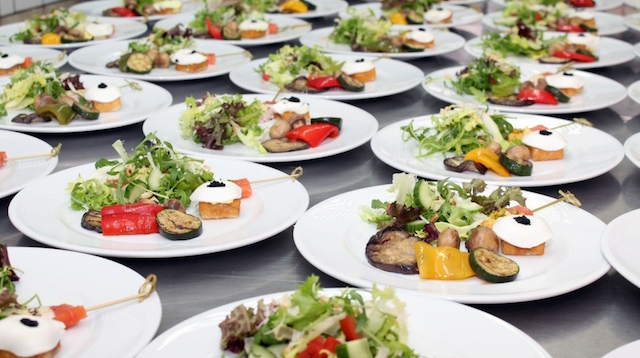 4. Networking and co-marketing
Aligning yourself with other businesses that service the same type of customers is a great local advertising and marketing strategy. For catering services, businesses such as florists, DJs and wedding and event planners are often open to mutual back-scratching. Forging relationships and participating in cooperative advertising will save everyone money, while extending the reach to more potential customers.
Networking helps fuel word of mouth — an important driver of new business.
5. Get out into your community
Getting involved in your local community will help you establish connections and form relationships that will help your catering services business grow. Charitable involvements gets you plugged into a network of people who will ultimately open business opportunities for you.
Taking part in "Taste of" events, fundraisers and business expos introduces you to potential customers in your local area.
"Taste of" events, art walks and street festivals can expose you to a wide range of potential customers and can up your visibility in your local area. Industry-specific events such as bridal shows and Chamber of Commerce mixers allow you to get right in front of your target customers and demo your offerings. Visibility and brand awareness are two goals caterers should always be striving for.
Local catering services, local promotion
To grow your catering clientele, focus squarely on your local community first. Luckily, there are some great methods and opportunities available to caterers that can help you increase your exposure and bookings. Think strategically and align your business with other successful businesses in your community. Networking will most likely be your sharpest tool. Build your marketing plan around that and watch your catering services business grow.