Sonia Hall-Massey & Bill Massey offer portable sanitation with The Restroom Kit
We recently chatted with husband-wife team Sonia Hall-Massey & Bill Massey of Clinton, Md., about their experience taking their product, The Restroom Kit, from idea to market. Read on for the Q&A below, check out the website, and follow the startup on Facebook, Twitter and YouTube to keep tabs on the growth of The Restroom Kit.
Q&A with Sonia Hall-Massey & Bill Massey, inventors of The Restroom Kit
Tell us about your product and what makes it stand apart from the competition.
Bill: We developed The Restroom Kit, which is patented, as a means of providing improved sanitation for users in public facilities. At home, you can control the amount of cleanliness and supplies that goes into your restroom, but outside facilities, you have no control over either.
Sonia: It includes one yard of three-ply toilet paper, a patented oversized toilet seat cover, a tush wipe and a hand wipe — all in a kit the size of a deck of cards. We're the only ones on the market that have this … other people may have a standard toilet seat cover and a wipe, and maybe a piece of tissue.
Bill: The packaging is unique, because each item is individually sealed so you can take what's needed at the time and save the items for later. The kit is great for freshening up in short notice.
Most of our competitors are strictly for the restroom, but The Restroom Kit gives our customers multiple options.
Sonia: It's good for the elderly, because they don't have to worry about the seat cover not covering the whole toilet and their skin touching the bare toilet seat.
What inspired you to start your own business?
Bill: Initially, the kit was just something for the family when we were out on the town. The restrooms we frequented while hanging out were under-supplied and always unsanitary, so we came up with a solution for the problem.
Sonia: This is something that's actually been 20+ years in the making. It started off as an idea for when the kids had to use the restroom. … You have the kids who want to touch everything in the bathroom.
Bill: Back then I was with a real estate investment company, but we were looking for something we could own ourselves. We started a product development company called TimeAway LLC in 2012. The Restroom Kit is the first product we've fully developed. We have at least 13 other products under development.
Sonia: We try to come up with things that are practical.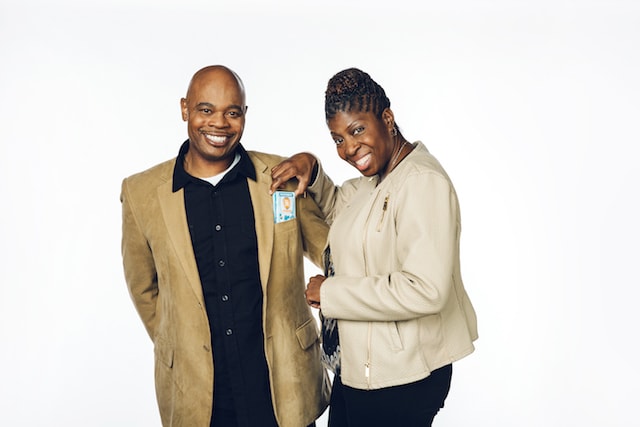 So tell us where you're at now in your business. Are you selling now?
Bill: Actually, we are selling now. We're selling on our website, and then we do vending events and things like that to sell in person. We are traveling all the time — anywhere there's a great event.
Sonia: If you have to go, if you have to use the bathroom, we'll travel.
GoDaddy GoCentral is made for mobile. Not only do GoCentral websites look great on mobile phones, you can even build your website using your phone and manage it on the go.
What obstacles did you face as a startup, and how did you overcome them?
Sonia: Getting people to understand what the product is. … We've had to go down that educational path. We've had card-sized flyers printed designed to educate about germs. We put together an educational video. We share information on Facebook.
Bill: We always ask people, "How many times have you gone to the restroom and something you needed is missing, toilet paper, soap, etc.?" So, between needing something and the contamination factor of the materials already present in the bathroom, [the kit] is the perfect product.
There's also funding. We sold 5 percent of the business to family and friends for $80,000, and we've invested $100,000 of our own money.
What strengths do you bring to the table as entrepreneurs?
Sonia: He always calls me an urchin. I will go out and research everything. I like to be sure we are providing the consumer with facts. I'm very analytical. And I just keep him in line.
Bill: I'm more the visionary, the person who comes up with most of the ideas. Having an idea is one thing bringing it to life is another animal.
Editor's note: Is it challenging to work with your spouse? "It's a perfect balance for us," says Bill, who has spent the last 17 years with Sonia. "We can communicate with each other," she says. "I'm not trying to step on his toes and he's not trying to step on my toes."
What's the most important lesson you've learned since starting the business?
Sonia: For me, it's that the people who you think are going to help you are not going to help you. You can't take things for granted. Stay focused. No one else is going to do it for you.
Bill: Prayer and fortitude. At the end of the day, I think God puts something in you. No matter what I say or what I do, the vision truly comes from Him and you just roll with it.
Thanks for taking the time to tell us about your startup, Sonia and Bill, and best of luck as you bring The Restroom Kit to the masses!