Star Wars fans grow their businesses with a passion for adventure, teamwork & The Force
I vividly remember watching "Star Wars" for the first time in 1977. I was five years old and had never seen a movie in a theater before. In fact, I had no idea you could watch a movie on a screen bigger than our 14-inch black-and-white TV.
I walked out of the theater with an entirely new outlook on life. Luke was real. The Force was real. My imagination was real. I treated my glitter-backed, iron-on Darth Vader T-shirt like it was a work of art until it was faded and cracked.
"Star Wars" impacted my generation in a powerful way. We grew up dreamers, just like Luke Skywalker. We never forgot about that galaxy far, far away. For many, that passion for "Star Wars" translated into business ownership. It makes sense — we were taught to believe in ourselves.
I recently hung out with 50,000 of my fellow "Star Wars" junkies at the 2015 Star Wars Celebration VII. I found this event especially fantastic because it blended my love for "Star Wars" and entrepreneurship. I met some amazing businesses and nonprofit organizations that grew from a passion for The Force.
This artwork doesn't fade or crack.
"Just like Luke Skywalker, you'll have to face down your fears and worries to move forward." ~ Joey Hamilton, owner of Revolt Tattoos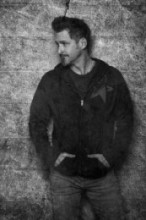 You might recognize Joey Hamilton from A&E's Ink Master reality TV show. He was crowned Ink Master as the winner of Season 3 and is also an licensed Lucasfilm artist. Like Luke Skywalker, Joey didn't relax after his big victory. "I could have self-destructed or disappeared when the show ended," Joey says, "but I continued to grow as an artist and sharpen my business acumen."
He focused on growing his new tattoo business, Revolt Tattoos, on the crowded streets of the Las Vegas Strip. "It wasn't easy! It took months of calculations and disappointments and my team and I sought out each and every Jedi Master in the small business universe for secrets of success," Joey remembers. "We learned the primary secret isn't so secret: never quit and be ready to work harder than you could have ever imagined. Just like Luke Skywalker, you'll have to face down your fears and worries to move forward."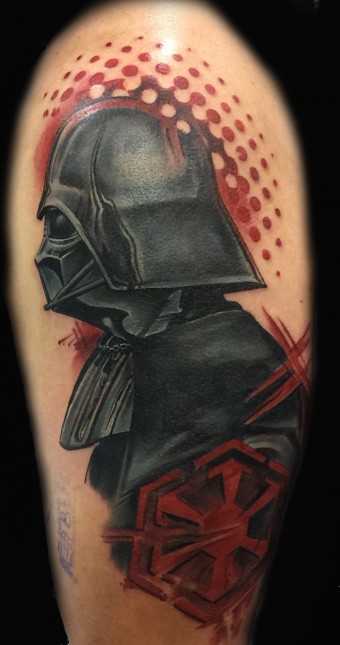 Making the leap from passion to profits is challenging. Joey worked two full-time jobs — for a local tattoo shop and the Air Force Special Operations Command — while keeping an eye out for his opportunity to make his passion more than a hobby. "When I heard my calling I educated myself and prepared for my opportunity… when it came, I was ready."
Joey left the USAF after 10 years of service to devote his time to tattooing, and opened his first shop in Florida within four years. Gaining experience and a strong reputation for quality work and customer service, he decided to make his mark in Sin City. Breaking into the Las Vegas market felt sort of like "rebelling against the Empire," Joey says, of offering an artistic, personalized service in the shadow of the big casino culture.
"I knew defeating the Empire business model wasn't going to be easy, so I built up a band of rebels with special talents to launch my dream business." He advises other would-be entrepreneurs to do the same:
"Surround yourself with the Han Solos and Chewbaccas of the world (specialists that make things happen). Live with the courage to confidently go in the direction of your dreams. … Measure your success by your happiness and enjoyment of what you are doing."
The case is strong with this one.
Max Duncan of TantrumCases.com is a young entreprenuer with the wisdom of a Jedi when it comes to business. Like Joey Hamilton — and, of course, Luke Skywalker and ObiWan Kenobi — he formed a team to accomplish something unique.
Max found an ex-Marine who not only had design skills, but was also a fabricator and engineer. The result of their efforts is a work of art that doubles as the most durable cell phone case I've ever seen. Max knew he was onto something special after the first field test:
"When we were ready to test the case, the designer actually put his own phone in the case and drove over it with an 18-wheel military vehicle. It survived that test so we took off down the interstate and threw the phone out of the window going 55 mph. The phone was fine. We knew we had something special."
When I saw the metal cell phone case with Han Solo's frozen body in 3D coming out of the back, I had to know how he came up with the idea. "I'm a huge Star Wars fan. I was in college when it came out," Max says. "The characters in the movie are timeless and the fanbase is hugely loyal to the Star Wars brand. It was worth it for us to combine the quality of our cases to the power of the Star Wars brand."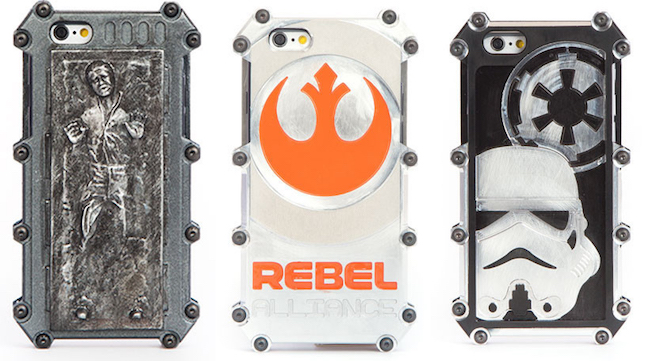 With a great idea but not a lot of money, Max launched Texas-based Tantrum in 2012. He set out to create a 100-percent American-made product that combined his passion for Star Wars and his desire to help create jobs in the U.S. economy. "When I started Tantrum Cases, I wasn't concerned with making a ton of money right away. Instead, I focused on reinvesting the profits I made and hiring the best employees," he says. "I focused on the day-to-day things and making sure my employees were happy."
His advice for other entrepreneurs?
"Start your business with your own money and stay debt free. Don't owe more to your vendors than your customers owe you. It's lean and efficient that way. Like Luke Skywalker, you'll learn along the way. Yoda had it right when he said fear leads to the dark side. Don't be afraid to fail."
Bad guys doing good.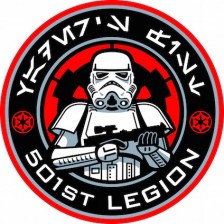 I know from experience that you can still play an active role in the Star Wars community even if you don't own a small business that caters to the Star Wars fans. Case in point: the 501st Legion. This worldwide Star Wars costuming organization is comprised of more than 7,400 active volunteer members in almost 60 countries. I'm one of them.
Dean Plantamura, the legion's PR officer, explains what it's all about:
"While our primary purpose is simply to celebrate the films we love by creating and wearing professional quality costumes representing the villains of Star Wars, the 501st Legion is also a leading force in fan-based charity events around the world, having raised millions of dollars for worthy causes through fundraising and appearances. We're the bad guys doing good!"
After watching members of the 501st Legion interact with my kids at a local event, I had join myself. I went home and started researching how to make my own screen-accurate Stormtrooper costume.
The 501st combines a love for charity, passion for Star Wars, and amazing array of movie-quality costumes into a cause that accomplishes some pretty amazing things. "Whether it's a visit to a children's hospital, donating blood in costume, or simply raising awareness through special events, the 501st Legion has been recognized by fellow fans, and even Lucasfilm/Disney, as the go-to fan group for fundraising," Dean says. "How many other 'hobbies' can say they are making the world a little brighter for those who need it most?"
Sure, fundraising is part of it, but it's a lot more than that.
It's difficult to put into words just how powerful it is to bring these Star Wars characters to life for kids at the local children's hospital. I promise you that regardless of how intimidating it looks to see Darth Vader flanked by Imperial Stormtroopers standing by a hospital bed, behind the masks are men and women in tears, marveling at the fearless courage and determination of the strongest little people on the planet.
Those inspirational kids are the real heroes in this story.
Join the #SmallBizForce and wish your friends a happy National Small Business Week. 
Image by: Mark Susan