GoDaddy guide to starting a restaurant.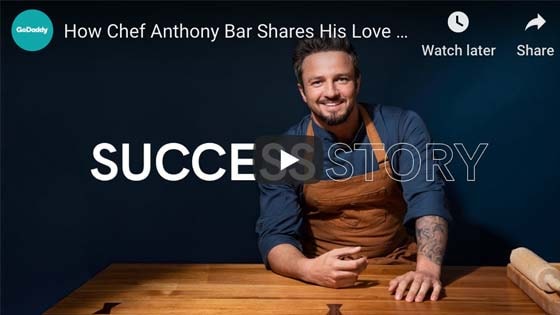 Starting a restaurant takes grit, determination and some specialized knowledge.
It's important to set up your restaurant for commercial success before you make the first recipe. This means understanding local laws and regulations, getting your marketing efforts in place, and meeting the needs of your target customers.
Sound appetizing? You're in the right place.
Resources for starting a restaurant
Set your pizza shop, taco shack, cafe, bar or whatever dining dream you've got up for success with these sizzling restaurant resources:
Creating tantalizing recipes is just one part of starting a restaurant business, but what else do you need to do?
Outline your business strategies. Set your goals. Create a marketing plan. Build your brand … Whew! That's a tall order. But we'll help you do the heavy lifting to get your restaurant ready for launch.
First steps? Get online with a great domain name and website.
Having an enticing online presence is key for potential customers to find you.
Search engine optimization (SEO) will help your restaurant show up when local customers are looking for a business like yours. Learn to be an SEO pro with optimized website copy, appetizing photos, an online menu, digital ordering and social media feeds.
We'll show you how.
Once you're getting more customers, keep them coming back for more.
Build strong connections and relationships with your customers through social media and online review sites to encourage repeat visits and referrals.
Starting a restaurant is an exciting endeavor — but serving up success takes thoughtful planning and commitment.
As Chef Anthony Bar says:
"Success is never owned. You just rent it and the rent is due every day. It's not happening in one day and you have to embrace that challenge."
The resources on this page are designed to help make your ideas real.
Let's see what it's all about.