20 questions with Suite Home Chicago's Jennifer Breen
Jennifer Breen is founder and president of a corporate housing company called Suite Home Chicago (SHC) that generates more than $20 million in revenue. Suite Home Chicago provides beautifully furnished apartments at the most popular Chicago and Wisconsin residential communities, with Neiman Marcus quality linens and housewares.
Jennifer ensures that her guests feel at home in their corporate apartment, and works with them personally to guarantee their living arrangements are as easy and comfortable as possible.
Suite Home Chicago is a certified woman-owned business and has won numerous awards, including, most recently, Best of Corporate Housing in Illinois (2019).
I had a chance to chat with the ever-dynamic Jennifer — a fellow Chicagoan — about temporary housing, entrepreneurship, motherhood and how her world has changed since the COVID-19 crisis.
Editor's note: This interview was conducted prior to the COVID-19 pandemic, and was updated to include Jennifer Breen's insights on navigating a hospitality business through the crisis (see question 6).
Related: Insights from travel industry insiders on managing through the COVID-19 crisis
Q&A with Suite Home Chicago Founder and President Jennifer Breen
This interview has been gently edited for length and clarity.
1. What led you to start SHC in 2005?
Jennifer Breen: I owned another company that was a vendor for the temporary housing industry, and I got the entrepreneurial itch to try something new. I decided to set up a few apartments and give furnished housing a try. From that point, Suite Home was born.
2. What is the coolest thing about your company that people need to know?
J.B.: We absolutely meet the best people in our job. Our clients literally come from all walks of life, and we have made so many fun connections over the years.
3. Are SHC guests allowed to swim nude at your facilities (e.g., similar to the classic Christie Brinkley scene in National Lampoon's Vacation)?
J.B.: Um … no. But that doesn't mean they don't try :)
4. Truth or dare question: Airbnb versus SHC?
J.B.: The truth is that Airbnb is very, very different from Suite Home (SH). We might both cater to companies or individuals who need apartments for a short period of time, but I dare anyone to compare our service.
Our SH team are trained professionals who manage our guests' entire stay and provide a personalized and streamlined experience. You know what you are walking into when you rent a SH apartment.
5. Any entrepreneurs in your family?
J.B.: Yes, there are several entrepreneurs in my family. Both of my sisters have dabbled in running their own businesses.
My aunt, uncle and cousin have all created companies together and continue to work with each other. And several of my in-laws manage and own their own businesses.
I am always amazed by their willingness to take such big chances to make their dreams a reality.
I look to my dad probably the most for guidance, even though he has never run his own business. In fact, he actually worked for the same company for 45 years (Chevron). Yet, I look to him because he has always been sound and reliable, and he navigated a successful career.
There is something very safe about knowing you have someone in your corner that is a bit more concrete, and always steady and dependable as you make those riskier decisions.
I give my dad a ton of credit too because my entrepreneurial mindset is pretty foreign to him, and he still tells me to "go for it."
Related: How to build confidence as a new entrepreneur
6. Where do you see SHC in five years and how has the COVID-19 crisis affected your outlook?
J.B.: Wow. The world has changed dramatically in the past few weeks. We saw our best year turn into probably our worst year in a matter of weeks.
Being in the hospitality business, Suite Home has been impacted by numerous cancellations or early departures, and we are finally to a point where we are not performing triage, but looking ahead to the future.
We are working with properties to mitigate our loss, and having conversations with clients on future business.
The world is in a waiting pattern right now, and while we are grateful our company saved for a rainy day, we did not save for rainy months.
By acting now to cut costs and mitigate risk, we know we will come out stronger in the end.
Our commitment to our clients, our employees and our brand remains strong, and we are looking ahead to the third and fourth quarter, as the second quarter is going to be a complete loss.
Personally, the toll of managing this pandemic has been great. Like so many leaders, I am navigating uncharted waters and the stress is unbelievable. I am learning that there is no right or wrong way to lead your company through this, and I am determined to lead with both my head and my heart.
I can not put my team out of work without putting up a good fight to keep us all employed. The unemployment rates are staggering, and I don't want them to become a statistic. Like Suite Home, they did nothing to cause this downturn, and I will need them to lead us successfully out of it.
I will also miss seeing my high school senior finish his final year and not having a traditional graduation. I have now come to terms that 2020 will not be the year I expected, and that is freeing. I want to stop worrying about now, and work on what is ahead.
7. What's the best thing about the work you do?
J.B.: It changes every single day. One day, we might be focusing on a Broadway show coming into the city, and the next day we are helping a family who is coming to Northwestern Memorial Hospital for medical treatment for their loved one. Each day varies, and our days always twist and turn in various directions. It is never boring.
J.B.: My kids are really proud of me. Every once in awhile they let me know that they are excited about what I'm doing, and it carries me for days.
I want to inspire them like my parents, who are themselves risk takers, inspired me.
For example, they never owned or operated their own businesses, but they did leave their hometown of Pittsburgh and moved to Los Angeles to finish school and start their careers. My dad was soon offered a job that would take them overseas within a few years, and with a toddler in tow at that time, they took it.
So, here they are about to take their first trip abroad, and they end up moving to Saudi Arabia for eight years. Who does that?
Their adventures have continued and they have lived or worked all over the world. They embrace change and new adventures way better than I do. They would not have settled into one location like I have in Chicago.
9. Does your website help you obtain new customers or business opportunities?
J.B.: It does. We mostly focus on business development through our sales team's efforts, but our website does drive considerable traffic to our team. We are excited to launch our new site in 2020 and even happier to report that GoDaddy hosts us!
Related: Your complete website launch checklist
10. How have you leveraged social media and the SHC blog to grow your business?
J.B.: Social media is a great tool for us. We love giving our customers a look into not only what our apartments look like, but our company culture. We have a truly special team, and you get to know them through our many posts and blogs.

11. Years ago, I witnessed you at a holiday party, nine months pregnant, and at the end, you made it home safely. But hours later you gave birth to your youngest child. What was that experience like?
J.B.: I think I freaked everyone out. Yes, I was having contractions during our holiday dinner, but it was my fifth child and I wasn't due for another 19 days. I figured it was just Braxton Hicks.
When I went home, I was getting ready for bed when my water broke. My husband was out of town so I called over my two friends — one to watch my kids and one to come to the hospital with me.
I quickly filled my kids' shoes with candy because it was the Eve of St. Nicholas, and I headed to Northwestern Memorial Hospital. Just a few hours later, my little Liam Nicholas came into the world.
What other way is there to welcome a fifth child (ha!)? And because he came so early, I went back to work three days later to wrap things up.
12. Which leads me to … What's your biggest pride and joy?
J.B.: Definitely my family. My husband and I are raising five spectacular kids. They are empathetic and loyal friends to their peers, wonderful leaders at school and loving children within our extended family. I could not be prouder of the young adults they are growing into.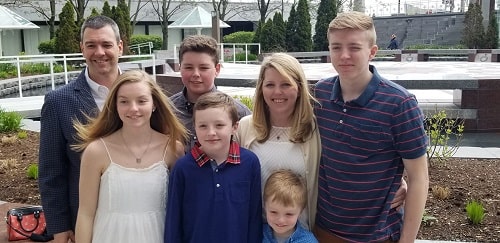 13. Who or what are you most grateful for this year?
J.B.: My firstborn goes to college this fall, and life will never be the same. I will miss him terribly and I am so grateful to him this year especially because he made us better parents.
He is the reason why we have been on this incredible journey for the past 18 years, and I couldn't be more thankful for this experience.
14. Your favorite go-to-movie when you are feeling down? When you are feeling happy?
J.B.: I am horrible at movies, but I really love a good underdog story like "The Blind Side" or "Miracle."
15. What do most people think is true about you, but isn't?
J.B.: That I can't relax. I actually can. I just don't do it that often.
16. What is something that people think you would never be into, but you are?
J.B.: Those that know me well cannot believe I religiously go to acupuncture. It helps center me, and lets me take a moment to shut my brain down.
17. What's the most important lesson you learned, and from who?
J.B.: I always tell my kids you cannot teach a work ethic. I got mine from my dad. He never stops, and never shies away from taking on a project.
I think I am a lot like him in that respect.
He is well into his 70s now and still goes up on the ladder cleaning gutters, or spending Saturday morning mowing his lawn.
He won't let someone fix or renovate his home. He will do it. And he is the best babysitter ever to his grandchildren.
I truly think he has been busier in retirement than he was when he was working. As time goes on, I hope to be just like him, always active and involved in something. It keeps you young.
18. Why is it important to contribute in a positive way to both your industry and community?
J.B.: I am a big believer in karma, and that if you put positive energy into the world, it will come back to you tenfold. I am very transparent when I discuss temp housing, even with my competitors.
I believe in collaboration and not competition and it has carried me far up until now. I learn so much from those I "compete" with and I am truly grateful for their partnership.
19. Any tips you wish to share on work-life balance or work-life integration?
J.B.: It took me up until about five years ago to learn that the world will not end if I do not respond to every email/text/phone call the minute it comes in. It is okay to be home and present after 5 p.m.
That doesn't mean I don't still tackle my work after hours. I just learned to "schedule send" so those emails go out the next morning when people think I am back to work.
It is healthier for my team too. I didn't realize that just because I didn't mind working a crazy work week that they felt like they had to too. I try to be respectful of their personal time and create those boundaries now.
Related: 18 self-care tips to promote entrepreneur health and wellness
20. What have I failed to ask that should be asked?
J.B.: My favorite quote: "Choose a job you love, and you will never work a day in your life" – Confucius
Many thanks to Jennifer Breen for sharing her story. Be sure to check out Suite Home Chicago's website and follow SHC on Facebook, Instagram and Pinterest.