TechDay New York 2018 recap: Bringing startups together under one roof
On May 10, 2018, more than 500 exhibitors gathered for TechDay New York at Pier 94 to host one of the largest startup events in the country. With more than 20,000 registered attendees, startups of all shapes and sizes flocked to the event space in the hopes of connecting with brands and gathering the necessary resources and advice for starting their own ventures — and TechDay New York delivered.
TechDay New York 2018
The brains behind TechDay say it best: " … a fixture within the tech and startup communities in NYC, LA and London, TechDay is geared towards connecting tech startups to all the resources they need to grow." Holding this event in one of those three major locations, a remarkable number of brands set up shop to spread awareness, while registered attendees can peruse their exhibits, tune into TechDayTalks, or even pitch their ideas to Shark Tank, thanks to this year's open casting call in New York.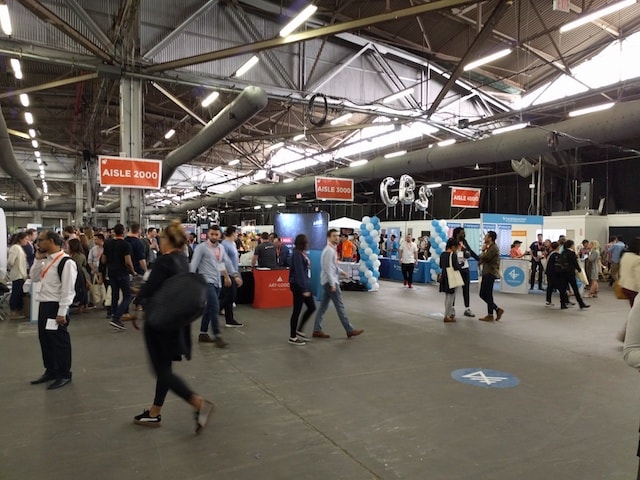 A place for connecting
While the target audience seemed to be geared toward startups, there were a number of attendees who didn't fall squarely into that category. From students interested in finding new jobs after graduation to investors looking for the next big idea, the event space was flooded with curiosity and excitement.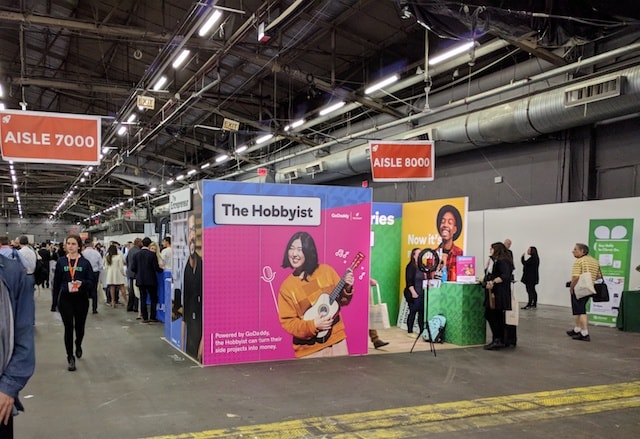 Whether the booths in question were startups showing off new ideas and products or larger brands looking to support said entrepreneurs, there was no shortage of things to discover and people to meet. The GoDaddy booth unveiled its colorful set with a call-to-action that drove many visitors to our wood-clad doorstep: come tell us your origin story, and we'll see what we can do to support you.
We're having a blast at #TechDay New York and you should totally come by the @godaddy booth if you're here :) pic.twitter.com/g6PiL4NLDt

— Noah Plumb [#techday] (@no) May 10, 2018
A number of entrepreneurs made it a point to stop by and chat, taking advantage of our props and great lighting to snag a photo worthy of sharing on social media. Whether they proudly proclaimed themselves as "Masterminds," "Hobbyists," "Entrepreneurs," or "Moonlighters," they smiled big and then shared what made their ideas unique on Twitter or Instagram.
I'm looking to turn a hobby into a side business. I really want to take my photography/videography to the next level #TechDay @GoDaddy pic.twitter.com/Q9738jTT4m

— Wayne Jones (@wayneoflife) May 10, 2018
So why ask people about their origin stories? Because that's what we're all about! Every business persona — from Mastermind to Moonlighter — has different needs in order to get their idea moving. So we wanted to open the door for conversation while encouraging them to embrace their side gigs and take their startups to the next level.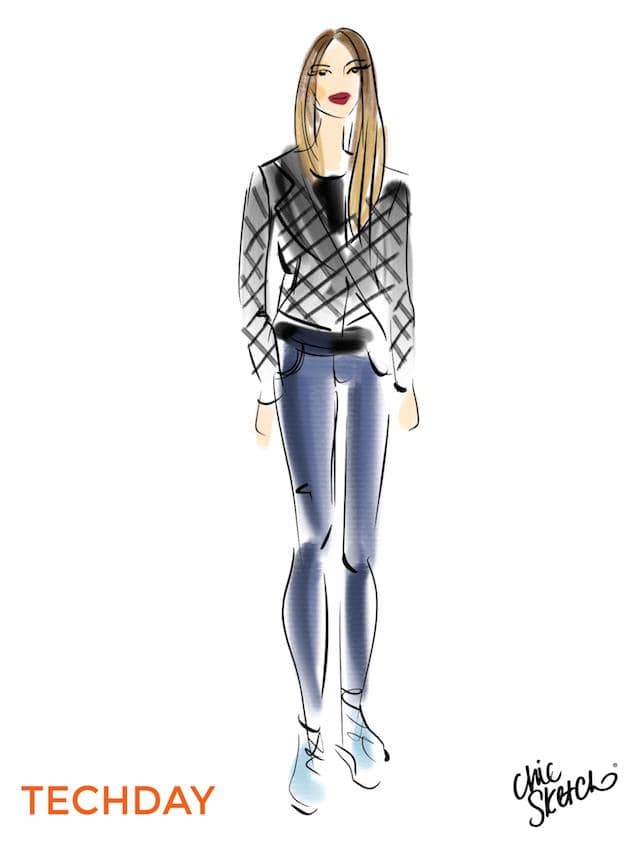 But we weren't the only ones with an exciting booth or ideas. Two entrepreneurs, Jordan Edelson and Emily Brickel Edelson, merged tech and fashion with their app, Chic Sketch, which allows users to upload a photo and receive a sketch for an affordable fee. Handing out free samples at TechDay New York, they drew a large crowd with their innovative concept and fun app.
Another entrepreneur, Marcus Blackwell Jr., combined music, math and technology in his app, Make Music Count. With the goal of making learning math more accessible by associating numbers with popular hip hop songs, one can play the virtual piano by following a sequence of equations, solving the math problem in order to correctly play the song.
While technology was a common underlying factor for most of the entrepreneurs and startups at TechDay New York, it wasn't a mandatory requirement. Cam MacKugler, founder and CEO of Seedsheet, leaned on his architectural background and his love for agriculture to bring an innovative gardening idea to market — one that doesn't require acres of land and allows greenthumbs everywhere to grow fresh produce with a little bit of water and an even smaller amount of space.
Thanks for the good times, TechDay New York
For a one-day event, there was a lot to take in. There were no shortage of entrepreneurs with exciting concepts and businesses. After hearing so many origin stories throughout the day, I have no doubt in my mind that we'll see a number of booming startups in the years to come. If you missed out on TechDay New York, don't fret — you can attend in Los Angeles in September 2018 and London in October 2018. And in the meantime, be sure to check out our series of Instagram photos to get a better idea of the entrepreneurs we met!