That Hard Hat Girl: Social scientist takes hats to the streets for conversation
Angela Forhan is the is the creative force behind the blog, That Hard Hat Girl. An expert in business networking, she's dedicated to meeting new people and starting conversations — all while wearing a hard hat. She views herself as a catalyst for bridging the communication gap, and loves coffee almost as much as her hats. Almost.
The beginning of That Hard Hat Girl
What inspired you to start your business? When?
First came my love of hard hats! Then, I noticed that wearing a hard hat is a great conversation starter, allowing me to meet tons of people. I liked that and decided I wanted to make That Hard Hat Girl a personal brand.
My main goal was not, and is still not, to make a profit — it is more of a brand, lifestyle and empowerment venture. I bought the domain late July of 2016 and launched my site January 2, 2017. My upcoming post in July will announce my plans for the coming six months.
What first steps did you take to launch the business?
I counted down from five and hit launch! I talked to people to garner ideas. Then, I thought it would be awesome to have my own website. I looked up a few domain hosting options and chose GoDaddy.
GoDaddy came to mind first because of their memorable Super Bowl XLVIII commercial.
I bought my domain and then worked on my site for about four months. It was a slow process because there's a lot to learn, and I am a full-time student at the University of Portland. YouTube was a great help.
What obstacles did you face as a startup, and how did you overcome them?
The first obstacle was answering the question "why?" I chose to ignore it and just got started. The main obstacle for me was learning WordPress.
As this is my first venture, there was so much to learn — there were innumerable firsts.
Things such as registering my domain, setting up and learning Google Analytics, working with customer service personnel at various companies at 2 a.m., and experiencing what it is like being the boss and delegating to myself! There was a huge learning curve, but I am very gratified with how far I have come and how much I have learned.
How did you identify your niche in the market?
I initially cast a very wide net. Over the past six months, I started to identify a niche — that being young women and their dads.
Dads really identify with the concept of wanting their daughters to have equal opportunity and empowerment.
I did not expect this to become my niche, but after many conversations with dads of daughters at various ages, it became apparent. Because I am a confident, assertive (NOT bossy), curious and a genuine 20-year-old, parents (especially dads) see me as someone standing up for equality and opportunity — someone their daughters can emulate.
I am the only person in my immediate family to not be an engineer. My dad, mom, two sisters, and brother are all engineers. But engineering is not my passion, business is. So I am an Economics major, or as my friends say, a business nerd. And I love it.
This helped me find my niche because there is so much social pressure on people, especially adolescent girls. Pressure to conform to predetermined roles in society, pressure to do what will make others happy, and pressure to live up to unrealistic standards of beauty or success.
I, too, feel these pressures, but due to the support from my family and mentors, I followed my passion (studying business) and let my hard hat take the pressure. I am both so grateful for the support I received and proud of my decision that I wanted to be public and upfront about my journey of being "uniquely me."
Not everyone has the same level of support that I did when I was deciding what to do. That is why I want to be that support and encourage people, especially girls, so they write their own life stories and not let anyone tell them they can't do something because they're female, not smart enough, the class clown, etc.
Both my sisters are passionate engineers, yet they both face obstacles in the workplace because they are female. This has really surprised me and opened my eyes to limitations in other areas of society. I think that everyone should have equal opportunities regardless of gender or other factors.
Young women, or anyone for that matter, shouldn't have to feel constrained by momentum, stereotypes or biases.
I know how difficult it is to be the one to break inertia and go a different direction, so I feel like I have a great perspective and first-hand experience.
Tell us about your business model.
My business model is a little different than what you'd find in any textbook. As I've said before, my primary goal is not to make money.
My goals are to stimulate good in the world, to empower people to be themselves by breaking away from the pressure to conform to expectations of others, and to encourage them to SHATTER their glass ceilings.
I do not see the "glass ceiling" as only salary, but anything that sits between where someone is and where they want to be — be it fear, oppression, doubt or literally a window. I want to help people JUST STAND UP! I have been able to shatter my own glass ceilings because of many amazing mentors that I have been blessed to have in my life. It is a reality that some people, especially kids, don't always have someone they look up to as a mentor or as an example of defying the norm. I want to be a part of the solution to the broken world we live in by helping, encouraging, and empowering whoever I can.
All that being said, I don't yet have a goal to make a profit. My plan is to do what I love (wear hard hats to start conversations). If it is meant to turn into a profit-making business, it will. A rising tide lifts all ships, so my model has more to do with doing what I think is right, being a facilitator of good, and having fun through it all.
Some people ask if I am crazy because I have invested hundreds of dollars into That Hard Hat Girl and received no monetary value in return. And that's a reasonable question.
My returns are different — having fun and meeting new people on a water taxi in Boston, making a flight via Delta thanks to an employee who recognized me from a previous flight. If I can encourage people to dare to be different and step out of their comfort zones, that's enough for me to call this a success.
Finally, I have learned a ton throughout my That Hard Hat Girl journey, such as how to build a website, effective marketing skills and overall aspects of business. It is already worth it to me. Knowledge is power!
In the future, I could see the possibility of having ads on my site, being a company spokesperson, wearing logo hard hats on a quid pro quo basis, running workshops focused on personal development for younger women (9-17 years), or being a professional public speaker. Or, all of the above!
Goals and philosophy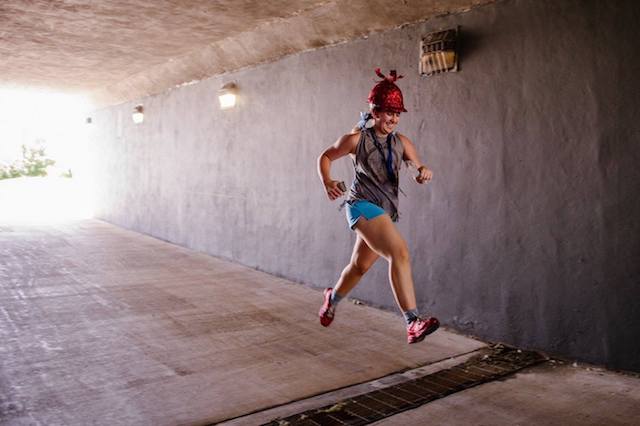 What are the goals for your business?
The goals of That Hard Hat Girl are to empower people to be their best selves, to help people shatter their own glass ceilings (whatever is holding them back), to be someone that creates positive energy and kindness everywhere I go, and to reach 10,000 Instagram followers (@thathardhatgirl) by my graduation in May 2019.
I plan to continue hard-hatting for at least the next two years (unless it stops being fun), to continue to grow into my niche, to collaborate with other organizations with the same vision, and to never be attacked by a woodpecker (and if I am, I will be ready).
What's your guiding business philosophy?
"I can and I will; persistence is omnipotent." I am a believer that if I can dream it, I can do it! And so can others.
What three words epitomize success in your book?
Passion, action and follow-through. Success is finding a passion, taking action, and making your idea happen!
What strengths do you bring to the table as an entrepreneur?
I am a great driver — I stop for red lights, I use caution at yellow lights, and I am always looking for green lights. And I look out the windshield more than the rear-view mirror. My ability to see opportunities, connect with the right people, and make things happen are my greatest strengths.
Where do you see your business in five years? Ten years?
The real question for me is, "where do I see myself in five to 10 years?" In five to 10 years, I plan to be owning and operating a fairly large business. As of now, I don't see That Hard Hat Girl as that business. I continually seek new opportunities that might present themselves. Regardless of what happens to That Hard Hat Girl in the long term, it has been a great horse to ride, and I am excited to see where it takes me.
Products and tools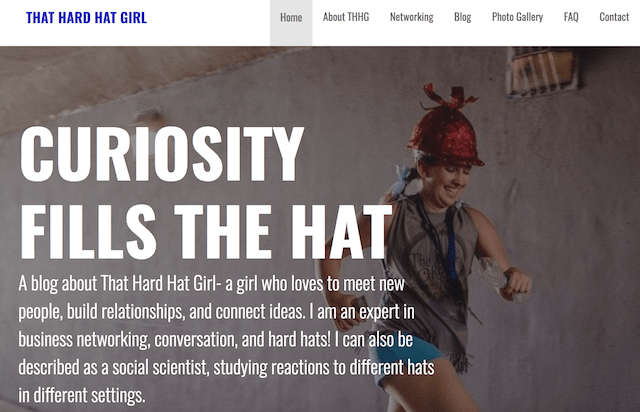 What online tools do you use for your business?
I use GoDaddy domain services, hosting services and email, along with WordPress software for my site. To track progress, I use Google Analytics and the GoDaddy dashboard. I also like to use social media such as Facebook, Instagram, YouTube and Snapchat (coming soon).
How do you use each of these tools and why is each important?
GoDaddy services are how I get the behind-the-scenes stuff done. I love the GoDaddy user interface and the customer support is top-shelf (no, they didn't pay me to say that). I then use social media to push out and deliver the content created using WordPress and GoDaddy. My YouTube channel is where I post my vlogs, which I link directly to my website.
What difference have these tools made to your business?
The services from GoDaddy have been a real difference-maker for me. In conjunction with the rockstar customer service, it has been a game-changer. I have called at 2 a.m., and many other hours of the day, and they are always there to help. I like using YouTube for videos because of the ease of connectivity to other platforms.
Advice and personal
What's the most valuable lesson you've learned since starting your business?
Don't let stumbling on the first hill get in the way of summiting the mountain.
What's your best advice for other entrepreneurs?
Get started. Take the first step. You miss 100 percent of the shots you don't take. Believe in yourself, but seek the advice of others.
How do you unwind?
To unwind, I like to cook and bake, write cards to friends and family, and read personal development books. I also enjoy hanging out with my family, friends and dog — and of course, my 53-inch plush moose from Costco.
Was there a turning point in your life that led you to where you are today?
There were two turning points in my life. The first was going to RYLA (Rotary Youth Leadership Awards) camp. RYLA is a multi-day event for rising high school juniors to outgoing high school seniors. I came out of RYLA with a new paradigm, a new found confidence and a love for all things Rotary.
The second turning point was most definitely spring break senior year of high school. My parents and I went to an investment conference for my dad's work, then to Arizona.
It was during the conference that it became very clear that although I liked math and science, I loved business.
We also went on a midnight tour of the power plant my sister works at, which is where I wore my first hard hat. At the time, I hadn't even thought of doing what I am doing today, but it eventually all came together.
How do you balance the needs of your business with your personal life?
I take a significant amount of time for self-care and listen closely to the needs of my mind and body. I do yoga and kickboxing to keep stress at bay and for overall exercise. However, I love what I do and don't consider hard-hatting (wearing hard hats, et al.) as work. A large portion of my time and energy on That Hard Hat Girl is spent creating online content, such as blog posts and vlogs, with an equal amount of time spent in the community building the brand and spreading my message.

Thanks for taking the time to chat with us, Angela! You can check out That Hard Hat Girl at TharHardHatGirl.com or follow her on Facebook, Instagram or YouTube.