To The Finish Line: A blog for working adults over 50
Thirty years ago, the current "silver worker" was launching his or her career and optimistic about the future. It was the 80s — good music, shoulder pads, the mullet and rapidly advancing technology. Those folks were unstoppable. Frequently, they sought out the advice of the more tenured employee to learn the ropes.
Today, this same person is often the most tenured employee. Sadly, instead of being sought out for sage advice, they're now being ignored, passed over for promotions, and the first to be laid off.
As Ashton Applewhite of The New York Times wrote:
"Discouraged and diminished, many older Americans stop looking for work entirely. They become economically dependent, contributing to the misperception that older people are a burden to society, but it's not by choice. How are older people supposed to remain self-sufficient if they're forced out of the job market?"
Judy Baldwin recognized this conundrum for her over-50 peers, and she came up with the brilliant idea to start an advice blog called "To The Finish Line," at ToTheFinishLine.com.
The beginning of To The Finish Line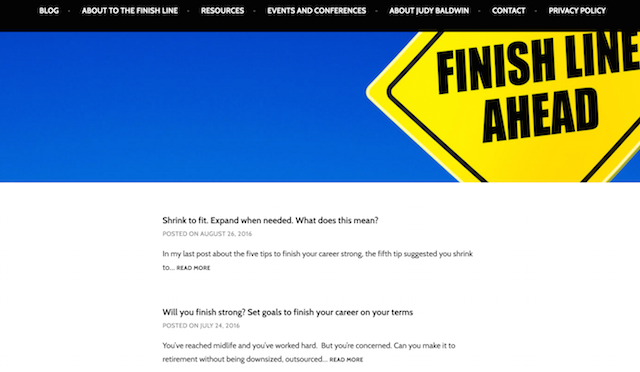 At the age of 63, Judy has survived three reorganizations and company layoffs. She credits this experience to continuous learning of new technology and maintaining a current sense of style. Judy has seen many of her over-50 peers laid off throughout the years.
"They thought they had great careers, but they didn't see the end coming. When these shifts happen, it's the older workers who are the first to get laid off. They search and search and can't find a job at the same level — if they find a job at all."
After scanning the internet, she found a dearth of blogs offering actionable advice to these over-50 employees. So, in June 2016, she created ToTheFinishLine.com — an advice blog to teach other over-50 workers what she has learned about staying active in the job market and career momentum.
New to the blogging community — but with 40 years in business — Judy knew that to be successful, her blog would need to be unique, sincere and focused on the subject matter.
Just minutes to get started
Judy also understood that she needed a great domain name, a WordPress platform for her blog and a business email address to get started. She started a search for domain names at GoDaddy. She took advantage of the chat feature in order to a have a virtual conversation with a GoDaddy consultant. After explaining her technology needs, the consultant presented a technology package at a great price. Judy was up in running in less than 10 minutes!
While designing the website, Judy encountered small difficulties, but worked through them on her own instead of enlisting the help of the GoDaddy team.
"I wanted to figure out how to fix it myself. It's important to me to stand on my own when it comes to technology, which, by the way, is the key to my successful career at this late stage in life."
Judy's desire to further her own technical knowledge has kept her career moving in the past, so she wasn't about to pass up the opportunity. Now, it was time to focus on her blog's future.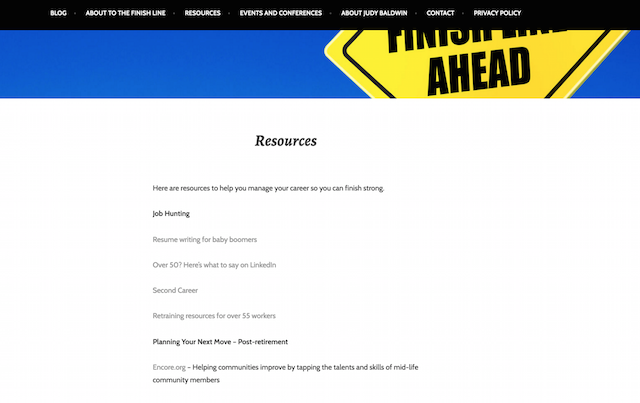 Making money on the blog
Producing revenue from a blog can be a lofty goal, but Judy knows it can take years to generate a modest income. With retirement just six years away, she has plans to monetize her blog and to keep things fresh and engaging for her readers.
"Entrepreneurs will work more hours than they ever did when they were employed by someone else. They need to work this hard to make it happen. But if they have passion for their business, it won't seem like work."
She's ready to put in the work to give herself income to supplement her retirement fund. Plus, writing actionable advice for her over-50 peers is near and dear to her heart — an all-around win.
Content and contacts
While Judy recognizes her potential for profit, her site is more than just a blog to her. It's a way to actively engage with a specific niche. And in order to do that, she has to have the right means of contact in place, as well as captivating content.
"To offer a blog with an engaging experience for my readers, it's important to have a complete ecosystem of tools to enhance their engagement," she says. "This includes more than just a blog page, but other pages on my site that offer practical and useful resources, and a tool to deliver a newsletter to their inboxes with more useful tips."
And that's not all — Judy wanted her viewers to feel confident in her site's security. She was compelled to add an SSL Certificate from GoDaddy because she wanted her readers to feel safe providing her with their personal information. Plus, the instant recognition that comes with seeing the security seal on her blog gives her readers — and herself — peace of mind.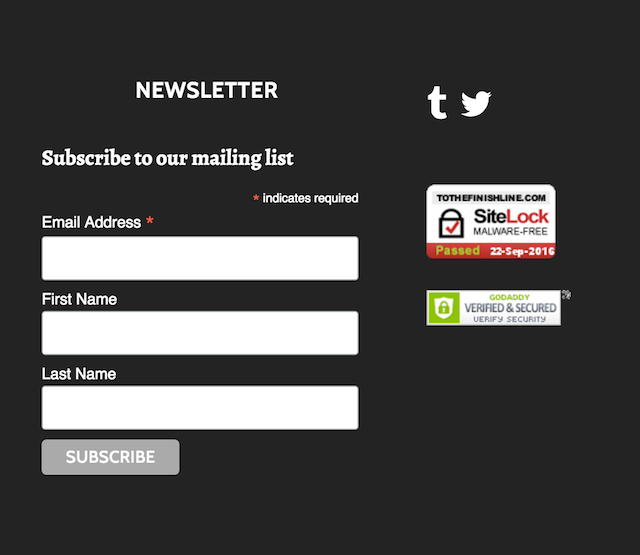 In addition, Judy opted for a SiteLock license. She explains:
"Because I've witnessed attempts by hackers to infiltrate a corporate website, I wanted to be sure that my blog's website was protected as much as possible from malware."
As a busy woman working two full-time jobs, she appreciates having her SSL and SiteLock (as well as her other products) all accessible from one central location, giving her more time to focus on her blog.
Going solo doesn't mean alone
Sometimes, the hardest part of being an entrepreneur is working more hours than being someone else's employee. Judy recommends reaching out to other small business owners to exchange ideas and advice.
"Entrepreneurship can be very lonely, so seek out others to share successes and console each other when there are setbacks."
It helps to have a support system in place when dealing with the not-so-fun parts of business. If you're looking for a community to connect with, you can try OwnIt, a platform for small business owners to connect. Or, you can start your own group.
Carve out personal time
Judy does it all. Between a working full-time job and nurturing a thriving blog, it can be hard to find time for herself. Cultural events, drinks with friends, reading, gym, or getting lost in Pinterest with a glass of wine — Judy keeps her options for de-stressing open.
"I know that I am no good for anyone or anything when I am on the cusp of burnout."
The same can be said for all small business owners out there. So no matter your industry, be you a blogger or mom-and-pop shop, give yourself time for leisure.
A big thanks to Judy for taking the time to answer our questions and share her story. You can visit her site at ToTheFinishLine.com, or follow her on Twitter or Tumblr.