Transforming retail returns into positive post-purchase experiences
Running your own retail business is no easy feat. You have to order inventory, keep tabs on your finances and, perhaps most importantly, inspire customer loyalty. And the way you handle your retail returns can turn customers into lifelong devotees or lost opportunities.
Customer loyalty is key
The success of your retail business depends on whether or not it meets consumers' needs. Not only do you need to supply their favorite products, but you have to ensure they're satisfied with the merchandise in the long term. That's how you maintain repeat business, which is crucial for any successful retail venture.
So how are you ensuring that your existing customers remain loyal? You need to meet customers' needs throughout the entire retail transaction — that includes returns and refunds.
There's no reason to see return transactions as negative transactions.
Related: How your return policies can create trust and customer satisfaction
How to turn retail returns into an opportunity
Believe it or not, there are positives that can come out of retail returns. When handled the right way, they can increase customer loyalty and profits.
Change your mindset.

Optimize the post-purchase experience with technology.

Outline a clear and fair return policy.

Put your winning customer service on display.
Read on to learn how you can transform retail returns into positive post-purchase experiences for your business.
1. Change your mindset
Traditionally, returns or exchanges represent a customer's unhappiness with a product. Perhaps the merchandise was damaged or it was the wrong size. Even if the reason is not the retailer's fault, returns are viewed negatively as a profit loss.
If you are going to turn a return experience into a positive one, it's time to shift your thinking, so you can make the most of every customer interaction.
Make it your goal to turn customer frustration into satisfaction.
To start, stop calling them "return transactions." Instead, think of them as "post-purchase experiences," which interprets the transaction as open to a positive result.
Guillaume Racine, co-founder of Return Magic, which is a successful return management software company for eCommerce platforms, insists, "Returns are an opportunity more than a problem." Don't let this opportunity slip away. Instead, make the most of your chance to impress a customer.
Related: Tips to optimize your eCommerce customers' post-purchase experience
2. Optimize the post-purchase experience with technology
Technology can help you make the return and exchange process seamless and efficient. Innovative companies like Return Magic and Narvar are transforming post-purchase experiences for retail businesses everywhere.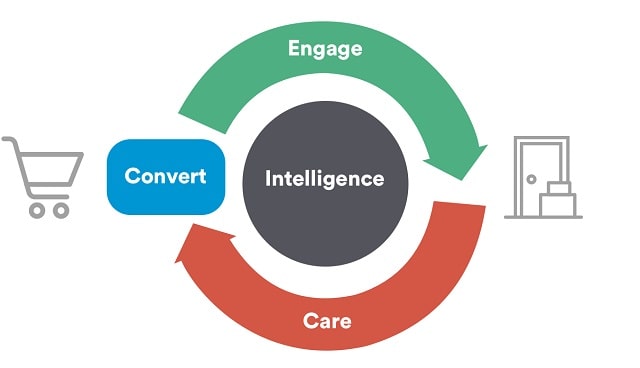 Narvar's platform offers user-friendly solutions for shipping and tracking returns and exchanges. It even allows users and retailers to communicate through the application in real time, plus it offers opportunities to upsell. After return and/or exchange transactions, customers are prompted with personalized recommendations.
Narvar understands the importance of prioritizing customer relationships over day-to-day profits, and that retail businesses that inspire long-term loyalty will reap the long-term profits.
Related: Upselling and cross-selling techniques for online stores
3. Outline a clear and fair return policy
Given Narvar's position in the field of post-purchase experiences, the company has conducted extensive research about retail returns. These statistics come from its 2017 Consumer Report:
About half (48 percent) of shoppers conducted a return transaction with an online retailer.
About half (49 percent) of potential customers check a retailer's return/exchange policy before buying a product.
The vast majority (95 percent) of customers who are satisfied with a retailer's post-purchase experience will buy from them again.
This just goes to show that having a clear and fair return policy is important to customers, particularly when selling products online.
So what should you put in your return policy? Be reasonable when it comes to the length of time a customer has to return a product for a full refund. One week should give customers enough time to decide if they want to keep the item or not.
And remember, your goal is to resell returned merchandise, so you want items returned quickly, yet safely. To this end, provide customers with the necessary packaging and shipping containers for each potential return. And even if you ship an exchanged item, you still need to provide repackaging materials in case the customer wants to return or exchange yet again.
Take the time to develop a concise and customer-friendly return/exchange policy.
Doing so can transform your retail returns into profit, even if it takes a little extra time to resell products.
Related: Returns and refunds policy templates for online shopping sites
4. Put your winning customer service on display
Post-purchase experiences provide an opportunity to prove to customers that you care about their satisfaction and are dedicated to fair retail practices. This can give you an advantage over competitors who offer frustrating or unfair return policies.
Providing excellent customer service is crucial to maintaining a positive reputation as a retail business.
Customers regularly take a brand's online reviews into consideration when shopping.
Need extra help in this area? This customer service survival guide offers a crash course.
Remember, how you handle retail returns directly influences customers' view of your business. Making the experience positive and solution-oriented will only enhance their trust in your brand.
Related: How to create the best retail customer service experience
Positive return experiences can pay off in other ways
In a perfect world, you could turn all retail returns into profit. While that might not be realistic, there are still plenty of ways to turn returns into sales.
Sales, though, should only be one part of your goal to optimize return transactions. You'll find that investing in the post-purchase experience provides other kinds of profits, such as brand loyalty and positive online reviews.
In the long run, those profits will lead to further sales one way or another. Remember that perfecting your return experience is an investment in both the present and the future of your retail business.
Image by: Simone Viani on Unsplash
The GoDaddy product information in this article is outdated and currently under review for accuracy. For the latest up-to-date product information please visit godaddy.com