Trust is a huge deal. With an ever-increasing and alarming number of scams, viruses and shady creeps on the Internet, it's no wonder online shoppers go to a site with their guard up – ready to hit the back button at a moment's notice. These days, your website doesn't just have to be trustworthy – it has to scream credibility.
Here are a few different ways you can put your website visitors' fears at ease and keep them on your site long enough to make a purchase:
Make the need-to-know stuff easy to find.
You'll lose credibility fast if your online store is missing the basics – including a clear and visible return and exchange policy, contact information, a list (or pictures) of accepted credit cards, FAQ, etc. Your customers don't have time to go on a scavenger hunt, so make sure the information and legitimacy they're looking for is easy to find.

Here's an example of an e-commerce site that does it right: http://snap-bibs.com/p/faq. The company's terms and conditions, return policy, FAQs and shipping information are clearly listed on the Shipping & FAQ page. Now that's killing four birds with one stone!
Be a human, not a robot
Like we said before – people don't trust websites. They trust people! Which is why giving your website some personality is crucial. A witty sense of humor helps, but personal information is the way to a customer's heart. A lot of people care about the history of a business – its roots, values, vision, etc. – so make sure you're sharing your story to connect and establish a relationship with potential customers. Integrating your e-commerce site with your social media profiles is a great way to offer more insight into who you are and what you're all about.
Showcase your trustworthy track record
Since people trust people, why not let your satisfied customers do the talking for you? Product reviews, customer testimonials and press snapshots are a great way to gain your website visitors' trust. Savvy online store owners, like celebrity hair stylist Billy Lowe of Gloss & Toss, dedicate an entire page to inspiring customer testimonials and press. Reading complimentary reviews goes a long way toward instilling confidence in site visitors.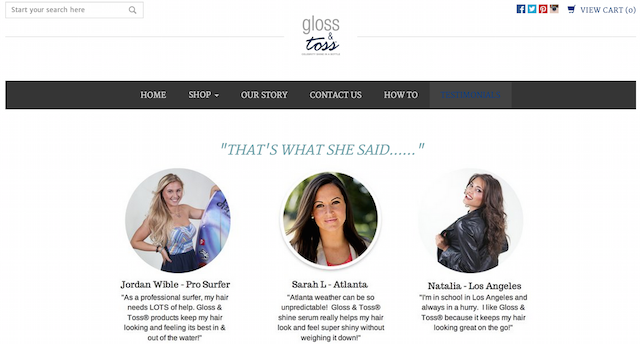 Need some tips for collecting great customer endorsements? This post might help.
Prove it
There's a lot to prove as a business owner, but one way to quickly establish trust is by showing your online shoppers that your website is secure. With all the flakey businesses online these days, seasoned online shoppers know how to spot a secure website by simply looking at a site's URL in the browser bar. If it has a secure connection, it will have a padlock symbol or an https (http with an "s" at the end) preceeding the website address. Like this: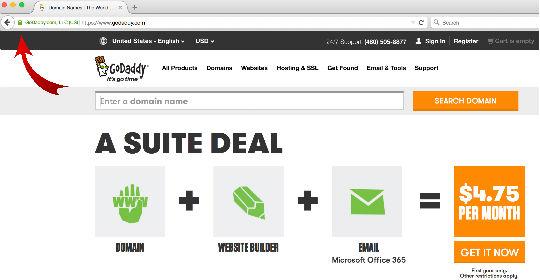 Additionally, an SSL certificate can add an extra layer of security that helps encrypt a customer's personal banking information during an online purchase. It's a great tool and selling point to help gain and retain customers.
Better to be safe than sorry
Having a trustworthy site doesn't guarantee a momentous spike in sales, and your e-commerce site will never be perfect to every customer. But taking a few simple steps to up your site's credibility factor can have a major impact on the long-term success of your business. So, how do you boost your business's trustworthiness online? Please share in the Comments!