Travel trends: How business travel will change in 2018
If you want to make the most of your business travel budget, keeping up with travel trends is essential. In 2017, we've seen the sharing economy continue to grow, and several changes to popular credit cards and rewards programs. Here are the major trends set to make an impact on business travel in 2018.
The rise of Airbnb for business
Airbnb may have started by disrupting the personal travel market, but recently it has been making headway in business travel, with 10 percent of bookings dedicated to business purposes.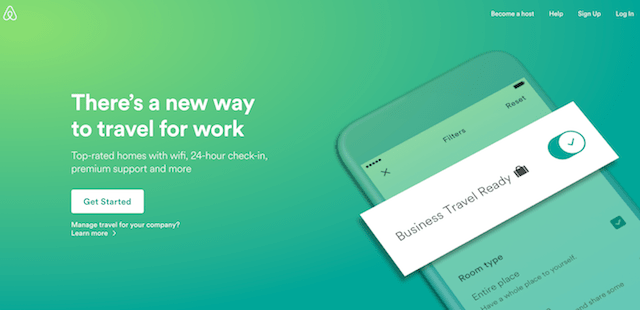 It now offers an Airbnb for Business service that includes only listings considered business travel-ready. To make the cut, the home must meet specific requirements, including amenities that business travelers often need.
The company is also building relationships with travel management companies, and allows businesses to set up their own accounts to manage bookings.
With current travel trends, hotels already tend to be more expensive than comparable accommodations on Airbnb, and their prices are expected to increase in 2018. If you've stuck with hotels up until now, Airbnb is worth checking out. You can spend less and stay somewhere that feels more like home.
Greater restrictions on credit card bonuses
Credit card signup bonuses have always provided the best bang for your buck when it comes to earning rewards. A good rewards card may earn you three points per dollar in select spending categories, but bonuses can earn you 50,000 to 100,000 points just for meeting minimum spending requirements.
With those bonus opportunities in today's travel trends, the best strategy to maximize your rewards has been signing up for cards, collecting the bonuses, and later downgrading the cards to avoid the annual fees.
Card issuers are making this more difficult, though.
American Express and Chase both updated their policies in August to crack down on accounts that take advantage of signup bonuses. American Express adjusted its terms and conditions to state that it may not issue a bonus if it feels the cardholder is gaming the system, and Chase set up new rules limiting cardholders to only one Sapphire card bonus every 24 months (and only one Sapphire card at a time).
With signup bonuses harder to come by, it's more important to choose credit cards that offer bonuses in your typical spending categories.
American Express credit cards are particularly useful here, as several of them allow you to choose which spending categories earn bonus points.
The fading value of airline and hotel rewards programs
Airlines and hotels design their rewards programs to build loyalty among travelers — but loyalty is losing its place among travel trends. These programs often devalue their points or miles by raising the cost of award bookings, which means any rewards you saved could be worth less with little warning.
Reaching elite status tiers is more difficult, especially with airline rewards programs.
Every major carrier now uses a fare-based awards system instead of a mileage-based awards system. For the typical business traveler, the value of reaching an elite status tier won't outweigh the cost of getting there.
Another issue is the limitation of using only one airline and hotel. If you're the type of traveler who tends to fly the same routes, the best way get the biggest return from your travel spending is to sign up for an airline credit card or hotel credit card with a brand you like.
Stay loyal, and you will find loyalty pays.
However, for other travelers, one airline might have limited flights available for the route you want. Hotel chains you sign up for could be farther from the city center than you'd like.
For travelers who prefer flexibility, the smartest option is getting a credit card in the Chase Ultimate Rewards or the American Express Membership Rewards programs. Each of those has quite a few airline and hotel partners. When you want to book award travel, you can transfer your points to whichever partners you want.
Travel trends in ground transportation
The growth of rideshare companies has made finding ground transportation much more convenient and less expensive compared to the days of getting a taxi or car service. For business travelers, the only problem has been airport regulations prohibiting rideshare pickups and drop-offs, but Uber and Lyft have both made progress in that department, and they're getting approved at more and more airports.
In most major cities, you're better off sticking with rideshares over taxis or rental cars.
And with several companies developing their own driverless cars, rideshare costs could go down even more in the coming years.
There are always ways to cut your business travel costs. As rewards programs and technology change, certain money-saving techniques won't work anymore, and others will take their place. By staying on top of travel trends and adapting to them, you can get the most value from your travel spending.