True grit has a scent — and it smells a lot like Outlaw Soaps
A romantic getaway, a little farm store and a love of everything goats inspired one California couple to create their own line of handmade soap — so stinking good its branding had to be criminal. In a story of small business growth fueled by true grit, Outlaw Soaps has expanded its presence from an online store to a brick-and-mortar location in less than three years.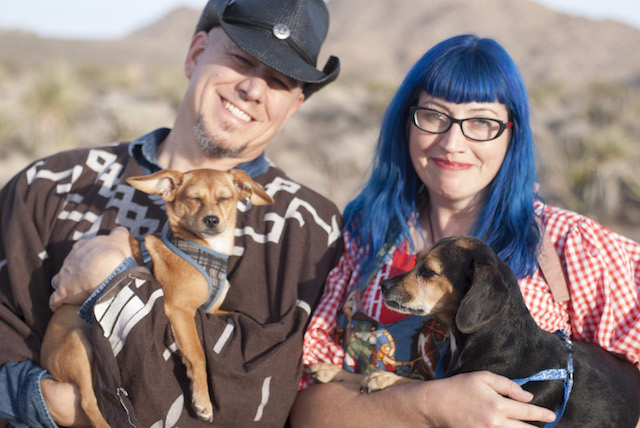 It all started during a 2012 weekend honeymoon trip to Paso Robles, Calif., where Danielle and Russ Vincent stumbled upon the small store. "Russ and I had been talking about how much we wanted to have goats, so we had been buying any goat product that struck our fancy — this meant lots of delicious chevre and, when we happened upon it at a small farm store off Highway 46, two bars of goat milk soap," Danielle remembers.
For months, the soap's sweet scent called out to her, conjuring up treasured memories with every whiff. Over time it began to represent so much more. A longing to be free. To spend more time hiking than driving in traffic. To trade the scent of a stale office cubicle for fresh-brewed coffee sipped from a metal mug while stoking the campfire.
"Just smelling that soap and going back to that store in my mind was enough to remind me that life is not just this. This is a tunnel on the way to the dream. The soap represented the dream."
Then it hit her.
Danielle and Russ, of Colfax, Calif., could make their own soap — deliciously scented with the aromas they enjoyed most. It wasn't overnight. The store opened online in March 2013 with production initially taking place in a concrete warehouse in Oakland.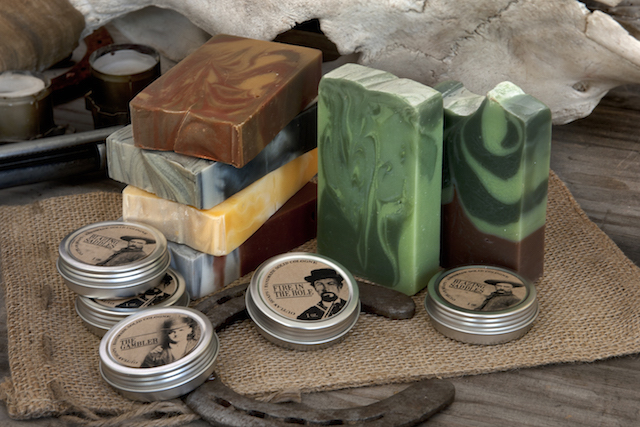 Outlaw Soaps: Building a brand
Before getting seriously into the nitty-gritty of making the business, Russ and Danielle came up with a name and searched GoDaddy to make sure the corresponding domain name was available. They also checked the availability of associated social media handles for Facebook, Twitter, Instagram and Pinterest.
"I am a marketing person, so I know the central function that having a clearly recognizable name and brand serves," Danielle says. "If we don't have the domain name, we do not have a business."
Since then, Danielle has registered the logical offshoot OutlawSoap.com and a bunch of other Outlaw-related names. "I just wanted to sit on our corner of the internet and not worry about anyone starting a porn site on OutlawSoap.com or anything," she explains.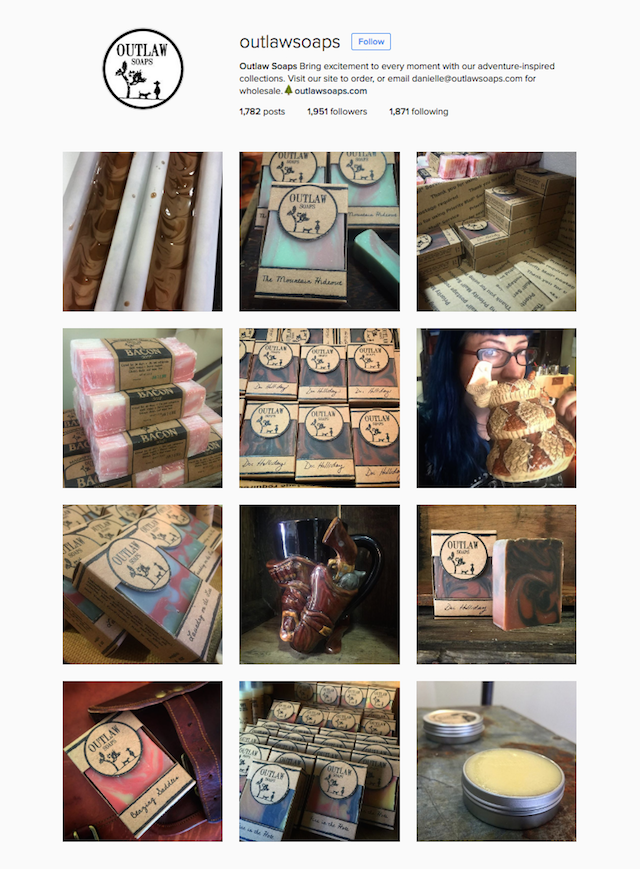 Carving out a niche
The product line effortlessly found its niche by reflecting the couple's laidback lifestyle with names mostly derived from the wild, wild West such as: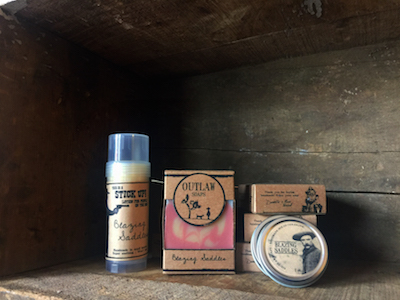 Other Outlaw Soaps scents hail from the couple's keen interest in both whimsy and whiskey, including: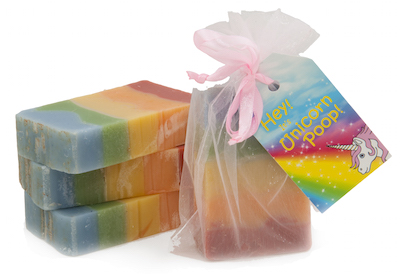 "We did what felt natural and right to us," Danielle says. "We're both outdoorsy, rugged people who like lighting things on fire and going camping and drinking whiskey. So these things already were very interesting to us."
Opening a physical store
While the online sales at OutlawSoaps.com drive revenue for the business, another chance discovery opened the way for growth. "We found this great little production facility in Colfax and it happened to come with a little storefront that needed basically no work," Danielle says. "Well, it just seemed like too good of an opportunity to pass up."
Such was the physical birth of Outlaw Soaps, which now boasts a yellow clapboard storefront complete with a wooden deck, waving American flag and a rocking chair befitting of its Main Street address.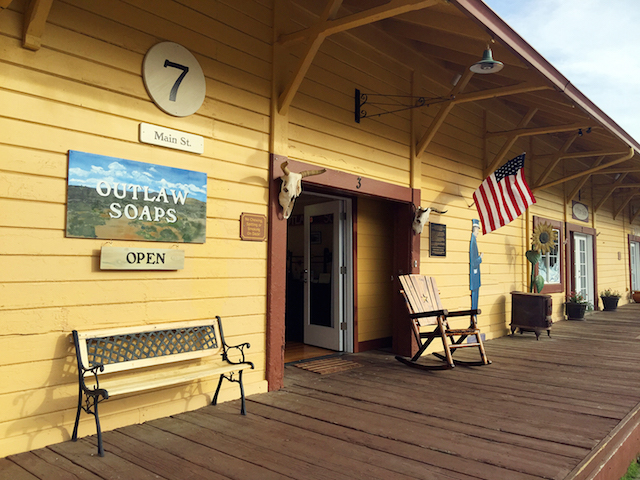 But the transition from online-only to brick-and-mortar hasn't been without its challenges.
"I imagined that I'd have the store open most days when I was working, and I'd just do my regular stuff — blogging, writing newsletters, reaching out to press, etc. — and chat with customers as they came in," Danielle says. "It turns out that if I'm going to have the store open, I can pretty much count on getting no other (a.k.a. 'real') work done at all. And since it's just me and Russ, if one of us isn't there to open the store, the store just does not get opened."
Tools and tips
To making running their growing business more manageable, Russ and Danielle rely on a number of online tools. In addition to registering GoDaddy domain names the duo turn to Microsoft Office 365 from GoDaddy to handle business communication.
"For the mail, I gotta say, it's really great to have stable, well-formatted mail service," Danielle says, adding that she felt like an amateur beforehand when she used a free option.
"Office 365 has really helped me be a real, professional business."
When she's not making soap or unwinding with a glass of wine, Danielle often helps others build their futures by furthering their online brands.
"I help a lot of other entrepreneurs with their websites and web strategy, and it always amazes me how useful and rare this information is," the self-taught expert says. "If you don't know even a little web development, design, and branding, it's a real handicap. You have to hire someone to make up for your lack of knowledge, and that's often more expensive than most small businesses can afford."
One of Danielle's tips is to use Managed WordPress Hosting as she does for her personal blog and a site she is building for the local chamber of commerce. With Managed WordPress, you can focus on creating an amazing website while GoDaddy handles the hosting setup and backend dirty work (like core security updates).
A little sage advice
For the founders of Outlaw Soaps, the experience of opening and growing a small business has not come without some learning lessons. As Danielle explains:
"80 percent of the time, I don't feel like doing my jobs. But since I started my business, I have learned the meaning of the word 'compulsion.' I am absolutely compelled to continue my business as much as a flower is compelled to bloom or a fire is compelled to burn."
The most valuable lesson, then, is that you've gotta do what needs to be done whether you feel like it or not.
Danielle also advises fellow entrepreneurs not to be afraid to charge for value.
"I hear entrepreneurs talk about pricing a lot. They worry that if they charge enough to cover costs, overhead, labor, and wholesale margins, that customers won't buy their product. My advice, which may be kind of harsh, is to charge what you have to no matter how many people complain or no matter how many customers you lose," she stresses. "If you aren't charging enough to cover expenses and your margin, it isn't a business you should be in. If you lose 20 percent of your customers when you raise your prices by 20 percent, you're making the same amount of money and you have more time to attract customers who will pay the higher price."
As for the prevailing advice that one must have tenacity to succeed in business, Danielle agrees … to a point.
"It's only valuable to have tenacity if you're on a ship without leaks. If you don't have solid pricing, all the tenacity in the world won't save you," she says.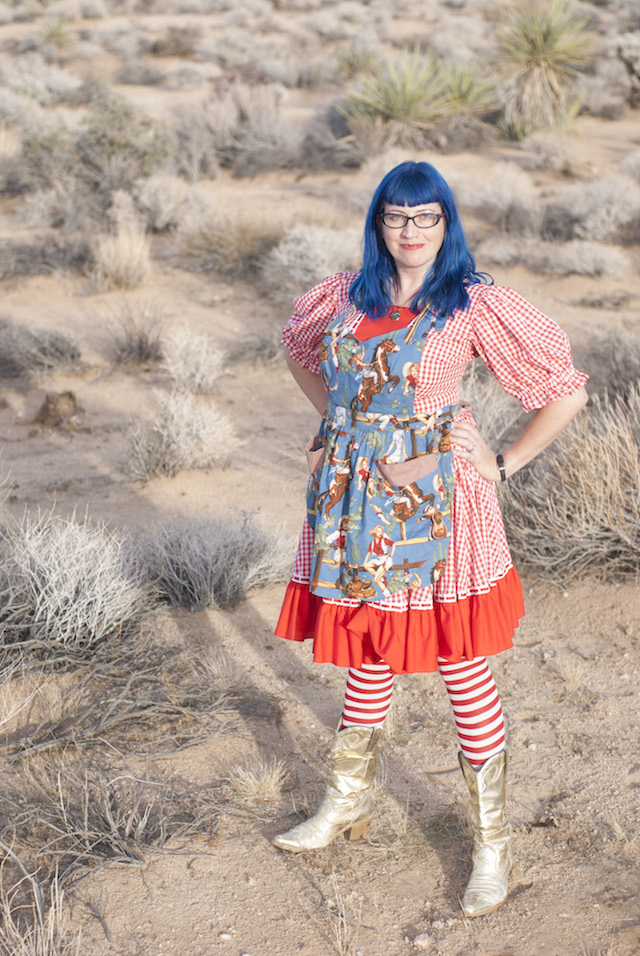 Going for the goals
What does the future hold for Outlaw Soaps? Danielle and Russ agree they would like to see Outlaw Soaps become a household name, while maintaining high-quality manufacturing, a small-business mentality, and general enthusiasm for its customers.
"I think being an entrepreneur has given me the expectation that things are going to be hard. This is not to say I'm a cynic or a pessimist, but knowing that things are going to be hard means that when they are hard, life has just met my expectations and I keep going," Danielle says.
Eventually, she and Russ would like to provide many jobs in their community. The area was hit hard by the recession and many businesses closed. "My big dream is to have a large-scale manufacturing and distribution facility in a local building (trust me, it's totally awesome)," Danielle says. "I look forward to having a business solid and stable enough to expand."