Two pilots poise Aerodyne Flight Center for high-flying success
If you think it's impossible to get a bird's eye view of the Greater Phoenix valley from a windowless room in a Scottsdale office building, visit Aerodyne Flight Center. There, tucked away in a second-floor room at the Air Commerce Center, you can soar above Arizona or anywhere else worldwide in the cockpit of a state-of-the-art flight simulator.
It feels so real that your ears almost pop. And, if you've never piloted an airplane before, your palms might get a little sweaty. Believe me, I did it.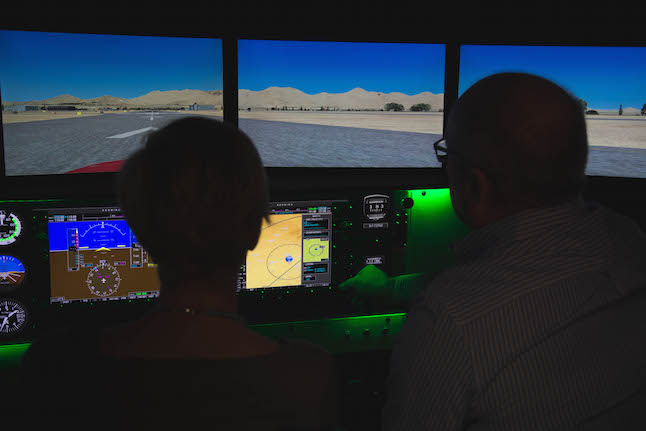 I recently had the (rather terrifying) pleasure of flying from Scottsdale to Phoenix Sky Harbor International Airport via Aerodyne's Redbird Flight Simulator, which features configurations for Cirrus SR22 and Cessna 172 aircraft. Following the instructions of my much-more-capable co-pilot, Aerodyne co-founder Doug Cox, I navigated the runway with left and right floor pedals and pulled back on the yoke to take the nose up — before long, we were cruising far above the saguaros at 110 knots.
Unlike most other flight schools, this is how Aerodyne starts flight training.
"When you start in a real aircraft it's easy to feel overwhelmed. There are much fewer distractions in a flight simulator, which is one of the reasons people learn better in here," Doug says. "They get fully engaged and forget they're in an office building."
From the ground up
It's from that airpark office building that Doug and his partner, Larry Barna, have built a successful aviation business — a second career for both men — from the ground up. Doug, formerly a professional photographer in Portland, and Larry, a Midwesterner who worked in plastics manufacturing, met while working as instructors at a local flight simulator company. They had years of flight experience between them and a shared belief that entrepreneurship was the way to go.
"We couldn't work for anyone else," Doug laughs. "We're like the Odd Couple."
"We work well together," Larry adds. "The expertise just seems to fall to whoever handles it best."
Larry and Doug launched Aerodyne in April 2012 with little more than a passion for piloting and a complementary skill set.
"We were just two guys with an office at the airport," Doug says. Adds Larry, "We would've taken a bench outside."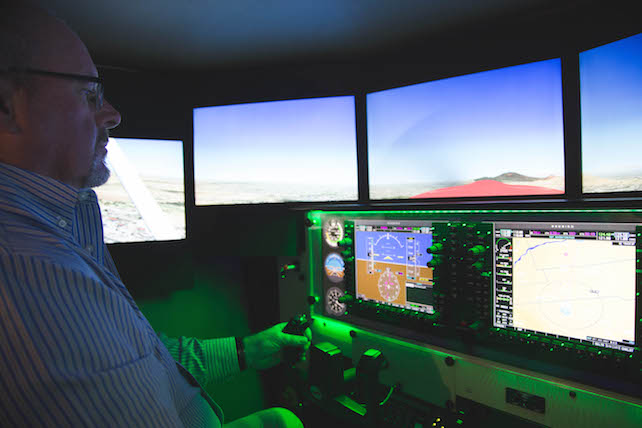 But they knew there was a market for their services — for flight instructors with integrity and a strong background, offering lessons in a comfortable environment. So they got to work. They first identified five core markets in which they could leverage their talents:
Flight training and instruction. Both men are ATP-rated pilots, with 20,000 flight hours between them.
Aircraft sales. Doug brought experience brokering sales for private aircraft sellers.
Aviation insurance. Larry is a licensed insurance broker.
Cirrus Aircraft training. Piloting this high-tech aircraft demands ongoing training to stay proficient. Aerodyne's Flight Simulator can be configured to mirror the latest Cirrus SR22 instrument panel.
Aircraft rental. They didn't yet own plane to rent, but they were planning ahead.
Then Doug and Larry plowed through the mountain of paperwork — including airport, city and federal licenses and certificates — required to start doing business. Next on the agenda? A website.
"In today's world, if someone sees you or hears of you, the first thing they're going to do is Google you," Doug says. "There's no getting around it."
AerodyneFlight.com takes off
Doug and Larry purchased a recognizable, brand-specific domain name from GoDaddy,  aerodyneflight.com, and hired Rogue Web in Oregon to start building their website. The comprehensive site includes a page for each of the company's services, the special "First Flight Experience" package, Frequently Asked Questions, customer testimonials and an online store. "Our website is like a one-stop shop," Larry says.
Doug and Larry also connect with customers and prospects via Aerodyne's Facebook and Twitter pages, and through targeted email and print mail campaigns. "When it comes to marketing your business, you've got to be active," Doug says. "You can't wait around for customers to come to you."
Through careful research and a bit of trial-and-error, he's established a 10-week marketing cycle that includes weekly email campaigns that tie into longer-term print mail campaigns. Emails go out at 7 a.m. every Wednesday — the day and time Doug deduced elicit the best open rates. Facebook posts publish on Saturdays. In another smart marketing move, Doug and Larry filter specific pilots from the FAA's database to target with their mailings.
It's worked from the start. Case in point: They made their first aircraft sale as a result of a print mailer.
Hit the ground running
"We hit the ground running," says Larry. "We've yet to have a losing month."
Aerodyne started with six students and a rented plane. Today, in addition to the flight simulator, the company owns a 2003 Cessna 172 with duplicate controls for flight instruction. They've provided instruction to about 35 amateur flying enthusiasts and continuing flight education to some 65 licensed pilots. They've sold 20 airplanes, rented five different aircraft for numerous types of pilot rating, and brokered insurance policies totaling more than $100,000.
"We didn't think it was going to grow to where it is this quickly," Doug says. "We've been incredibly lucky."
Big proponents of setting aggressive-yet-achievable goals, Doug and Larry are positioning Aerodyne for noteworthy growth within the next decade. They aspire to list a monthly average of 10 aircraft for sale, employ at least 14 flight instructors, add a second flight simulator and three more aircraft to their fleet, and write five aviation insurance policies per month.
10 tips for other entrepreneurs
Building their business is an exciting ride for Doug and Larry — and an experience from which they've gleaned a number of valuable lessons. Here are their Top 10 tips for other entrepreneurs:
Start by making a list. "Prioritize everything you need to do to pull the trigger," Doug says.
Write your short- and long-term goals. Keep revisiting and updating.
Get referrals.
Craft a marketing plan, paying particular attention to online marketing. Try different things, measure success, and adjust accordingly.
Be flexible. Make sure you're OK with missing a paycheck, if it comes to that.
Follow your ideas to fruition.
Take risks.
Learn what works and tweak your methods and processes.
Entrust experts with special skills, like accountants and attorneys.
On some level at least, prepare to take a leap of faith.
Fueled by passion
While running their own business is gratifying, it's the type of business they own that makes Doug and Larry excited to go to work everyday. You only have to spend 10 minutes in the flight sim with Doug, or listen to Larry describe the different levels of pilot certification, to realize how passionate they are about aviation. Their eyes light up like kids who've mastered riding a bike for the first time. Except their "toys" can get you from Scottsdale to San Diego in about two hours.
"Airplanes," says Doug, "give you more life."
And if that's not motivation for making a business that teaches people to fly take off, I don't know what is.
Image by: Angelo Villegas