Want new customers for your pool business? Start a pool blog.
Fifty-three percent of consumers are looking online to find local businesses like yours at least once a month. Let that sink in. More than half your new customers are trying to find you online before they make a call. What are you doing to ensure they find you and not your competitor? I have a suggestion: Start a pool blog.
More than half of all
pool owners
 look online for local services like yours.
If you run a pool installation or maintenance company, consider adding a pool blog to your website. Blogs increase leads by attracting pool owners through helpful articles and tips. This guide will make a definitive case to support why your pool business needs a blog and strategies to help you maximize the ROI (return on investment).
Follow these 5 steps to start your own pool blog
Get a name, platform and theme.

Develop a style guide.

Start a list of ideas.

Find a great writer.

Stay the course.
First, let's look at what makes blogging worth doing before we get to the how-tos.
Why blog?
All businesses should have a blog, but it's even more important for local, small business owners like you. Creating and sustaining an active blog can be a cost-effective way to increase leads and develop local awareness of your services. The more blog articles you publish, the more chances you have to be seen by new clients actively looking for services like yours.
They increase traffic to your website.
A blog is an excellent tool for generating traffic to your website. Every piece of content you publish on your blog will be crawled and indexed by search engines like Google. This increases the likelihood that when consumers in your area search for relevant topics about pools ("pool cleaner near me," for example), your website and blog articles show up in their results. The more articles you publish, the more chances you have to be seen.
They bring more interested customers to you.
Blogs don't just increase the number of search results your site will show up in — they can also be used to turn blog readers into potential customers. By adding a signup form to your blog, you can get new clients. Whether you collect emails or phone numbers, your pool blog can be used to grow your lead lists.
They develop rapport and build awareness.
You should think of your pool blog as a way to communicate with your target audience. It's a resource that provides 24/7 communication — pool owners can read your article on how to choose the right pool cleaner at 1 a.m. if they please. Use your blog to develop a rapport with these future clients. Keeping the content style and voice uniform can also help you build a brand identity. Great blogs are able to subtly connect the dots between an article and your brand.
How to start your own pool blog
Starting a blog is easier than it's ever been. What once required weeks of labor and years of programming and design experience can now be accomplished in minutes by anyone using online tools and resources. Most website templates come with a blog but if yours doesn't, you can easily add a subfolder to your site and build a blog of your own. GoCentral users simply use the RSS feature to pull blog posts into their websites.
1. Get a name, platform and theme
If you have to start a blog from scratch, you'll need to register a domain name, and then select a blog builder and a theme to use. WordPress is probably the best builder for small business blogs because of its ease and versatility.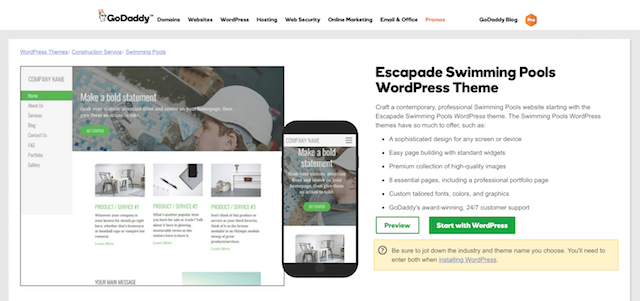 For a hassle-free WordPress pool blog, check out GoDaddy Managed WordPress. They do all the routine upgrades and security maintenance — which leaves you free to write helpful, business-boosting articles.
Once you install WordPress, you'll need to pick a theme for your blog. There are thousands of themes available, many created just for pool blogs.
2. Develop a style guide
After you've set up your blog and are satisfied with the theme, the next step is to prepare for content development. Before you ever begin writing, it's a good idea to create a style guide for your blog. A style guide should include information about your target audience, content parameters like length, linking and language, and other relevant information that can provide clarity and expectations to those who write the content for your blog.
3. Start a list of ideas
Using information from your style guide, the next step to starting a blog is to develop a repository of content ideas. Not every idea will be a home run, but it's good brainstorming etiquette to write everything down that comes to mind.
A rule of thumb for blog content is to create a healthy mix of content. This mix of ideas could include:
Localized topics that are relevant to your specific city. For example, "What Tampa's New Swimming Pool Zoning Laws Mean to You."
Trendy, seasonal topics, such as "How to Get Your Pool Ready for the Summer."
Sales-related content that discusses benefits and value propositions. One example might be, "How Frequent Pool Maintenance Can Increase Your Home Value by 15%."
Related topics that are interesting to a many people, like "10 Incredible Celebrity Pools You Won't Believe."
By creating a wide range of topics, you can generate interest from people who aren't yet actively looking for your services while also driving leads and converting consumers who are ready to buy.
4. Find a great writer.
With your blog built and your topics ready, the next step is to find someone to write the content. Most small business owners aren't expert writers, so it might be a good idea to hire a professional writer. If you can't afford to hire a writer or want to give blogging a try, you can create the content yourself or task one of your employees. However, it's still a good idea to have your content professionally edited for grammar, style and SEO best practices.
5. Stay the course.
After you start publishing content, it's important to maintain consistency with your posts. This includes consistency of your voice, the number of times you publish, and the schedule (day/time) that you publish content. As you start to grow an audience, they will develop expectations and maintaining consistency on your blog will keep them coming back.
Too often, small businesses give up on a blog after a week or two if they haven't seen any results. You'll need to keep stick with it for at least six months before you're likely to see any increase in leads.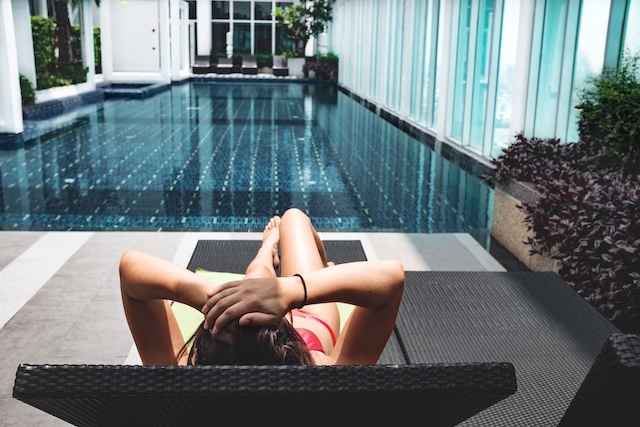 How to get the most out of your blog
Blogs are rarely an overnight success. In fact, it can take months before you start to see a return on your investment of time. For those of you looking to maximize your results, you should consider trying the following tips.
Focus on creating high-quality posts.
Good blogs are independent of their parent website, meaning the content is written to create value for the readers and not to simply promote a company. Post articles that answer common questions and provide expert information consumers need to make decisions about buying, installing and caring for a pool.
Make sure every post can be easily shared on social networks like Facebook.
A good rule of thumb is to ask yourself, "Am I publishing something that my competitor would share on their social channels?" If the answer is yes, you're creating a piece of content with value. Obviously, your competition isn't likely to share your blog posts, but if the topic and content is relevant, interesting, non-promotional and valuable, then you've found the recipe for success.
Optimize your blog for lead conversion.
Conversion optimization is one of the best ways to generate immediate results on your blog. A conversion is any action that you prompt a visitor to take. This action could be something simple like subscribing to your blog via email or more direct like calling your business for a free consultation. It's a good idea to set up multiple conversion points on your blog to increase the lead acquisition rate of your blog.
A good strategy for increasing leads is to use a popup email signup form. Even if you're not a digital marketing guru, a tool like OptInMonster makes it easy to create custom popups on your blog. Use it with an email tool like MailChimp to send emails to those who sign up.
Check out our checklist: 5 ways to get more local customers
Want more tips on how to let local pool owners know what you offer? View our checklist below.
Develop a promotion strategy.
No matter how great your content is, no one will find your pool blog unless you have a promotion strategy in place. I can't emphasize this fact enough: Promoting your blog content is as important, if not more important, than creating content in the first place. Your content will never reach its full potential unless you help promote it.
There are several easy strategies to promote your blog content. The most obvious are to:
Share it on your social channels, via email with your subscribers and on different areas of your website.
Ask influencers and bloggers in your field to share or link to your articles on their websites.
Use paid promotional tools like Facebook Ads, Google AdWords or sponsored posts.
Promoting across different channels and mediums will increase the traffic, engagement and value of your blog content.
The power of a pool blog: This could be you
Now that you know why and how to create a successful pool blog, let's get you excited about the possibilities that await after you launch your blog. Marcus Sheridan's pool business, River Pools, was on the brink of bankruptcy in 2008 when he decided to launch a pool blog. He had no expectations when he started, but he set out to be "the best teacher in the world with regards to fiberglass pools."
So that's what Marcus did. He started creating and publishing powerful, honest and genuinely helpful content on his company's blog. Within six months, he began to see the fruits of his labor.
Over the next six years, his website grew from 2,000 visitors a month to more than 500,000 monthly visitors, and it is now the most visited swimming pool site in the world.
While you might not be able to replicate Marcus's success, if you follow the steps mentioned above and focus on creating powerful content and optimizing your blog for conversions, you will build a pool blog that drives traffic, increases leads, and brings in new customers.
[advertisement id="17440″]