How to warmly welcome new email subscribers
Your customers' first impressions of your company can heavily influence whether or not they eventually open their wallets. One of the best ways to start off on the right foot with new prospects is through email newsletters. However, a mediocre welcome email could potentially do as much damage to your brand as it can to your subscribe rates. There's a right way to welcome new email subscribers.
Common sense and some dedication are all it takes to generate a good first impression, and hopefully create some new business to boot. It's infinitely achievable to welcome new email subscribers in a way that converts them into clients — regardless of whether you have a reserved or outgoing personality.
In this post, we'll first take a look at why creating a good first impression is vital. Then, we'll expand on our previous advice and offer some suggestions for presenting your welcome emails in the best light possible. Let's get started!
Why it's important to create a good impression with your welcome emails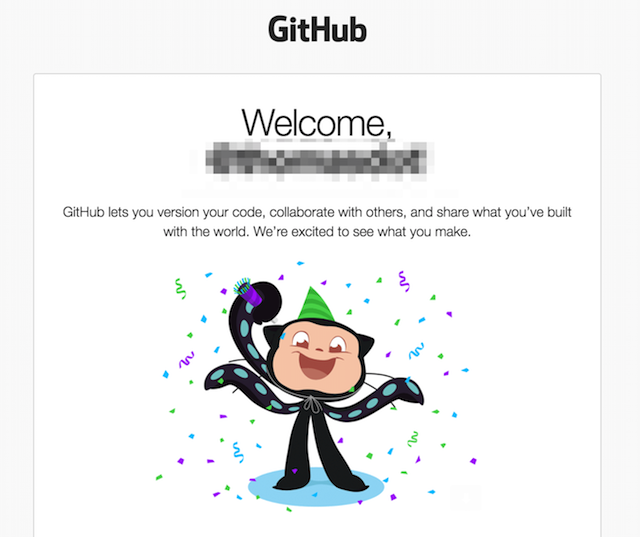 When it comes to your welcome emails, creating a good first impression simply means introducing your brand and philosophies in a succinct and friendly manner. It's clear why this is vital: few clients will want to do business with an outwardly grouchy professional.
What's more, there are a number of benefits to improving your virtual smile:
Clients will feel valued, which will encourage them to view your products and services in a positive light.
You can increase brand loyalty, which will help your retention rate.
An effective welcome email can reduce the individual attention you need to deliver to new subscribers, leaving you more time to tend to other areas of your service.
In short, the overarching focus of a good welcome email is to increase your profits.
However, rather than simply thinking of your welcome emails as money-making resources, consider them a prime opportunity to engage the client and let them know what you're offering.
How to warmly welcome new email subscribers
Making sure your welcome email is effective isn't a dark art — there are some simple, logical tips you can employ to make sure yours is up to scratch. Once you've set up your welcome email, these three tips will help you polish it until it shines!
Ensure your structure and design are spot-on.

Take action as soon as you receive a new subscriber.

Greet the subscriber and introduce yourself.
Let's look at each tip in more detail.
1. Ensure your structure and design are spot on
If you turned up wearing bermuda shorts when meeting new clients, you'd likely come away empty-handed, regardless of how your services stack up. Maintaining a professional appearance in your emails that matches your brand is just as important.
You'll likely have your own ideas about how your welcome email should look, especially if you're a designer. However, sticking to some tried and tested designs is a good base to start from.
When it comes to your content, we recommend following a classic format at first, such as AIDA. However, once you begin to collate feedback from your subscriber numbers, there's nothing to stop you changing things up based on the results. There are a multitude of alternative structures you can call upon, like the 6+1 model and the 4Ps method, so you can easily find one that works for you.
2. Take action as soon as you receive a new subscriber
When you're looking for a potential life partner, a surefire recipe for being forever alone is to leave your suitors hanging after they make contact. The same concept applies to your email subscribers.
There are two simple benefits to making a connection as soon as you receive a new subscriber: you stay fresh in the subscriber's mind, and you're able to capitalize on their initial interest. Keeping the momentum going is key to success when you welcome new email subscribers.
Fortunately, this tip is simple to implement: Simply set your autoresponder to go out as soon as a new subscriber is added to the list.
At the same time, keep in mind that depending on how they've subscribed, contacting them straight away might not be the best approach. For example, if you've just met them in person, delaying the email by a day or so could reignite their interest in your services and prompt them to look you up.
3. Greet the subscriber and introduce yourself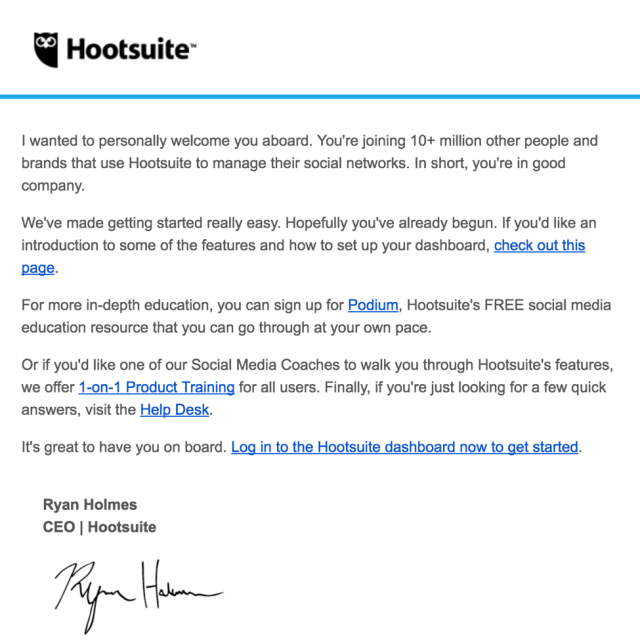 Much as real life, not interacting with others can garner you a poor reputation in the business world. A standoffish approach may cause clients to seek out an alternative who is more social.
The benefits to being personable in your emails are much the same as in the real-world: you come across as friendly and interested in others, rather than as preoccupied with winning new business.
Your welcome email gives you a chance to promote who you are and what your business can do for the client — but only if they care enough to listen.
Fortunately, ramping up your email sociability is simple:
Greet the reader warmly in the email body, and potentially in the subject line.
Personalize both the From: field and the email body by using the client's name (if you've captured it).
Provide some insight into what the reader will get out of your emails – think of this as the "Are you sitting comfortably?" element of your correspondence.
Overall, success here is often a simple matter of adapting your face-to-face approach to your welcome emails.
Conclusion
While the way we communicate has become arguably more impersonal over time, that doesn't mean you can shirk your responsibilities as a welcoming web professional. In fact, being sociable can help you win new business – and you can even use autoresponders to develop a passive way of delivering a good first impression every time.
Let's quickly recap our three tips for sending welcome emails that maximize good vibes:
Make sure your email structure and design are on point.
Don't delay in making contact with potential new clients – your business depends on it.
Be as friendly and approachable in your welcome email as you are in real life (or as you'd like to be).
That's it. Now go forth and welcome new email subscribers to build your business!