We devoured the best vegan blogs to find these 3 pro tips
Calling all vegan cooks, foodies and culinary connoisseurs! Are you ready to start your own blog? Sharing your love of animal-friendly cuisine with the world may be the perfect gig — some bloggers even earn money doing it. But being a successful vegan blogger requires research before ever penning a post. You need to create a plan — preferably one that includes the elements and characteristics all the best vegan blogs have in common.
What makes the best vegan blogs successful?
Blogging takes more than just writing and then waiting for a rush of visitors to come and tell you they can't live without your posts. The foodie blogs with the highest page views and most engaged followers all seem to share some basic traits. If you're ready to create a vegan blog, make sure your efforts include the following components.
3 things the best vegan blogs all share
Food porn.

Posts with personality.

A one-of-a-kind spin.
1. Food porn
Yes, it's got porn in the name; no, it's not actually porn. The best vegan blogs all have photos that look good enough to eat. You've seen them — the pictures of prepared food that cause your mouth to water and wake up your inner chef (who's telling you that you must try that recipe!). These photographs are generally taken up close so you can see every little ounce of goodness on the plate.
Gorgeous, perfectly arranged pictures will lead visitors to pin or share your recipes on social channels like Facebook and Pinterest. Keep in mind, however, that Instagram photos of food, although easy to share, don't always count as food porn. To get pictures that really wow readers, read these tips from Serious Eats. We'll do a quick recap here.
Bring out the colors
Take advantage of indirect natural light, which doesn't affect the tint of an item and provides an even glow for the setting. Avoid putting food in direct sunlight, as it can wash out light colors in photos.
Don't use flash
It's simple. Turn the flash off before taking pictures of food. The bright light can make the dish look unnatural.
Follow the rule of thirds
Divide the frame into thirds up and down and put the main dish along one of the gridlines or at the points where they cross.
Use the right angle
Position the camera so all of the best features of the food are visible and somewhat enhanced in the light.
Presentation is key
If you're posting a picture of a meal you made, decorate the dish with garnishes and set an artistic background.
2. Posts with personality
For the foodie crowd, every day is a chance to try something new and find a new favorite dish. For vegan food bloggers, that means it's important to create content that will draw readers in — a lot of it. If possible, try to provide a new recipe at least every week. When creating the text to go with the post, make it clear, easy to read, full of personality and short.
The best vegan blogs make their recipes clear, easy to read and full of personality.
People coming to food blogs for the first time are generally there for the pictures and recipes. Along with simple, engaging copy, make sure your headlines grab attention, describe the recipe to follow, and make the user want to click. For example:
3 vegan recipes your carnivorous partner will love
You don't need meat to make this delicious meatloaf
The easiest vegan cauliflower pizza crust you'll ever make
You can substitute WHAT for cheese?
3. A one-of-a-kind spin
With so many food bloggers laying claim to a piece of the food-blog pie, newbies to the space need to do something to stand out from the crowd. If you're living the vegan lifestyle, start there. As health, nutrition and clean eating become an even bigger part of our culture, providing a resource for vegans is a great place to start. Some other ideas for setting your blog apart:
By type of vegan
Even with narrowing your focus down to a vegan theme, there are still hundreds of blogs out there covering some aspect of that same topic. You'll need to go further — how to eat vegan on a budget, for example.
By topic
Other options include covering one genre of food (raw or junk food vegans) or sticking to 30-minute recipes, for example. It can also be accomplished by creating a unique voice or personality for your writing.
The personal angle
If you want to be successful, you have to provide something new and different that internet browsers can't find anywhere else. Grow up on a farm? Use this to make your case for the vegan lifestyle.
Your own personal history with food could provide the focus for your blog.
Who are you? Why did you start the blog? Providing answers to these questions gives visitors context and creates a more personal connection between you and your audience.
Editor's note: Eager to dig into a blog of your own? You'll need a platform that can handle the heat. Check out GoDaddy's Managed WordPress to get started.
Real examples: The best vegan blogs to follow
All these tips are culled from some of the most successful vegan blogs on the internet. The best sites have some or most of these characteristics, which is what makes them so popular. Explore any of the blogs below for additional ideas on how to create a high-traffic vegan blog.
Faring Well
One word: Photography. Faring Well is full of giant, up-close photos of some delectable dishes. From the moment you land on the website, you get a huge helping of food porn.
Faring Well
 features photos formatted for sharing on Pinterest.
Once you get into the text of the articles, you can easily get a feel for the personality of the writer through her obvious passion and welcoming voice. She posts a new recipe about once a week, as well as relatable stories about her efforts to live a plant-based lifestyle. Her individual posts get a ton of comments from readers, and she seems to try to respond to each one, which connects her even more to her following.
Hot for Food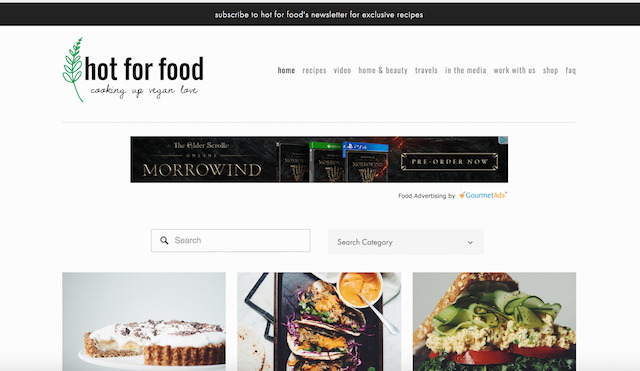 This vegan blog provides hearty recipes readers can try in place of traditional meaty dishes. Tacos, burgers, chicken — even bacon — can all be replaced with vegan ingredients, and the pictures make them look delicious. The design of Hot for Food is extremely clean, using boxes and bold imagery to catch the reader's eye with just enough text to explain the topics. A new recipe is posted at least once a week, complete with professional-looking photos.
Rainbow Nourishments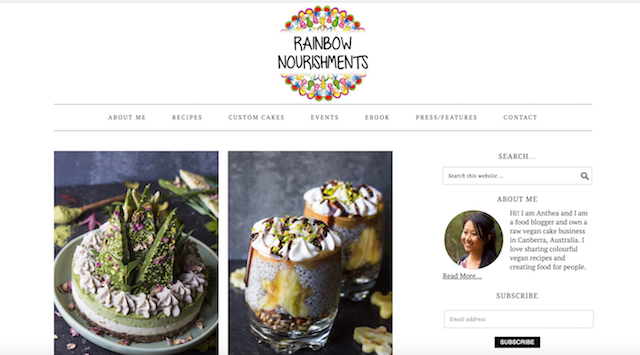 Colorful food makes for great photography. Australian blogger Anthea posts new recipes to Rainbow Nourishments one to two times a week, and each comes complete with a stunning image. Most of her recipes are for desserts, which use raw and only plant-based ingredients that often make a sweet treat surprisingly nourishing. She writes each post in her own voice, making her stories and experience more relatable and personal.
Thug Kitchen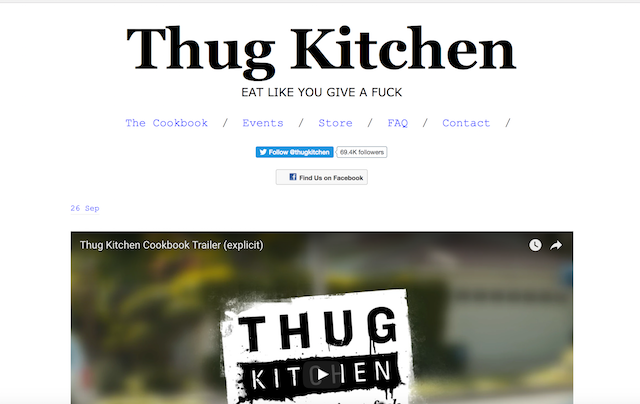 While this may not be the best vegan blog to read at work or around children, its provocative shtick makes it interesting and memorable. The recipes are easy to prepare, the headlines are catchy, and the imagery is large and attention-grabbing. Add quite a bit of swearing and a sarcastic, comedic voice and Thug Kitchen gives readers a break from the sweet, wholesome tone of most of the best vegan food blogs. This unique approach seems to be working, as the blog has more than 68,000 followers on Twitter and daily interactions with fans.
Start a revolution
Reviewing the best vegan blogs on the internet is a great place to start when getting ready to launch your own. Remember, imagery is key — and maybe most important — so whatever focus you choose, make sure it looks sensational (and the recipes taste amazing, of course). When it comes to food blogging, one great recipe can start a revolution.
Find a food-related domain name for your vegan blog: