Website Builder gives antique dolls a new home online
I've been known to detour for an antiques store. To plan vacations in close proximity to vintage marketplaces. To negotiate with my 7-year-old son for an extra half-day at an amusement park in exchange for the same amount of time at an antiques mall. How do I find my destinations for treasures from days gone by? The Internet, of course.
When I'm not dusting off old picture frames and combing through shoeboxes of ephemera, I like to help small businesses build a strong online presence. It's my job, actually. For these reasons, I was psyched to read a recent article in Colorado Biz magazine by Rachel Hoffman, operations manager at Turn of the Century Antiques in Denver.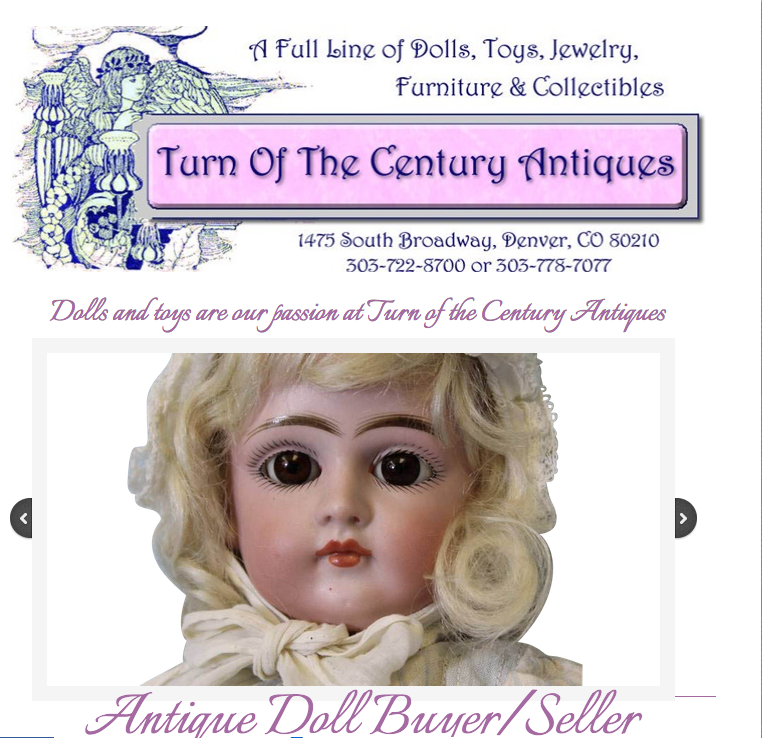 "I know our unique store owes its success not only to loyal long time patrons, but also to our own willingness to evolve as the market has changed for Denver's small businesses." ~ Rachel Hoffman
While Turn of the Century Antiques enjoys the support of loyal customers in the local community, its proprietors understand the importance of having a website and profiles on popular social media channels like Facebook®, Pinterest® and Twitter®. In the article, Rachel talks about why her business opted to harness full control of its online presence with a do-it-yourself website.
"Our business started where many other businesses do – by hiring professional designers to help us. While it was great to have someone knowledgeable guide us through designing a site – and four digital makeovers since our first site went live – there were some drawbacks. Many designers that work with small companies are freelancers, and they aren't always available to make changes to your site when you need them.

It can be inconvenient to have to wait until business hours are over to see even a slight adjustment on your company's site, especially if it affects customers. And the better your designer is, the more in-demand (and less responsive) they tend to be. Also, we found that the cost of having a professional designer was steep. The thousands we put into hiring a designer meant less room for improving our physical store space or operations – things that affect our paying customers directly."
Website Builder offers ease, affordability and support
Turn of the Century Antiques needed a tool that was user friendly and cost effective and that came with awesome customer support. GoDaddy's Website Builder fit the bill. With minimal design knowledge, Rachel and her colleagues got the new site up and running in an afternoon. Now, they can make edits to the site in real-time — and they can invest the money they're saving on website maintenance back into their business.
"Taking the reins and building our own site has allowed us to focus more resources on things like building staff, planning events and staying connected with our neighbors, both in the city and within our small business community in the Antique Row Association."
You don't need to love Madame Alexander dolls to appreciate this story. Check out the full article here.