What is DocuSign and how can it improve the way you do business?
Despite living in the modern digital age, many of our workflows and daily business necessities are still built on a foundation of paper-based and manual processes. For example, when most small businesses want to close a deal with a partner, they often still rely on physical contract signatures — even though this wastes time for both parties, is more expensive and, in some cases, can be less secure. That's where DocuSign shines. But what is DocuSign exactly?
DocuSign is an application designed to collect and manage digital signatures for the most important documents to your business — including contracts, budgets, purchase orders and partnership agreements.
And if you learn how to use it properly, you can save time, increase convenience for your customers, and operate more efficiently.
Editor's note: DocSign is available in Microsoft 365 from GoDaddy.
What is DocuSign?
So what is DocuSign, anyway? DocuSign provides a suite of services designed to help business owners collect electronic signatures and manage digital transactions.
With DocuSign, you can send online documents to people who need to sign them, and then collect and manage those signatures. DocuSign also offers additional services to help you verify identities, perform background checks, and manage digital workflows.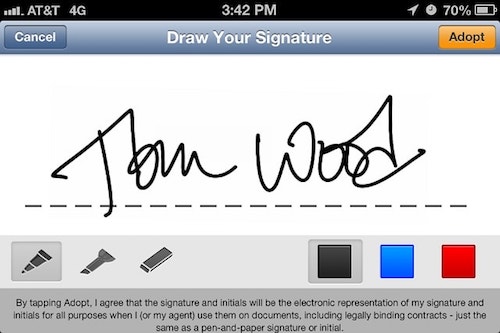 Related: 13 hacks to get the most out of your Office 365 subscription
How to use DocuSign
If you're interested in using DocuSign, you have several options. You can sign up for a free trial of DocuSign on its own, but it's even better to get it as part of a package deal.
Many business plans for Microsoft 365 from GoDaddy offer DocuSign as part of your suite of apps and services.
From there, you can pick and choose which DocuSign services you take advantage of.
Within the DocuSign application, you'll be able to migrate your existing document templates or create new ones, and then modify them for the individuals they need to be sent to.
Once a document is set up, you can send it electronically to your intended recipients, and they'll get a notification that they need to review and sign it.

DocuSign makes it easy for users to sign, initial, date and otherwise verify their approval of a given document. When they're done, you'll get a notification that they've completed the action. You can then manage signatures and documents from your history, updating them and re-sending them if and when needed.
If you find yourself sending the same document over and over again, you can drastically cut the time you spend drafting and sending those agreements using DocuSign.
There are also options to collect payments digitally at the same time you secure contract signatures, so you may be able to use it to improve your process even further.
The benefits of DocuSign for small businesses
So what is DocuSign's advantage when it comes to a small business's existing workflow?
Faster contract turnaround
The first and most important benefit is a much faster turnaround for your contracts and other documents. Because you can create new documents from preexisting templates, you'll be able to produce new contracts in minutes. You can send them instantly, rather than waiting days for physical mail to make the rounds, and your recipient will have an immediate and intuitive way to sign that contract.
Your business can start projects faster, and reduce the time spent waiting on finalized paperwork.
An intuitive interface
DocuSign has a clean, intuitive interface that just about anyone can use with minimal training or experience. If you're working with clients who have mostly used traditional methods of signing contracts, they should be able to move up the learning curve quickly.
Integration with existing services
DocuSign supports integration with dozens of other applications and services. This means you may be able to automate your workflows, manage your documents, and take advantage of multiple applications at once.
For example, DocuSign can integrate with Salesforce to adjust and send your sales documents, or integrate with Word and Outlook to draft and send your documents more efficiently. DocuSign also supports integrations with Google, Oracle, SAP and other applications.
Flexible customizations
DocuSign is also easy to use if you're trying to create your own templates or make adjustments to your contracts on the fly. In the same platform you use to manage your signatures and send contracts to clients, you can make easy adjustments to your existing suite of templates.
You can also set up digital workflows so you can follow the same process consistently. This not only saves you time, but also gives you flexibility to create the workflows that work best for your business.
Digital audit trails
Finally, you'll have digital audit trails that are created with every new signature. Movements in the process are time-stamped.
Additionally, signatures and documents are both encrypted, then treated with a unique hash to determine whether the document has been compromised or tampered with at any point in its journey. That way, you can rest assured your document is secure and untouched by unauthorized parties.
Related: How to supercharge productivity using Microsoft 365 tools
Give DocuSign a go
Are you ready to give DocuSign a try? You can sign up for Microsoft 365 through GoDaddy. DocuSign is included with several business plans, along with dozens of other apps and features designed to help you get more out of your business.