Wine country wildfires: A resident winemaker's update
The night of Sunday, Oct. 8, 2017, I was outside our house near downtown Napa, Calif. for an 11:30 p.m. walk with my new puppy, Huey. I had picked him up from the Australian Shepherd breeder the day before and was just starting to get him accustomed to our household rhythms when I smelled quite a bit of smoke on the wind. In Napa in the fall, it's not unusual for the occasional fire to start; dry hills easily catch alight and two- or three-acre spot fires are common enough to be unremarked upon. When I took Huey outside again at 3 a.m., however, I knew this was not one of our typical wine country wildfires.
As night turned into day, my fellow Napa and Sonoma County residents and I realized our beloved Wine Country was surrounded by fire.
From Calistoga and Alexander Valley in the north to Carneros in the south, howling winds had sparked at least 10 different fires in bone-dry conditions throughout Napa and Sonoma Counties. Over the next 14 days, we watched as acre after acre of residential areas, rural enclaves and oak woodland were consumed and the fire marched through neighborhoods and across mountain passes. The total scope of the destruction was staggering and sobering: more than 250,000 acres burned, 5,500 homes destroyed, more than 40 dead.
Where are we now?
It's now been nearly four months since the last hotspots were put out and we're still re-assessing where we are in Wine Country. So how are things on the ground in Napa and Sonoma Counties? The very end of harvest was interrupted, many wineries were shut down for a few weeks, and pre-Thanksgiving and Christmas season events were postponed or canceled. Now, from the surface, things look back to normal.
Businesses are open, downtowns are bustling once more, and the hills are a gorgeous green. However, the cautionary tale we all know to be true is that for many of us "normal" will still be some time in coming.
You'd almost think nothing had happened
For all the terrifying visuals played on national television and shared on social media, you now would hardly know we'd had a fire at all.
There is very little visual or experiential difference for visitors in either Napa or Sonoma Counties because just about every winery, except for the five or so that were complete losses, are back open for business. Huge areas of wine country, including Sonoma's Dry Creek and Russian River Valleys, were completely unaffected by the fires.
Even the once-blackened hillsides are now a soft green thanks to a welcome series of gentle November and December rains. The new roots and growing shoots will help prevent the kinds of horrific mudslides just experienced by Santa Barbara County residents after the December 2017 Thomas fire.
Surveying the damage
The Wine Country wildfire complex, consisting of, among others, the Atlas, Partrick, Nunns and Tubbs fires, behaved in different ways depending on geography.
The Tubbs fire
The Tubbs fire roared west into Sonoma County from northern Napa County on the first night, destroying thousands of homes in the Santa Rosa area and claiming many of the more than 40 victims in less than five hours.
Napa County
The fires in Napa County burned throughout the ensuing two weeks and thankfully were largely relegated to woody hilltops, not population centers. Despite what the national media depicted as wineries and vineyards going up in flames, of 500 wineries in Napa, only seven were reported destroyed and nine seriously damaged.
Sonoma County
Sonoma County reported three wineries destroyed and about six damaged. According to one article in the LA Times, in many cases, the vineyards themselves served as a natural firebreak.
Other areas
In contrast, the Santa Rosa, Glen Ellen and Kenwood areas lost more than 5,500 homes and about 5 percent of their available housing stock. Occupancy rates that hovered around one percent before the fires immediately worsened an already grave housing crisis.
The impact was mostly on workers and homes, not vineyards or wineries.
While some with the cash on hand were able to snap up available homes for sale immediately, renters with fewer resources are struggling. An acquaintance who came to us after he was burned out of Mt. Veeder now can't find a rental and is still living over our garage four months later.
Because of the smoke and clean-up, many wineries, restaurants and businesses were closed for two or more weeks and more than a few, unfortunately, chose not to pay their part-time workers during that time. The demand for mental health services has doubled, community service providers are strained, and teachers, parents and caregivers are struggling to cope with kids' anxieties as well as their own.
The good news? We're back
I'm a winemaker (Garnet Vineyards, Picket Fence Vineyards and others) based in Napa, but I make wine from Sonoma County and California's Central Coast as well.
For those worried about the effect of smoke on the 2017 wine fermenting in tanks and barrels, the good news is that 99 percent of California's grape harvest was picked before the fires broke out. Authorities from the famed U.C. Davis winemaking program and other places have assured us that the new wines in vats (and older bottled and barreled product for that matter) were completely protected from any kind of smoke damage.
The wines are fine, and wineries, restaurants, hotels and spas are ready to welcome you.
Except for the small handful of wineries impacted by the fires, all of Napa and Sonoma County restaurants, wineries and hotels are open and ready to welcome visitors, often with special winter rates package deals. A slower-than-normal November seems to have given way to a more-normal December and January as the public wakes up to the fact that no, Wine Country didn't burn down.
I love winter in Napa and Sonoma as brilliant blue skies and, often, warm days form a welcome contrast to the ice and snow gripping other parts of the nation.
Bouncing back from the 2017 wine country wildfires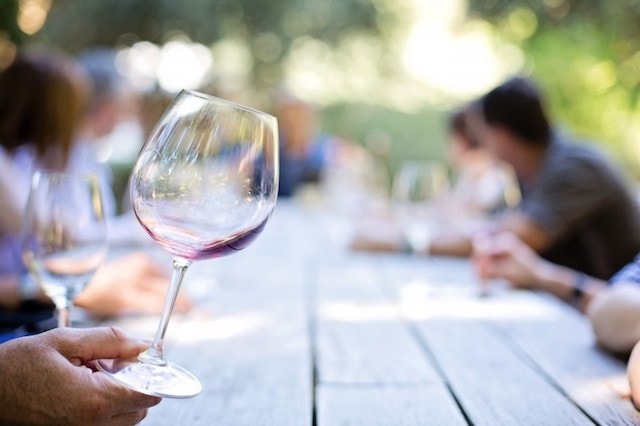 Restaurants are less crowded, tasting room staff seem to have a bit more time to pamper visitors, and there is a laid-back vibe of pleasure-seeking relaxation. The gentle rains of November and December have allowed erosion-controlling grass to grow and stark black mountain slopes now sport a vibrant carpet of glowing green. The air is clear and from the top of one of my vineyards I can see San Francisco in the distance. Time to take Huey for another walk.
Read "U.S. insurance industry trends: How to prepare for natural disasters" for more on how America is dealing with the increasing intensity of nature's annual assaults.
Image by: Visualhunt