WordPress guest blogging: How to allow guest posts
Implementing a WordPress guest blogging program is a simple way to make sure your website's blog is consistently updated with fresh, relevant content — and it reduces your own workload.
Content marketing can be key to your business's success for a number of reasons. It's an ideal way to get more eyes to your website and position yourself as an authority within your industry. However, creating content yourself can easily get in the way of actually running your business.
In this article, we'll first look at why you should consider allowing guest blog posts. Then we'll break down three ways you can do so on a WordPress website. Let's get started!
Why you should take advantage of guest blogging
A guest blogging program is when someone outside of yourself or your team creates original content for your blog. It's a sound idea for a number of reasons:
You can get free or inexpensive content for your website on a regular basis.
Guest posts can supplement your existing content, especially in areas where you lack the necessary experience or knowledge.
You can position yourself as a curator of content, which arguably takes less effort than writing everything yourself.
Some guest posting can provide opportunities to bolster your affiliate income.
What's more, if you're passionate about your community (WordPress developers take note), accepting guest posts will give you a sense of satisfaction about helping other writers out. It can even improve your reputation in your field.
While that may not be your primary reason for adopting this strategy, think of it as the icing on a cake you didn't have to bake!
Implementing a guest blogging program with WordPress
Accepting guest posts on your site can be as simple or complex as you can handle, depending on your resources and requirements. Let's take a look at three different approaches to managing a guest blogging program.
1. Use a dedicated front-end form
The simplest way to accept guest posts on your WordPress website is through a front-end form. While this isn't a widespread approach, some websites, such as Business 2 Community, do use a simple contact form to vet writer applications.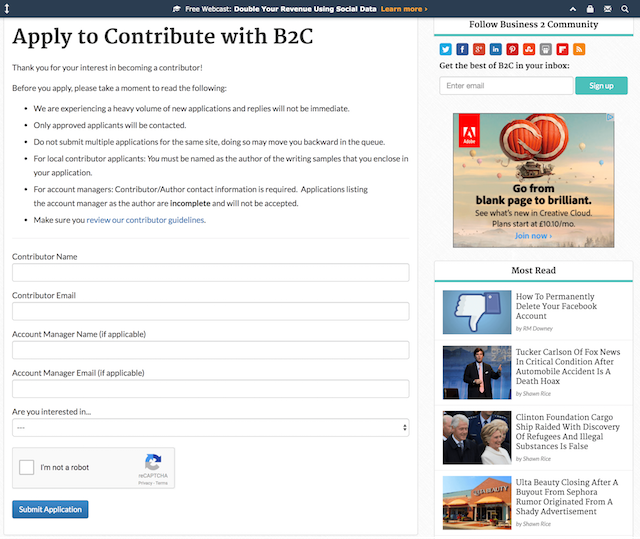 Besides its immediacy and simplicity, there are a few other reasons you may want to use a front-end form to accept guest posts:
It's the easiest submission method, so you'll receive more applications than with alternative strategies.
Depending on the information you ask for, there should be little in the way of administration (other than sifting through the replies you receive). However, you do stand to receive more dross, due to the relatively low bar to entry.
This approach will take the least amount of work to implement, especially if you already have a contact form plugin installed. Still, the plugin you choose for this task is important. Plugins such as Gravity Forms and Ninja Forms are developer-friendly and enable you to create complex registration forms. WPForms enables users to submit files on the front-end, so it would be our first recommendation.
2. Ask writers to register on your site
The fact that you're running a WordPress website means you can simply let users register directly on the back end of your site in order to submit their posts. This is an approach taken by many sites, such as SmartBloggerz.
You may baulk at the thought of letting all and sundry register as users, but there are some solid reasons you might want to consider setting up multiple authors when weighing ideas for how to allow guest posts on WordPress:
You can skip a few steps by asking users to register and write up their posts directly, which cuts down on your administration time.
You'll only be taking on writers who are dedicated to a medium- or long-term working relationship, due to the more complex submission method.
Fortunately, implementing this approach isn't much more complicated than using front-end forms. Once your new users register, you'll likely want to offer them restricted back-end access using a plugin such as Adminimize. That way, you won't have to worry about security breaches.
3. Provide an application process for potential guest posters
In implementing a WordPress guest blogging program, our final method is the most flexible, yet also the most complex, approach. You could easily incorporate the previous two strategies into this one.
An application process represents the ultimate in control, as it provides the most opportunity to vet potential guest posts — at the expense of administrative time.
Compared to the other methods we've covered, this strategy is more hands-on. Your first step should be to lay down some ground rules and offer guest posters some specific guidelines. From there, the process you create is up to you. For example, you could initially vet guest posters via a front-end form — potentially asking them to submit a sample of their writing — before registering approved users on your site's backend.
Some websites, such as Cracked, go so far as to ask potential writers to discuss their ideas via a closed forum. A simple plugin such as bbPress would be all you need to implement that approach — although it might be overkill for some sites.
Ultimately, you want to craft an application process that works for you and aligns with your goals, rather than simply copying another site's strategy.
Content marketing is key for bolstering your own authority and your website's search engine rankings. While creating that content yourself could easily eat into your limited time, having a selective guest-posting process can help you consistently publish new content — without the need to open the WordPress edit page yourself.
Image by: madame.furie via Visualhunt / CC BY-SA