Zee.Dog disrupts the pet care industry
Nothing makes your hardest day ease away quite like a set of slobbery kisses from your favorite four-legged friend. Pets are family — but the uninspired selection of dog toys and accessories at traditional pet shops can make them seem more like fifth cousins twice removed than children of our hearts.
"If you have a dog, you know the feeling of walking into a pet shop and only seeing commodity products dangling from shelves. Lifeless, just plain boring. The rule has been to buy the least ugly one on the shelf," says Thadeu Diz.
He and his twin brother, Felipe, together with Zee.Dog's third founding partner, Rodrigo, are determined to change that.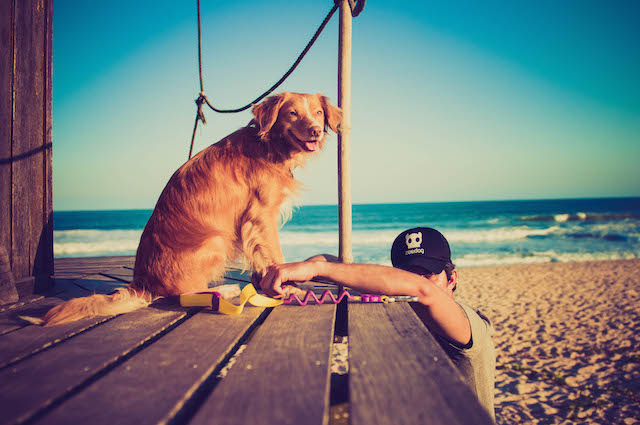 The founders, who split their time between their native Brazil and New York City, launched Zee.Dog to connect dogs and people through products that express a shared lifestyle. Thadeu, who serves as Zee.Dog's creative director, explains:
"The pet industry has been dominated by the same huge corporations for decades. The mentality of the industry has always been to push out products they thought you were happy with, without ever really introducing anything new. They sell to distributors; distributors sell to pet shops; and pet shops sell to the end client. This lack of proximity between brand and end client has been the default since the beginning of time.

Dog accessories have never been sold or used as products of expression — products that are an extension of your lifestyle, just like the shoes you wear, the pair of jeans you buy, and the watch on your wrist. We set out to create the world's first true global pet accessory brand."
The puppy phase
Thadeu and Felipe came up with the idea for Zee.Dog in 2009, while living hand-to-mouth in Los Angeles. "At the time my brother and I were international recent graduates and we didn't have a dime to our names," remembers Thadeu. "All we had were our dogs, a dream and a lot of hustle."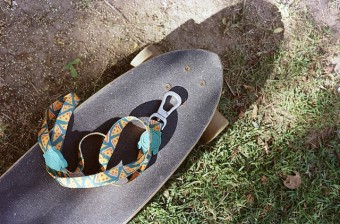 A big dream. They wanted to pioneer a new way for people to experience pet products — beyond how they're designed, packaged and marketed. "We want to change the way people actually get to engage with dog products (think Nike for the pet industry)," Thadeu says.
With that mission in mind, the founders established two priorities for Zee.Dog:
Build a global community of dog lovers and make premium-quality products they want at prices they love.
Leverage the brand and a portion of sales proceeds to advocate for and help save abandoned dogs.
Inspired by inventive brands like Warby Parker, the Diz bros and their dogs, Zeca and Lico, moved back to Brazil to crash with their parents while they built their idea into a business.
Name and logo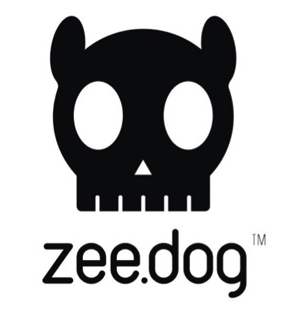 First, they came up with a memorable name and a logo. Zee.Dog pays homage to the "Z" in Zeca and the Z-Boys from Dogtown, and the skull logo represents eternal, unconditional love. "We wanted to do the exact opposite of what the whole industry was doing — cute, girlish and boring products," says Thadeu. "We wanted to bring some freshness to it, some youth."
Domain
Then they turned to GoDaddy for the perfect domain name for their future website: zee-dog.com. "I have always invested in buying domain names I thought one day I could do something with, so I had been buying domain names from GoDaddy for a while," Thadeu says. "There isn't a company in the world that makes buying domains as easy."
Funding
True to their innovative nature, Thadeu and Felipe next went after funding using the fledgling Kickstarter. They raised $10,000 — a notable sum on Kickstarter back then — and used the money to pay for travel to Asia to source manufacturers and build the molds for the products and sample runs. "We ended up raising like $10,001 and got on the first plane to the other side of the world," Thadeu recalls. "From there it would take three years to get the product right and launch."
Shaking a leg online
To keep their business running on all fours, Zee.Dog relies on a variety of online tools. "As an entrepreneur, working with the right tools is key to success," Thadeu stresses. "Using these tools has given us the ability to focus on what we as entrepreneurs should be focused on — growth."
Website
Zee.Dog's comprehensive website is the company's flagship store. "It plays such an important role in getting us recognized around the world and has been crucial in expanding our global sales," Thadeu says.
His team designed the site in-house on the Shopify e-commerce plaform, and continually split tests and then tweaks the site's content to improve the user experience. "We design our online stores like we design our offline stores," Thadeu explains. "We think about how to showcase the products seamlessly instead of hiding them behind 'doors' (clicks), and mix that experience up with modern design and branding content. Our goal is always to find a perfect balance of branding and conversion optimization."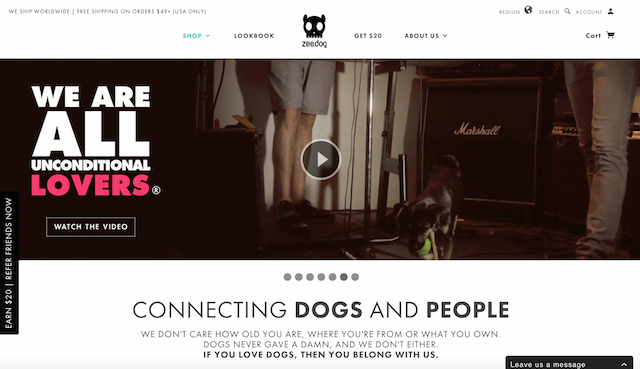 Search Engine Visibility
To help drive traffic from search engines to the Zee.Dog website, Thadeu and crew take a serious approach to search engine optimization. They include relevant keywords within each web page's copy and H1 and H2 headers, write support copy at the bottom of pages for better Google indexation, pay close attention to meta tags, and focus on link building. "We follow SEO guidelines religiously," Thadeu says.
They also count on Search Engine Visibility from GoDaddy to help Zee.Dog stand out in the crowded digital landscape. "Relying on just organic direct traffic is not going to get you very far," Thadeu says. "GoDaddy's Search Engine Visibility helps a lot as it takes you through the steps and helps you have a better understanding of how you can improve these crucial points to get better search results that obviously result in better sales."
Social media
Social media is a power player in the arenas of online marketing and SEO — and Zee.Dog knows how to leverage the social platforms where the company's customers spend their time. They're active on Facebook, Twitter, Pinterest, and have two Instagram accounts: www.instagram.com/zeedog (global) and www.instagram.com/zee_dog (Brazil). Thadeu says:
"If it wasn't for social media we wouldn't have been able to grow such a huge global community so quickly. We have always used social media to create two-way conversations with our customers. We get to know them on a personal level and this creates loyalty. Henrik Werdelin, founder of BarkBox and Prehype, and an entrepreneur we admire a lot, wrote once something that stuck to me: 'Social shouldn't be about talking TO your customers — it's about talking WITH them.'"

Subdomains
In addition to zee-dog.com, Thadeu has registered a variety of secondary domain names, or subdomains, to help protect Zee.Dog's digital brand. These subdomains include a few creative generic top-level domains (gTLDs) — like zee.dog — and zeedaily.com, their multi-content platform. "People will try to buy domain names associated with your brand the moment you get noticed. GoDaddy's Domain Backorder enables you to be the first to jump at the subdomain names that you need to control," Thadeu says. "We use this tool to stay ahead of the curve."
Dog days
Tools like those mentioned above help entrepreneurs manage the peaks and valleys of business ownership. Doubtless, there are plenty of bumps along the way. "Obstacles are a constant reality in any entrepreneur's life," Thadeu says. "The secret is really using the tools available to overcome them."
Zee.Dog's biggest obstacle early on was heat from the corporate competition in Brazil, he says. To overcome it, the Zee.Dog crew stayed focused on building quality products and a loyal following.
No, running a business isn't always kibbles and bits. In addition to the plethora of online tools that can help you be more successful, Zee.Dog's founders offer this advice:
Get a mentor. You can't expect to know everything. "We overcame a lot of our obstacles by getting mentors who could help shed some light on things we shouldn't do — and by reading, a lot."
Build a strong team. Surround yourself with competent people, and give them the tools they need to work smart. "Hire slowly, fire quickly."
Learn to pivot. Things won't always work out as you expect, so learn quickly from your mistakes and become adept at creative problem solving. "Second chances are a rarity in our line of work."
Find your balance. The line between personal and professional tends to blur for entrepreneurs, but it's important to find a balance to stay sane. "I have been forcing myself to maintain a discipline — when to check emails on the phone, not go to the office on weekends, to spend time with the family — but still, it happens a lot. It's a choice, but these are sacrifices that entrepreneurs make."
Take time to unwind. For Thadeu, that means playing with his dog and working out — activities that release stress-reducing endorphins. "For a creative director, there is nothing worse than being in a bad state of mind."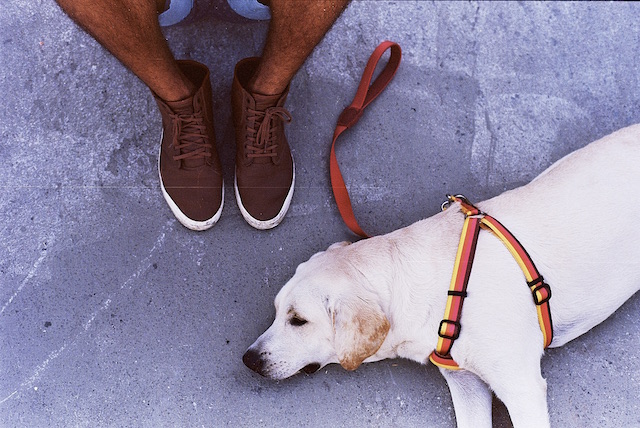 Becoming top dog
From its humble start in Brazil, Zee.Dog has grown into a global brand operating in 21 countries. Its U.S.-based online shop, zee-dog.com, sells products to pet lovers in about 170 nations. The company has launched eight brick-and-mortar "concept shops" in Brazil as an extension of what they've built online, with plans to launch soon in New York.
But the business plans to bark up an even bigger tree.
"In five years I see Zee.Dog being the No. 1 top-of-mind pet brand in Brazil and U.S.," Thadeu says, "and in 10 years, the world."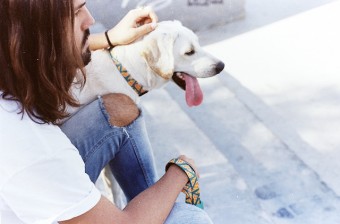 But it's not the promise of big profits that keep the three founders motivated — it's the vision that prompted them to start Zee.Dog after they adopted Zeca and Lico. A commitment to make the world a better place for abandoned dogs. "There has to be a higher purpose in what you're building other than profits," Thadeu says. "This is the only thing that will keep you going when things get rough."