Venture Forward is a research initiative launched in 2018 that quantifies the presence and impact of over 21 million online microbusinesses on their local economies, providing a unique view into the attitudes, demographics, and needs of these entrepreneurs.
The Venture Forward Report is published annually. It offers a deep dive into the latest trends of online microbusinesses, their outsized impact, and hotspots of growth by city.
Our goal is to empower anyone who advocates for entrepreneurs with robust data and insights that can't be found elsewhere.
Snapshot of the State of Microbusinesses
Venture Forward quantifies the presence and impact of over 21 million online microbusinesses on their local economies. This provides a unique view into the attitudes, demographics, and needs of these entrepreneurs. GoDaddy knows that in order to truly advocate and empower entrepreneurs, you first have to really understand them. So in 2018, we began studying closely and analyzing millions of microbusinesses. A microbussines is defined as a discrete domain name with an active website. Our team has found that the majority of whom have fewer than 10 employees. We measured their effect on incomes and unemployment, together with leading academics at the University of Iowa and University of Arizona, and found outsized impact.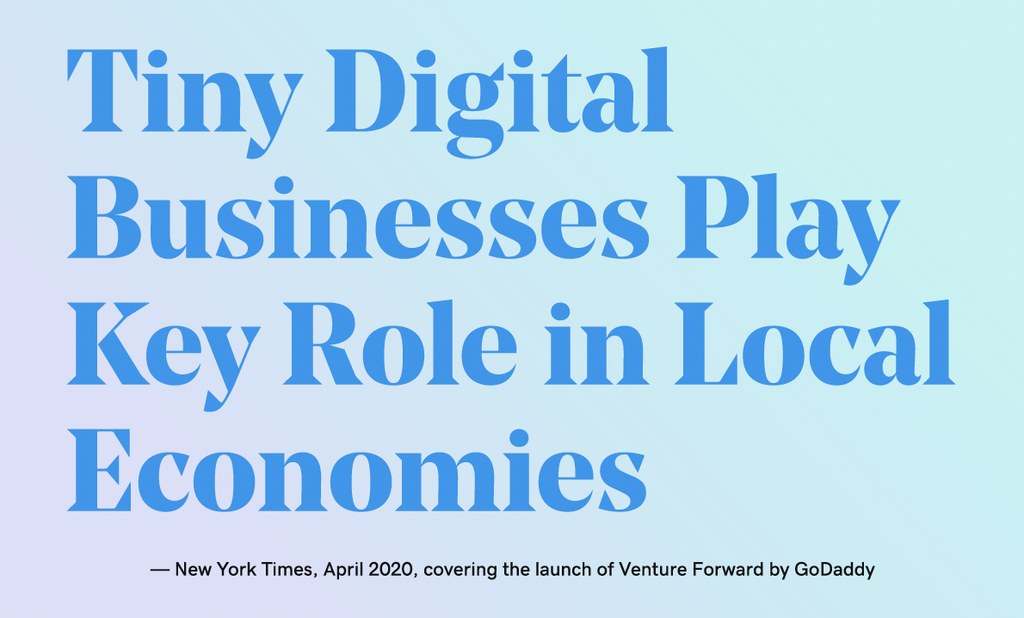 In 2019, we began surveying the entrepreneurs who own these ventures nationally and across cities at least once a year. These surveys help us better understand their mindsets and circumstances. In 2020, we built a proprietary Microbusiness Activity Index with economists at UCLA Anderson Forecast. We created a data hub to update and share our data publicly so those advocating for and studying entrepreneurs could access more information, including measurements of microbusiness density, updated every quarter.
In 2021, we expanded our research to the United Kingdom, and are working now to broaden our coverage internationally. For more details on our research methodology and other findings, please read on the Venture Forward website or see our FAQs.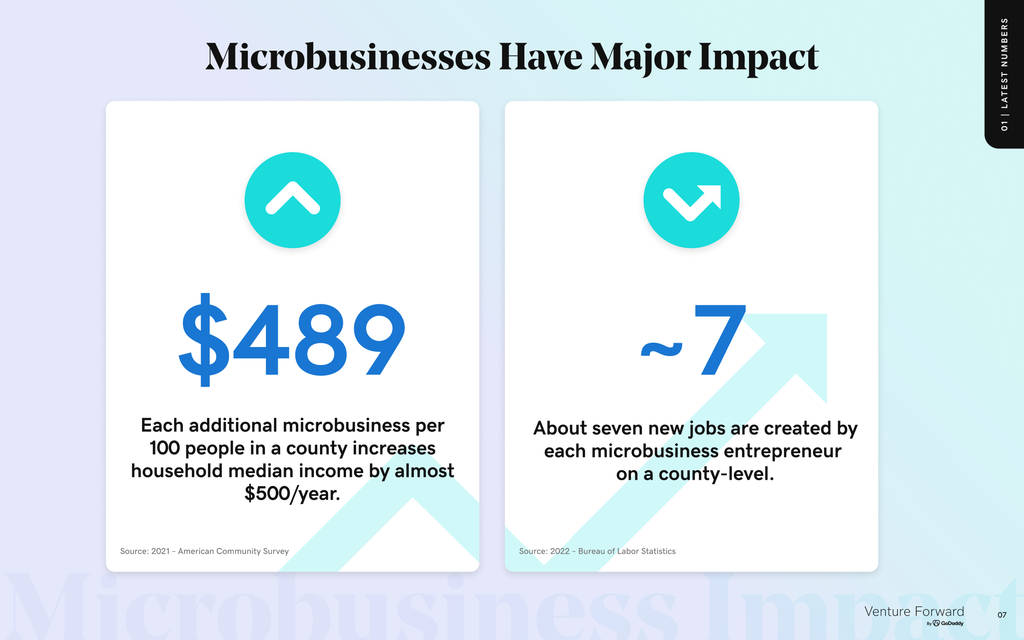 Each additional microbusiness per 100 people in a county increases household median income by almost $500/year. Also, about seven new jobs are created by each microbusiness entrepreneur on a county level.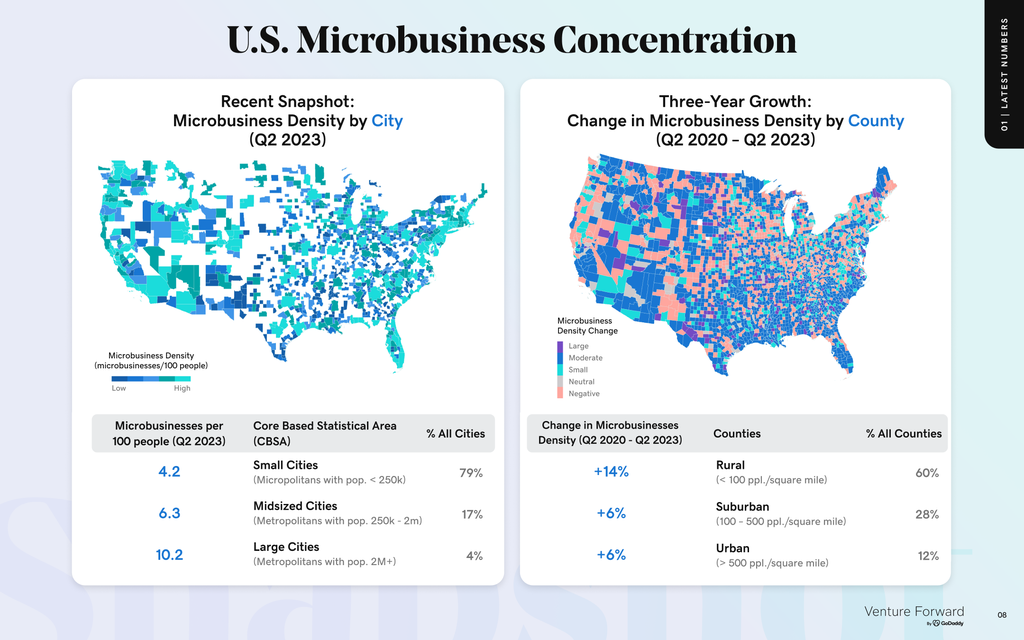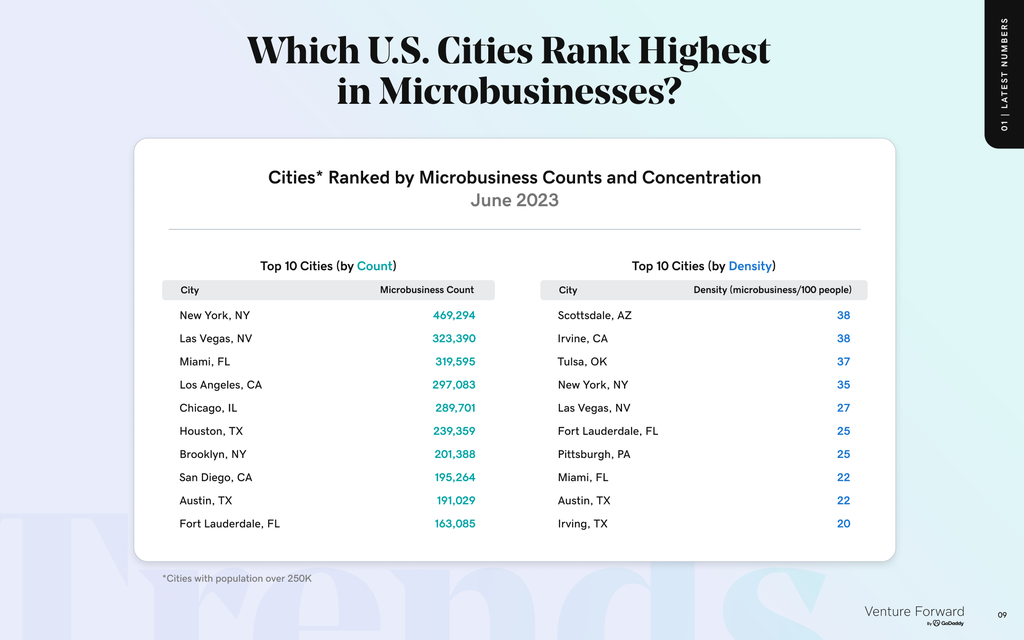 Microbusiness Activity Index
GoDaddy Venture Forward and UCLA Anderson Forecast economists come together to develop a way to capture microbusiness activity via the Microbusiness Activity Index ("MAI"), which is contains three sub-indices:
Infrastructure Index - Measures how ready for microbusiness entrepreneurship an area is, as indicated by the level of physical infrastructure (internet) and intellectual capital available in the area.
Participation Index - The number and growth rate of both GoDaddy online microbusinesses in the area and the entrepreneurs who create them.
Engagement Index - A combination of 7 activity measures, such as economic footprint and website traffic levels.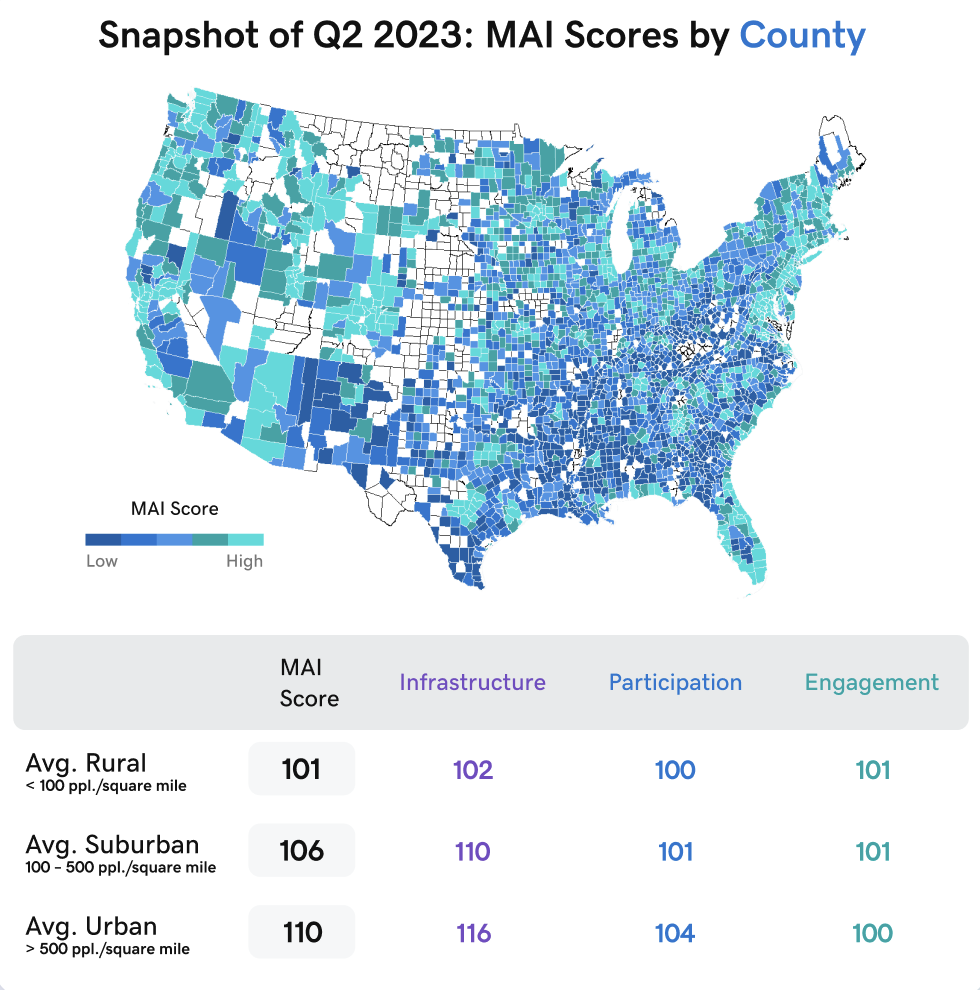 U.S. National Microbusiness Survey Results
Since 2019, Venture Forward has surveyed over 30,000 online entrepreneurs. Ahead are highlights from the survey of U.S. microbusinesses in February 2023. It also features highlights from a fresh GoDaddy survey of small businesses on their perceptions of the American Dream.
In February 2023, Venture Forward completed its sixth national survey of 3,600+ entrepreneurs who own microbusinesses. These are a few highlights; the full report can be found here.
Entrepreneurs tend to have a more positive outlook on the next six months for their businesses compared to the economy. This finding has been true since we started asking in 2020.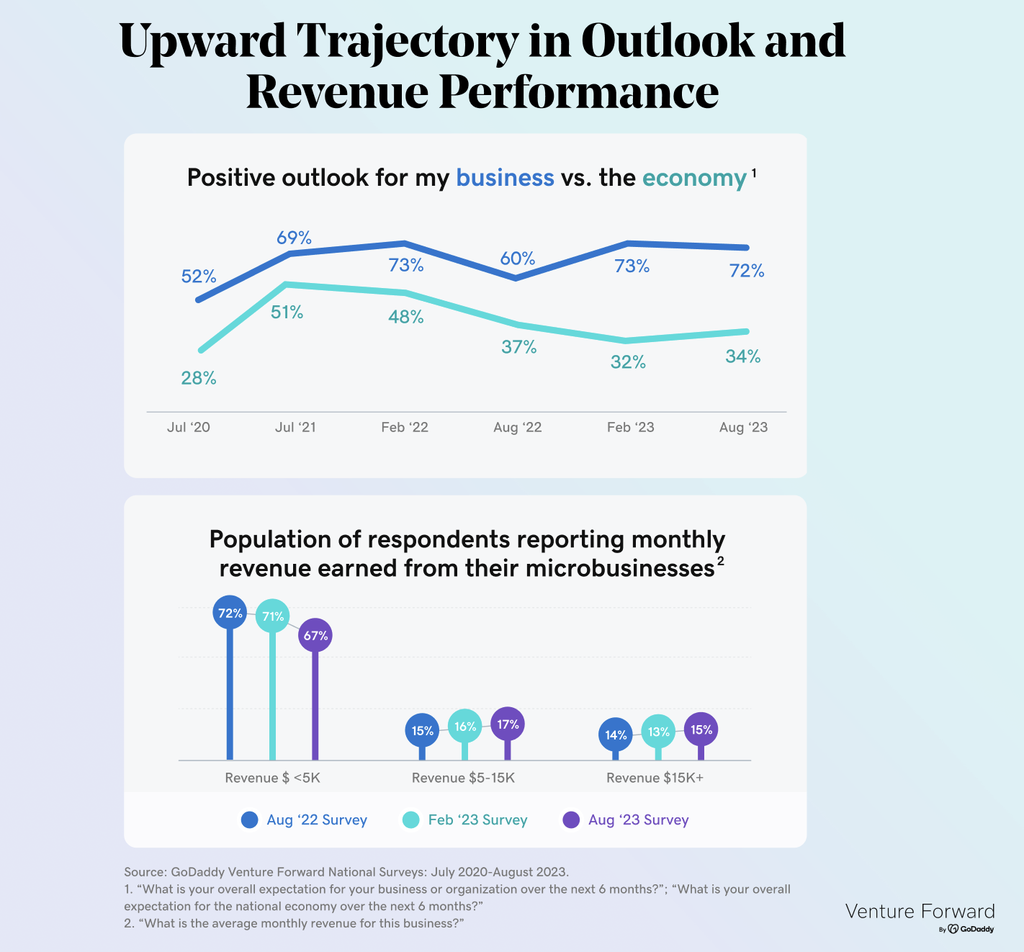 GoDaddy Special Report
The Changing American Dream
GoDaddy surveyed online and brick-and-mortar U.S. small business owners in June 2023 to understand their motivations behind entrepreneurship and the latest perceptions of the American Dream. The following are some highlights; the full report is available for download here.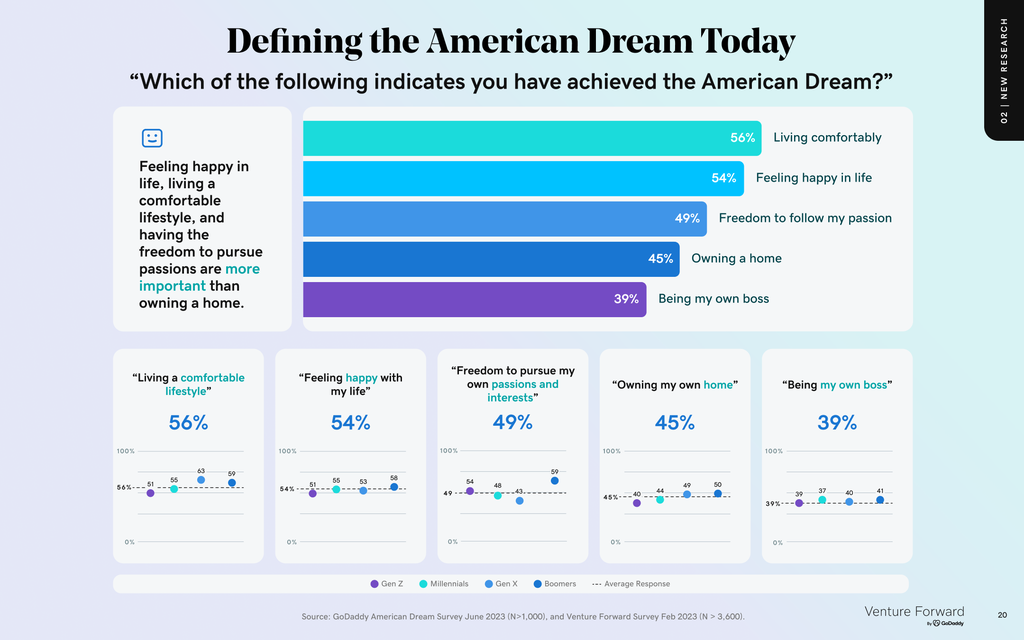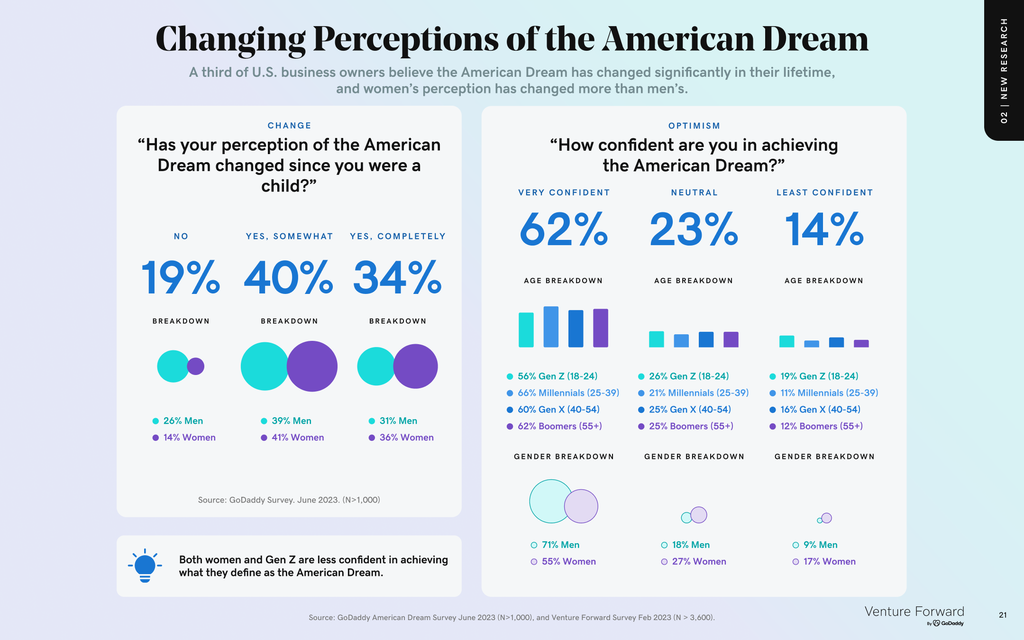 Where We've Been... and Where We're Going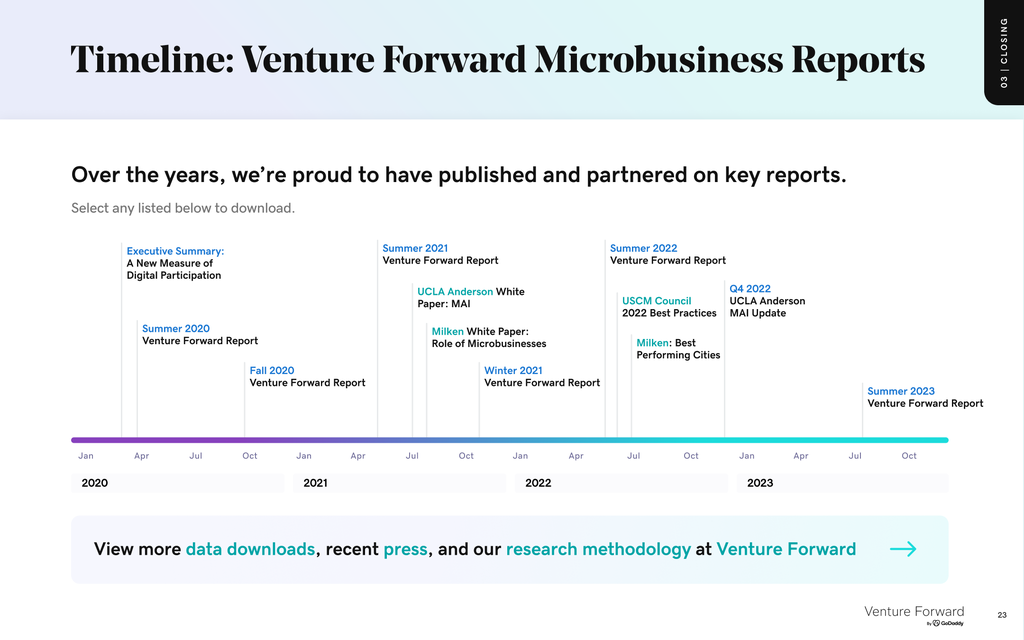 We're here to support entrepreneurs. Contact GoDaddy's Venture Forward research team at VentureForward@godaddy.com.