Karen Etchells runs Innovast Digital Marketing, a creative web agency specializing in informational websites and content creation. You can find Innovast on Facebook, Instagram, and Twitter. You can connect with Karen on LinkedIn.
Tell us about yourself. Who are you? Where are you based?
I'm Karen Etchells. Mom of five, grandmom to three. I still have a 16-year-old daughter at home. I live in eastern Connecticut with my husband, David, and two poodles.
I love where we live. It's rural with picturesque farms and rolling hills, forests and ponds. I'm on a mission to live a healthier lifestyle, recently switched to a plant-based diet and make a serious effort to exercise (preferably outside) everyday.
What's the elevator pitch for your business? Describe what you do.
Innovast Digital Marketing builds websites, creates content that ranks highly for SEO, and provides social media management services.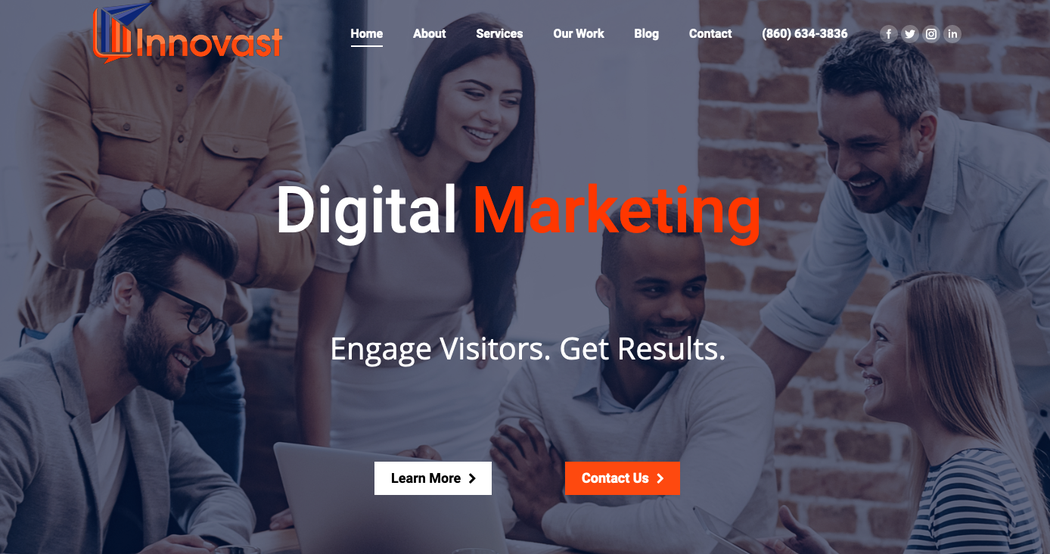 My biggest competitor is a traditional agency. My team is virtual and our capabilities are broad, but I serve as the point person and often form personal relationships with my clients.
When they reach out, they may think it's just me getting the projects done, but I actually work with a team of talented designers and developers.
That personal service, and the fact that I'm very responsive to quick changes, helps me stand out.
What inspired you to start your business? How did you get started?
I was inspired to start Innovast when I was laid off from my prior employment with an agency. I took on a small project building a website for a consultant who was impressed with my work and encouraged me to go out on my own.
Who's your ideal client?
I love working with independent professionals who seek to grow their personal brand as well as their business. I do a lot of work with consultants and advisors, who also have the same sort of personal, one-on-one relationship with their own clients.
One of the things I do differently is to help them elevate their brand presence. I don't just leave them with a website. I show them how to put themselves out there more, to build a following personally and a bigger audience for their business on the web.
What kind of projects do you like working on?
Building informational websites serving a niche market, helping professionals to create a personal brand, and content creation — especially social media management!
I specialize in content creation, building a user experience around the journey from reading information to taking action. Informational websites are the best for that. It's a balance of writing for humans and for Google too.
Rather than writing product descriptions, I like crafting a user experience that takes visitors through the page.
What kind of projects do you not like working on?
Ecommerce projects are sometimes stressful. Web developers tend to come in two flavours: there's the creative, and there's the engineer.
I prefer to take the creative approach. That's where my strengths are.
What are the most common problems you help your clients with?
If a client needs to reach a target market organically, I love to take on this kind of challenge!
Search engine optimization along with optimizing and maximizing opportunities for greater exposure on social media channels, I can drive more qualified traffic to their website where, of course, conversions happen.
Clients like working with me because I can explain the complexities of web development and SEO in simple language. I help them understand what's happening under the hood, without getting into the details of code.
Walk us through your project process from start to finish.
It usually starts with a phone call where the client talks abouts how they think I can help them. I'll normally schedule an in-person meeting from there, but now Zoom meetings are more common.
I send a proposal and then we have a follow-up conversation to review it. From there, I outline a timeline for the project, get a deposit, and we begin!
Website development is a back-and-forth process with lots of client feedback along the way. In fact, all Innovast projects prioritize client communication, as it's our job to deliver work the client is proud to have represent them on the web.
What advice do you have for folks who are trying to take their business online?
Setting expectations, sticking to a timeline of progress, and client communication is key to success. Always keep in mind that happy clients will be your strongest sales team!
What advice do you have for folks who are thinking about starting their own business?
I believe self-employment is extremely fulfilling and I encourage anyone with an entrepreneurial spirit to go for it!
However, self-employment may not be right for everyone. You truly need to believe in the product or service you provide and be a self-starter to keep the business moving in a positive direction.
Anything else you'd like to share or promote?
I am launching two new websites focusing on niche services within Innovast Digital Marketing:
One is InnovastSocial.com, which will offer preset packages for social media management and video marketing on a monthly subscription basis.
The other is Your Personal Branding Team, which will cater to professionals seeking to establish and grow their personal brand.
---
Meet the 27-hour day
We built The Hub by GoDaddy Pro to save you time. Lots of time. Our members report saving an average three hours each month for every client website they maintain. Are you adding that kind of time to your day?