A while back, GoDaddy Senior VP of Hosting Jeff King started chatting with Shawn Hesketh, CEO of WP101, by way of an introduction from Chris Lema. Flash forward a couple of months, and an agreement was in place. Flash forward from there, and GoDaddy now has WP101 WordPress help videos integrated for all new users of our Managed WordPress hosting product.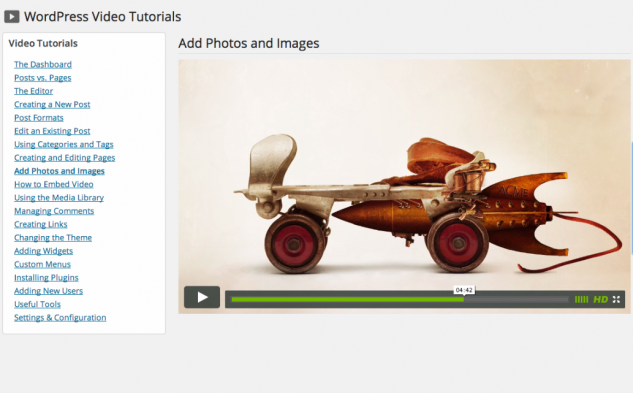 So why does this matter, and to whom? It's important for both people new to WordPress and web pros:
For folks new to WordPress, we want you to get published and set up as easily as possible. WP101 videos, in concert with our existing Quick Start, can help newcomers to the WordPress community get up to speed quickly and become more skilled and confident with WordPress in a proven, reliable way.
For web designers and developers, WP101 will save you time and help you serve your clients better. Your clients can learn the ropes and fundamentals of WordPress from a trusted source without you having to do extra work.
Although it kind of goes without saying, the WP101 videos are of superb quality and are widely recognized across the WordPress community. The suite of WordPress videos we've integrated cover a broad variety of topics, including:
The WordPress Dashboard
Posts vs Pages
The WordPress Editor
Creating a New Post
Post Formats
Edit an Existing Post
Using Categories and Tags
Creating and Editing Pages
Adding Photos and Images
How to Embed Video and Audio
Using the Media Library
Managing Comments
How to Create a Link
Customizing the Theme
How to Add a Widget
Custom Navigation Menus
Installing Plugins
Adding New Users
WordPress Tools
WordPress Settings
WP101's Shawn Hesketh has penned a thoughtful post on his perspective on the relationship with GoDaddy. One bit of note was how his perspectives have changed since the conversations started. He states:
"Over the past several months, I've had the opportunity to work closely with Jeff and his stellar team, and I can tell you that I've been consistently impressed at every turn. In addition to the amazing and talented people, their new Managed WordPress hosting platform is equally impressive. Of course, you get all the 'standard' benefits of managed WordPress hosting: automated nightly backups, 24/7 security monitoring, and automatic WordPress updates. But I was most surprised by how blisteringly fast GoDaddy's new Managed WordPress Hosting is!"
Those are things we're thrilled to hear. They're also things we'll continue to strive for, every day.
If you're an existing GoDaddy Managed WordPress customer, you already have access to the library of WP101 videos. They're accessible from your WordPress dashboard via the associated plugin. Please let us know what you think.
Want to see what these WordPress help videos are all about? Take a look right now. Here's the WP101 answer to the question "What is WordPress?"