What kind of jewelry can you sell online?
Editor's note: GoDaddy GoCentral Online Store is now Websites + Marketing Ecommerce — an all-in-one solution that integrates websites, marketing and eCommerce tools with the guidance needed to achieve success.
Jewelry is one of the prettiest products to make a business out of. Whether you're a jeweler who finds precious pieces to sell, or you're the artisan actually handcrafting these works of art, you might be wondering about the best websites to sell jewelry.
The truth is, it's never been easier to make and sell things online.
The barrier for entry is lower than ever, and with just your creativity, enthusiasm and a whole lot of grit, you can create your own handmade business. Below you'll find some advice that can help you determine the preferred route for you to take in making a living selling jewelry.
Here are the best places to sell jewelry online.
Etsy.
eBay.
ArtFire.
Bonanza.
Zibbet.
In no particular order, here are five of the best websites to sell jewelry I've found, and a couple of pros and cons for each.
Editor's note: Sell your products from one place on the web's popular marketplaces such as Instagram, Amazon, Google, eBay, Etsy, and Walmart with our integrated multi channel listing tool.
1. Etsy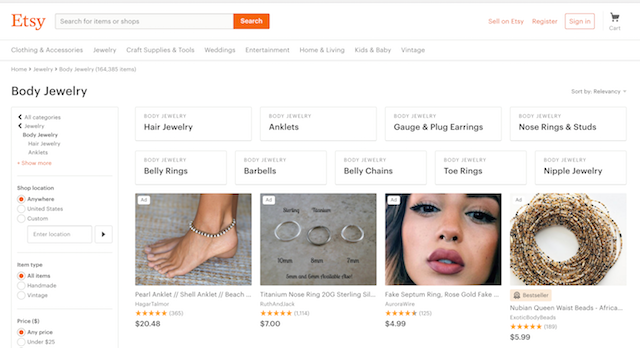 You had to know this was going to be on the list of best websites to sell jewelry, right? I mean Etsy is considered by many people to be the No. 1 website for selling handmade goods!
Pros:
Etsy claims it has 30 million buyers around the world, which is a lot of traffic for a startup like you. Lots of people know what Etsy is, and trust the platform as a place to buy handmade goods.
There are no monthly fees to keep your stuff on Etsy. Once you pay the listing fee, your goods can sit in your store until you sell them. (At least that's the case as of the time of this writing.)
Cons:
It costs pennies to list each one of your items for sale. Even if it never sells, you are out the cash. That may not seem like a lot, but if you have a large inventory, listing all of your goods can add up quickly.
The flip side of popularity is that Etsy now has around 1.8 million sellers. That's a lot of competition. Your stuff might never be seen on their site.
2. eBay
This might not have been a consideration for you since most people think of eBay as the place to sell their junk and collectibles. However, eBay is for more than just selling your old electronics and the holiday Barbies you've collected since you were 10. Oh, is that just me? I digress…
Pros:
You can list up to 50 items a month with no listing fee. After that, you pay pennies per listing.
This is another site that boasts lots of active users — more than 160 million, in fact.
Cons:
Auctioning off your jewelry can be intimidating. Of course, you can add a minimum selling price to ensure you get at least the price you want for your products.
The fee for selling your item is assessed as a percentage of the final value. Be sure to factor this fee into your profit and loss considerations if you choose eBay as your selling choice.
It should be noted that these pros and cons are solely related to listing your jewelry in the auction platform. You can also create buy-it-now offers or pay additional fees to create your own store on the site.
3. ArtFire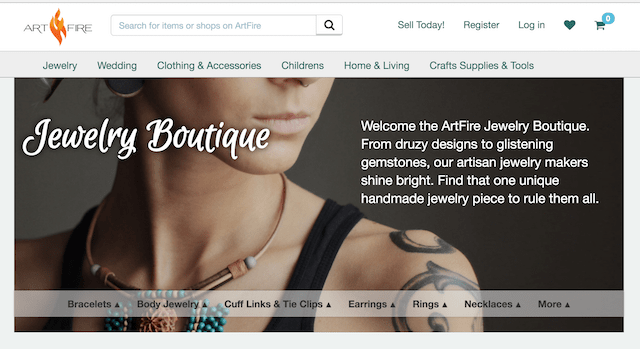 This Tucson-based marketplace allows customers to post "wanted" ads for items they'd like to commission, potentially opening another source of revenue for jewelry artisans willing to accept custom orders.
Pros:
It only costs pennies to list your goods for sale in a standard shop, and you can have up to 250 active listings.
There are no ads on shop pages and no ads on the item pages either.
Cons:
You are going to be paying at least a few dollars a month to keep your shop open. Popular and Featured Shop plans are more.
I've read complaints in several forums of slow loading of their site, and that it won't open in some browsers (I personally couldn't get ArtFire to load at all in Chrome. I had to open it in Firefox).
4. Bonanza
This Seattle-based business also makes the list of best websites to sell jewelry. Bonanza, which features an $85,000 piece of haunted jewelry, also lists plenty of non-haunted jewelry.
Pros:
No listing fees and no monthly store fees. You pay a commission fee when your stuff sells. How much of a fee? Well, see my cons for that complicated answer.
You can import listings of your products from eBay and Etsy.
Cons:
You pay more to have your listings found on Google Shopping pages. The fees get complicated from there. Basic advertising adds a percentage-based fee to the final value of your sold item, but advertising fees can take that up to 30 percent of the final value. See if you can figure out what exactly their fees are on their pricing and advertising pages. Personally, it was too much math for me.
This site is still considered a newcomer, so traffic and buyers are not as high as competing craft selling platforms.
5. Zibbet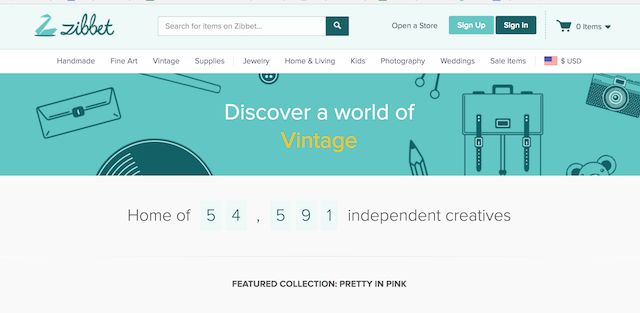 Our fifth pick for best websites to sell jewelry, Zibbet hails from Sydney, Australia. This marketplace enables artists to sync the inventory they have listed in various sales channels like Pinterest and other marketplaces for greater exposure.
Pros:
Not nearly as much competition as Etsy or eBay, so more chance your work will be seen by jewelry lovers.
You get your own custom domain and website that stands alone to sell your products. You pay a monthly fee to run your virtual shop, and can sell up to 50 items per month for the starter package. (If you upgrade to a pro or unlimited plan you can list an unlimited number of items.)
Cons:
You only get full customization of your site, and the ability to remove Zibbet's branding from your site if you pay for the Unlimited plan.
Regardless of the monthly subscription plan you can only load a maximum of eight images of your items (four with the Starter package, and eight with Pro and Unlimited).
Other sites to consider include IndieMade and iCraft. I would recommend looking at all of your options, and doing research on them before making a decision.
At some point though, you might start to wonder if you should create your own online store. Let's explore the option of your own digital space to sell your jewelry, shall we?
What about selling from your own website?
To take your jewelry business to the next level, you might have considered creating your own website. You could still promote your work on the websites listed above, but having your own digital storefront allows you to cut out the middleman, and have more control over every step of the sales process.
Speaking of steps, if you want your own website, here are my suggestions for the steps you should take in launching your virtual jewelry shop.
1. Make a plan
As tempting as it is to just dive right in, the best businesses have a plan of attack. You want to think it through a little. You already know you want to sell your jewelry, but at least consider things like pricing, your target market, your break-even number, where you'll market and more before spending any money.
Start by reading this article on what to consider before opening an online store.
2. Get a domain name
OK, you've mulled it over and gotten clear on your plan. Now, you need a domain name to set up your virtual storefront. Lost on what name to purchase? Don't worry! I've got you covered with these 10 tips for choosing the perfect domain name.
Many people find it takes awhile to find a domain name that's just right. If this happens to you, think about one of the new domain extensions such as .jewelry. You might actually find you have many more naming options with a new domain extension. See all domain extensions here.
Go ahead — try it now!
3. Build a website with ecommerce functionality
Selling things online requires more than is typically included in a standard website. There's the sales process to start with, which takes a whole lot of voodoo on the backend to work correctly. Then there's security — when you start accepting payments online, you suddenly become a target for hackers looking for credit card numbers they can steal. The best online store builders take care of all this for you.
At its most basic level, an ecommerce site:
Gives your customers a way to pay.
Has an SSL certificate to protect credit card information.
Features a shopping cart and items for sale to add to that shopping cart.
Has an area for shipping information or download functionality for digital products.
Is mobile friendly.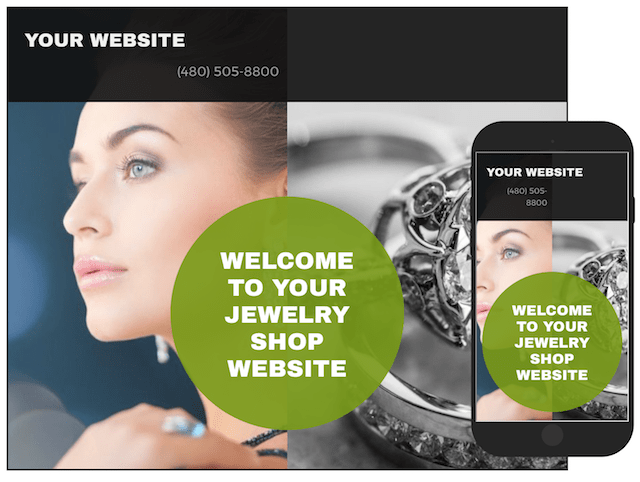 There are WordPress plugins that you can add to your site to sell your jewelry on it, but one of the easiest ways to sell products is by creating an Online Store with GoDaddy. It comes with an array of ready-made website templates built just for stores like yours. Payment processing, easy inventory management, shipping and a bunch of other important stuff is built right in. Best of all, you can try it for 30 days before you have to decide if you want to use it or not.
4. Add images, text and a shop full of products
This is where the magic happens. You'll add images and text that tells your story, add contact information, then fill your store with all of your inventory. Each piece should have a special listing page with details about the product, pricing and shipping information, and (most importantly) stunning photos that showcase your jewelry.
5. Bring people to your new online store
Once your site is built, you've got to get as many eyeballs as possible on it. Search engine optimization is a proven way to do this and is well worth the couple of hours it takes. Couple this with your learnings from Google Analytics to bring a steady stream of likely buyers to your store.
Don't forget to promote your new store on the social media platforms where jewelry lovers hang out — Pinterest, Instagram, Facebook, etc. Here again, you'll need to approach this as if you're in it for the long haul. Stay active, post frequently and respond promptly to anyone who addresses you online. This is how a following is born — one loyal fan at a time.
You can check our Digital Marketing Suite where you can find all the marketing tools you need to promote your business.
For more ideas on how to attract visitors, check this article.
Success? That's easy — just keep going.
Many people will tell you that creating the business is the easy part — it's the marketing and conversion that can be hard. This doesn't mean you can't succeed … you absolutely can! For a little inspiration, read this wonderful guide written by a jewelry maker who's living the dream. Then work with a reliable partner like GoDaddy to unleash your work on a world hungry for beauty.