If the word "packaging" automatically makes you think of a plain, brown shipping box, you are seriously missing out on the opportunity to boost your customer experience. In a world where you get extra brownie points if every aspect in your life is highly "Instagrammable," having visually pleasing, customer-centric packaging is not even up for discussion anymore. In fact, the question of if you should have aesthetically appealing custom packaging is quickly becoming a "no duh" situation.
Whether you own a brick-and-mortar store or an online eCommerce shop, custom packaging has become a fun way to add branding and personality to your products, allowing you as a business owner to up the "feels" your customer experiences on the receiving end.
6 ways to connect through custom packaging
If you are on the hunt for ways to glitz and glammify your product packaging, here are six ways to connect with your customers through custom packaging.
Customize shipping boxes.

Look into poly mailers.

Include thank-you notes.

Incorporate stickers.

Remember the little things.

Customize your emails.
Grab that fancy ribbon and some tape, because it's time to put a bow on it! Keep reading to see how you can use these six tips to elevate your custom packaging game.
1. Customize shipping boxes
When it comes to packaging, more often than not, we think about plain brown cardboard boxes. But with the blooming demand of having customized everything, we now have the option to customize the boxes our products come in.
Companies like Packlane, Tag & Label and Packwire are just a few of the businesses that offer custom-printed boxes to fit your brand. Options include shipping boxes, boxes that double as mailers, custom-size boxes, and many things in between.
And it doesn't stop there. With so many selections available, you also have the option to choose what your boxes are made of. For small businesses that are heavily focused on sustainability, companies like EcoEnclose offer businesses eco-friendly shipping products so you can ship your merchandise knowing you made the earth a little happier.
2. Look into poly mailers
Long gone are the days of plain gray mailers. If you use poly mailers to ship T-shirts or other smaller products, consider using custom packaging to make your products stand out, even in the mailbox.
While using custom-branded mailers can be a little pricey and require large quantities, if you're pressed for money, there are tons of poly mailers with interesting patterns. Companies like UPakNShip, Inspired Mailers and Amazon have quirky patterned mailers varying from cute cactus and pink pineapples to geometric designs and watercolor florals.
If you're just starting out and plain gray mailers are your current method of packaging, there are still ways to spruce it up.
Take out a Sharpie and write little notes on the mailer or packages themselves. For my personal company, Honey & Misfits, I like to circle the person's name and draw an arrow to trendy slang terms like "MVP," or "One in a million." While even I'll admit that this sounds pretty cheesy, when you're a customer, you don't expect handwritten notes on your packaging.
Pro tip: Adding a bit of humor or personalized callout enhances your customers' view of your company before they even open your product.
3. Include thank-you notes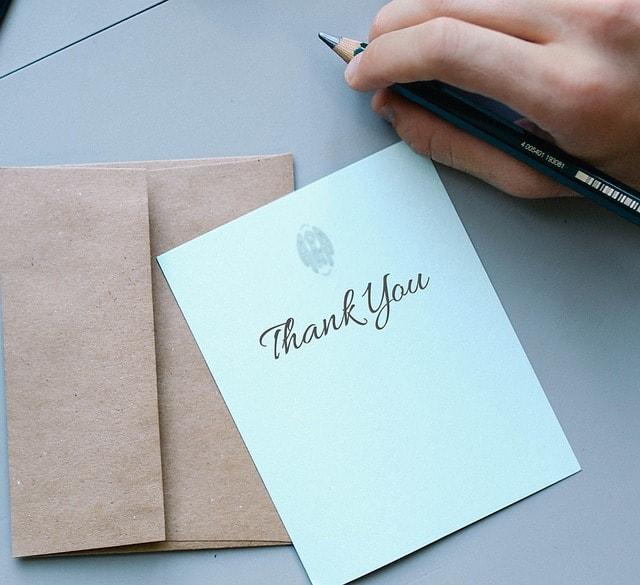 Level up your company's custom packaging by adding a thank-you note. Whether you have a fun postcard or take the time to write out a handwritten thank-you card, adding a personalized note humanizes your brand and lets the customer know you really do appreciate their support.
Don't assume your thank-you notes have to stick to the orthodox "thank you" dialogue.
Include various pieces of helpful information to add even more value to your customer's experience.
If you give back a portion of your proceeds to charity, make sure to mention that. While you might think people know you donate to charity because it's listed on your website, by reminding your customer the product they have in their hands helped sick kids at their local hospital, you give them a boost of that "feel good karma." In return, they'll associate that good feeling with your company.
You also can use thank-you notes to add coupons or discount codes. Getting someone to purchase your products in general is a huge accomplishment. But getting a first-time customer to become a repeat customer is even better.
Pro tip: Use your note of appreciation to thank your customer for purchasing your products and include a discount code to encourage them to make future purchases.
4. Incorporate stickers
If you wrap your products in tissue paper or if you need a creative way to seal your thank-you card envelopes, stickers are a great way to brand your business's custom packaging. Sites like Stickermule offer die-cut stickers that are cut to fit the unique size and outline of your design, something not all sticker shops offer. OfficeDepot offers stickers and labels that are foil-stamped and weather-resistant, while Vistaprint has inexpensive options for business owners on a budget.
5. Remember the little things
Sometimes it's the little things in life, right? When it comes to custom packaging, don't forget about the little details that can elevate your packaging.
Tape
Who says you need to use clear packaging tape for all your shipping needs? Instead of using what is typically expected, try incorporating duct tape in fun colors or patterns. If you're taping up something small like sealing an envelope, visit your local craft store and head to the scrapbooking section. There will be rolls (on rolls!) of scrapbooking tape including fabric tape, glitter tape, floral tape, and so much more.
Tissue paper and string
If you use tissue paper in your custom packaging, look for colors or patterns that will both harmonize and amplify your product. Need that final touch to your custom packaging? Use a bright string, ribbon, or raffia to add a touch of creativity to your product wrapping.
6. Customize your emails
While emails are not a part of your physical packaging, they are a part of your customer shopping experience. If you have an online or eCommerce store, find ways to personalize and add character to your "Thanks for your order" and "Your package has shipped" emails.
Most sites have pre-written email templates with standard copy for purchase orders and shipment emails. Take the time to customize your wording and make the waiting game more enjoyable for your customers. If you have some basic design skills under your belt, try adding fun graphics to your emails. Extra points if you can turn those custom graphics into animated GIFs.
Why does custom packaging matter?
With creative custom packaging, you increase your odds of future customers sharing their unboxing experiences on social media. The more pictures or videos your company receives on social media, the more opportunities you gain for exposure and potential customers. This is especially true if you are sending your products to a social media influencer or celebrity. The better your packaging, the better chance you will have of turning that exposure into conversions.
Customer service goes beyond asking a shopper how their day is going in a physical store. When it comes to eCommerce, everything from your website and email responses, to your packaging, all meld into the idea of customer service. By taking a little more time to add character and thoughtfulness to your custom packaging, you will create a one-of-a-kind unboxing experience for your customers that will, hopefully in turn, generate more business in the future.