Amazon has over 6 million third-party sellers — with this much competition, Amazon sellers must maintain a high feedback rating to distinguish themselves and stay successful.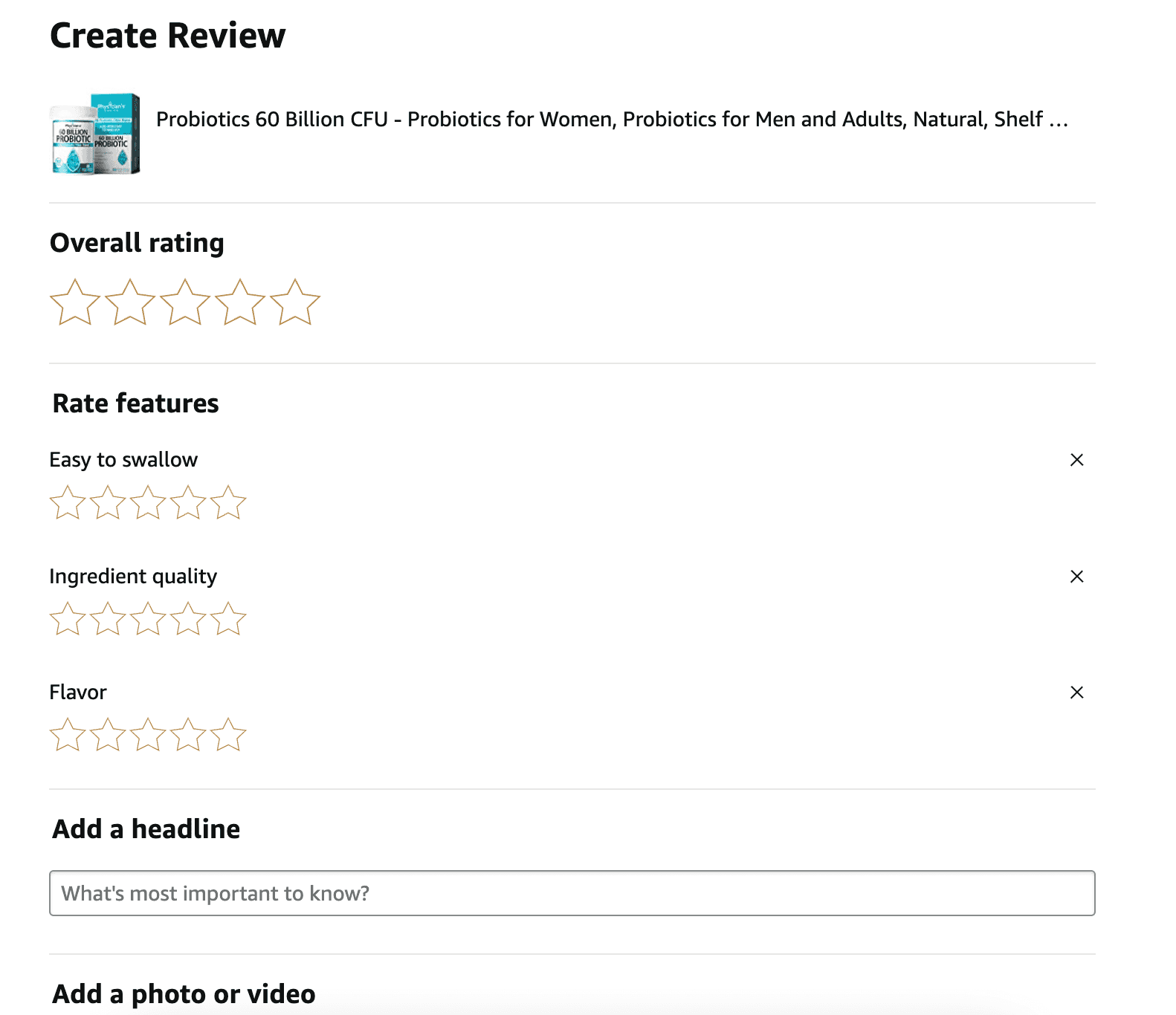 [Source]
Without a stellar rating, sellers can't build buyer trust. By scanning feedback ratings on Amazon seller profiles, buyers quickly determine which seller is the most reliable and trustworthy. Almost always, the consumer will choose to give their business to the seller with the higher ratings, especially if they're choosing between listings with similar prices.
Beyond buyer trust, there are unique ways in which Amazon negative feedback can impact sales specifically:
Negative feedback decreases your chances of winning the Buy Box. The Buy Box is the box on a product detail page that allows the customer to add the item to their shopping cart.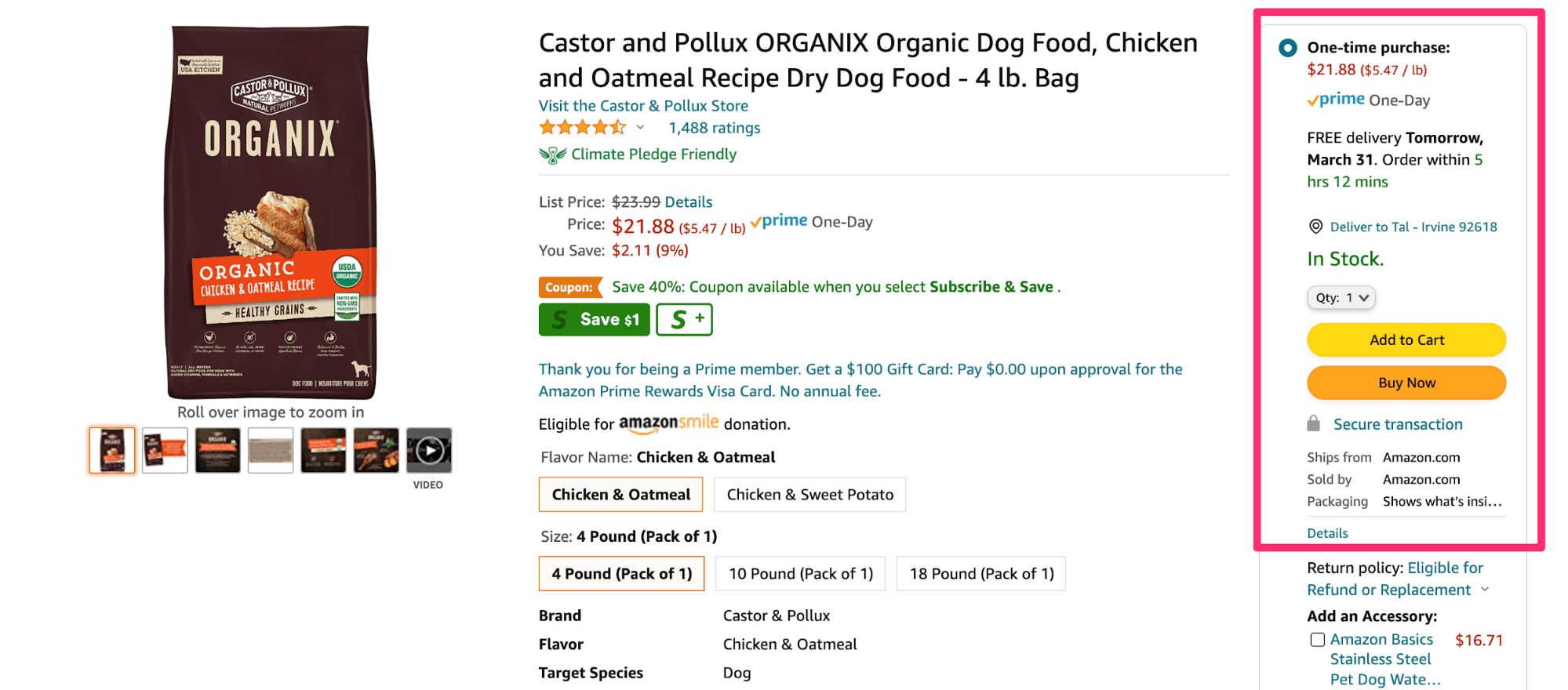 [Source]
Because multiple sellers can offer the same item, they often have to compete for their item to be positioned in the Buy Box. Winning the Buy Box is critical because every ecommerce seller wants their offer to have the most visibility.
To determine the winning seller of a Buy Box, Amazon generates an overall seller score of customer experience. With each of their orders, sellers receive or lose points toward their Buy Box seller score. For example, an order received without any problems is worth 100 points.
Negative reviews (one and two-star ratings) result in the largest order penalty to your Buy Box — a deduction of 500 points toward your overall score. With this ranking system, an Amazon seller with enough negative feedback has virtually no chance of winning the Buy Box and thereby little chance of attracting any buyers.
Amazon's policies indicate that negative feedback could result in revoking your Amazon seller account privileges.
As a seller performance target, Amazon measures an Order Defect Rate (ODR), which is the percentage of your orders that have received bad reviews in addition to other poor customer reactions.
One and two-star ratings are considered negative feedback. Amazon states that having an ODR above 1% could result in losing your seller privileges, meaning that sellers who have more than 1% of orders with 1 or 2-star ratings could have their seller privileges removed.
Neutral feedback on Amazon also hurts.
Any customer feedback that results in low ratings for a product can be damaging to a seller's profile. Amazon now prioritizes products that are highly rated, well-priced, and available to ship immediately by adding an "Amazon's Choice" flag to the product.

[Source]
Since Amazon only considers 4 and 5-star ratings to be positive reviews, most products with Amazon reviews that are 3 stars or less will not appear as a top choice in the search results.
Luckily, there's a clear process you can implement for handling damaging Amazon seller feedback and increasing customer satisfaction.
Here's our 3-step guide to negative Amazon feedback removal:
1. If feedback violates Amazon guidelines, request removal.
Amazon feedback removal can be as easy as checking whether the buyer's response follows Amazon's feedback rules. Feedback that violates their guidelines will be removed by Amazon upon request, allowing the seller to maintain a high feedback rating.
Here are some of Amazon's rules about what counts as ineligible feedback:
Product reviews

— Amazon allows customers to write product reviews on product pages, so there's no need for product reviews in seller feedback comments too. Transaction feedback has to be a review of the

service

the customer received from the seller,

not

a review of the

product

they ordered.

Promotional content

— Any comments or links about other merchants or websites are

considered inappropriate feedback.

Obscene or abusive language
Personal information

— Amazon prohibits feedback that includes identification information of Amazon customers.
Products listed under the Fulfillment-by-Amazon (FBA) program have even wider conditions for feedback removal. Under the Amazon FBA program, Amazon takes care of a seller's product storage, order packing, shipping, and customer service. Since an FBA seller isn't responsible for these duties, any negative FBA seller feedback that relates to these tasks will be removed by Amazon.
For non-FBA listings, negative feedback about product condition, shipping, and delivery will not be removed since non-FBA sellers are responsible for those tasks.
If you find that negative feedback is in violation of Amazon's guidelines or falls under FBA responsibilities (and you're an FBA seller), request its removal by following these instructions:
Log into your

Amazon.com

seller account.

Visit this

page

, and click the

Customers and orders

from the left-hand side.

Enter the

Order ID

and select Next.

Provide the details and reason for your feedback removal request.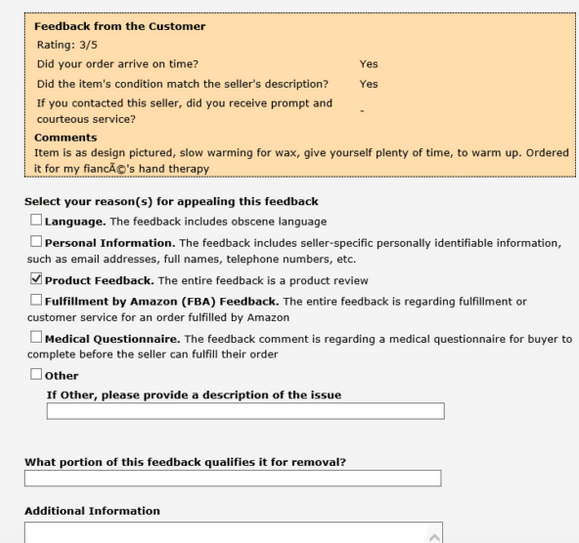 Once you've submitted your request, Amazon will review the feedback and determine whether it should be removed.
2. If feedback is ineligible for removal, reach out to the buyer.
If you've received negative feedback that doesn't qualify for removal by Amazon, your next step should be to reach out to the buyer.
Amazon gives buyers the power to remove their seller feedback. If you contact the buyer, resolve their problem, and politely ask that they revoke their comments, they may have a change of heart.
A few Dos and Don'ts of this stage:
Do
Be timely with your response.

Amazon gives customers

60 days

after they leave seller feedback to remove their response. If you wait too long before reaching out to the buyer, you might miss that window of opportunity.

Apologize.

It never hurts to say you're sorry. Take the time to apologize, understand the buyer's problem, and address it properly.

Adjust your product descriptions.

At times, an Amazon customer may be dissatisfied with a missing product description. Creating a more accurate product description can help ease the customer's frustrations and improve future customer satisfaction.
Don't
Don't offer buyers a refund in exchange for negative feedback removal

. Offering a full refund is against Amazon's rules, and you can have your Amazon seller account suspended if you attempt such a scheme. Instead of sellers giving out refunds, Amazon wants sellers to take the time to understand problems and address them properly.

Don't immediately ask for feedback removal.

Your initial message to the buyer should only include your apology and ideas for resolving the issue. If you immediately ask for feedback removal, you'll give the customer the impression that you don't care about their problem — in which case, they definitely won't remove their feedback. Wait for their response before requesting feedback removal.
If you'd like to contact an individual buyer about negative feedback, you'll need to go to your Feedback Manager page.

To respond, follow these steps:
Scroll down and click

View Current Feedback.

Find the buyer comment that you want to resolve, and select the

Resolve

button. You will then be redirected to the Resolving Negative Feedback page.

Click the yellow

Contact Customer

button.

Select a subject from the drop-down menu.

Type your message.

If you want to include receipts, supporting documents, etc., use the

Add Attachment

button.

Click

Send Email

to send your message to the buyer.
If the buyer does respond, you should make your best effort to resolve their problem if it hasn't been fixed already. Solving the issue will bring the customer back to your side, so you can then politely request feedback removal.
If the buyer does agree to remove their negative feedback, provide them with the following removal instructions:
Next to Your Submitted Feedback, select

Remove

.

Indicate why you would like to remove the feedback.


Select

Remove.
Buyers submit negative feedback because they feel like they've received substandard service. It's your job as the seller to make them feel less cheated by working to solve their problem. Once you've done that, there's a good chance the buyer will be open to your feedback removal request.
3. If the buyer doesn't remove feedback, leave a response on Amazon's site.
Of course, there's always the chance that you don't hear back from the buyer at all. You message and message, but still no response.
If it's clear that your negative feedback won't be removed by the buyer or Amazon, the best you can do is leave a direct response to the feedback on Amazon's site — that way, another buyer who sees the negative feedback will also see that you made an effort to resolve the issue.

To write an Amazon feedback response, go to your seller Feedback Manager and follow these steps:
Scroll down and select

Feedback

under the

Performance

header.

Find the feedback you want to respond to, and click

Post a Public Response.

Enter your response.
Unsure of what you should say? Here are a few Dos and Don'ts for writing an Amazon feedback response:
Do
Keep your response professional, dignified, and short. You can maintain a respectable, professional image without going into too much detail. The main readers of your response will be buyers on your profile who are totally uninvolved in the order, so no need to be lengthy.
Here's an example — "We're truly sorry our service fell below your expectations – we've made changes to the way we operate to ensure this doesn't happen again."
Don't
Don't submit a cheeky or sarcastic response. You may think you're being cute, but you're really just giving buyers the impression that you don't care about the customer's frustration — giving all of these potential buyers good reason to not do business with you.
Negative feedback isn't the end of the world
Having a high seller feedback rating is a critical part of being a successful Amazon seller. At the same time, negative feedback is by no means final on Amazon. Double-check to ensure the comment doesn't contravene Amazon's strict feedback rules. If it doesn't, look to resolve the situation to the buyer's satisfaction and try to have them remove it themselves.
The key is to not let negative feedback get you down when selling on Amazon. Take a deep breath and address feedback problems when they arise to improve your service and your appeal to future customers.
Over the long term, a few negative ratings here and there won't ruin you if you focus on improving your business and offering amazing customer service. With these goals in mind, sellers will have no trouble thriving in the Amazon marketplace.