As one of the most popular online marketplaces, Amazon offers sellers the opportunity to reach more than 197 million monthly users from around the world.
For customers, part of the appeal is the millions of products available for sale every day across over 40 Amazon product categories, from clothing and accessories to the latest tech gadgets.
But as a newer seller on Amazon, the wide assortment of products broadens the competition and makes it challenging to get established. You have to start with the product category before you can decide on "the right product" to sell. But which Amazon product categories generate the most sales?
To set you up for success, we've compiled a list of the most profitable categories on Amazon and examples of the best products to sell within each one.
Features of profitable products on Amazon
Before we dive into the most profitable categories, let's look at what makes the products within them so successful. In addition to sales numbers, Amazon also uses algorithms to flag best-selling products and the categories they belong to.
There are four characteristics of the products that sell well. Each Amazon product category has a subsection and thousands of products within each subsection. Identifying these characteristics will help you zero in on specific products to sell.
Fill a specific need
Market research is an important first step in deciding on your product selection. Based on the pain points your audience is experiencing, sell products that offer a specific solution. For example, if you're in the fitness industry and your audience wants help tracking their fitness goals, consider selling tech gadgets like fitness trackers or smartwatches.
Generate high traffic volume
Focus on niche categories with a steady stream of traffic. Be aware of categories with big, established brands since they're harder to compete with if you're new.
Regardless of the time of year, profitable products attract lots of page views and sales.
Have positive reviews
The majority of customers research products online before they buy. Part of this research includes reading customer reviews and testimonials.
You'll notice that the most profitable categories have products with thousands of reviews. Positive reviews have been shown to improve sales and reduce shopping cart abandonment.
Use Fulfillment by Amazon (FBA)
Fast delivery is an expectation in ecommerce. By selling on Amazon, you have the advantage of using FBA instead of fulfilling orders yourself.
Not only will it save you time, money, and energy, but it will also give you peace of mind and confidence that your products will be sent accurately, efficiently, and on time.
Editor's note: Sell your products from one place on the web's popular marketplaces such as Instagram, Amazon, Google, eBay, Etsy, and Walmart with our integrated multi channel listing software.
5 profitable product categories to build your store around
People are always going to want more stuff. As the seller, the human desire for more stuff works in your favor. You just have to pick the right product categories to make sure you're maximizing your potential profits.
1. Toys & Games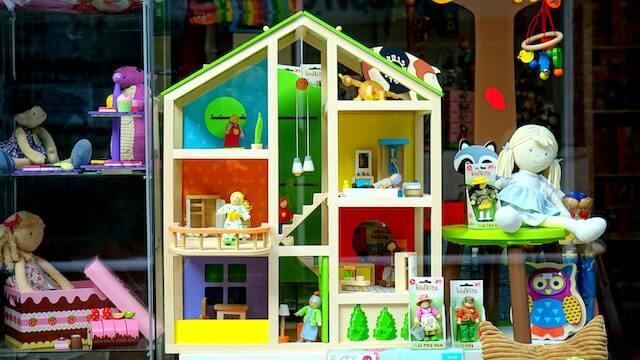 Toys and games are big business for Amazon. There's a constant stream of new toys and games all year round. It's no wonder that in 2021, U.S. revenue in this segment reached $38.4 billion and shows no sign of slowing down.
Many toys and games today are influenced by movies and TV (e.g., every time a new Disney or Pixar movie comes out, a series of must-have toys, games, and gadgets are sure to follow). Others are driven by education and learning needs.
To guide shoppers' buying behaviors, Amazon publishes an annual Holiday Toy List.
Whether customers are planning for events like birthdays or holidays, the list gives them insights into the top toys and games of the year.
Another helpful resource is Amazon's best-selling products page for toys and games. Products on these pages are updated hourly and ranked based on which products have the most sales. By analyzing the types of products on these pages, you can decide which toy or game to invest in and sell on Amazon yourself. If your toy or game gains momentum, Amazon will reward you by boosting the product visibility with a feature on one of these best-selling pages.
Currently, the toys that are generating the most sales are STEAM (science, tech, engineering, art, math) related, like National Geographic's Birthstone Dig Kit or ThinkFun's Gravity Maze. Other toys and games that are popular include Plushie animals, Crayola products, and classic games like Connect 4.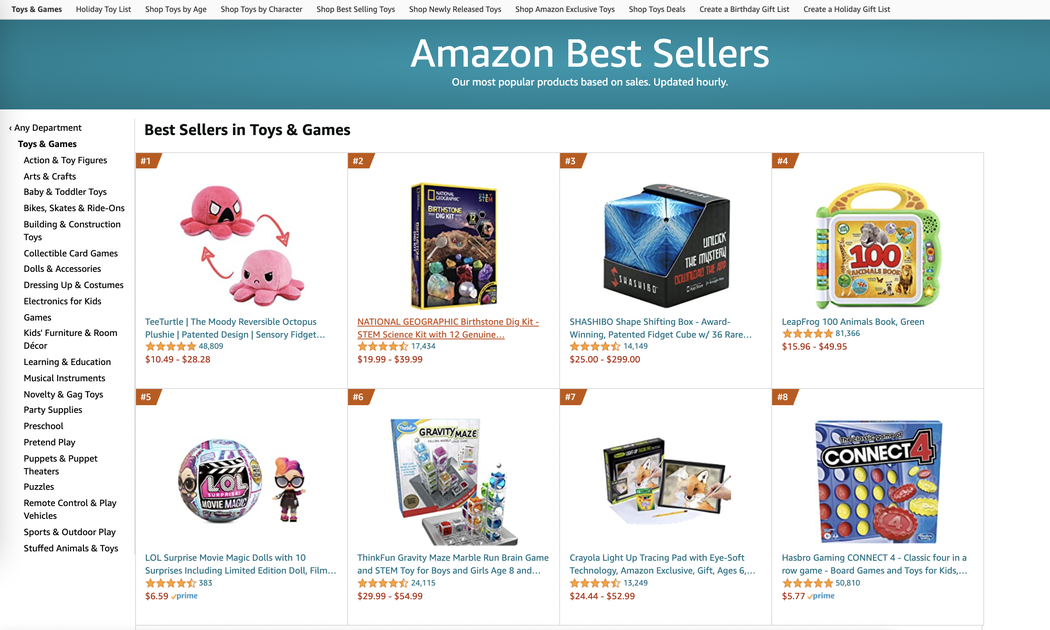 [Source]
Success in the Toys & Games category
Children dictate which toys are popular from year to year. But their decisions are often profoundly influenced by the media they consume.
Do your research
Take the time to do research and discover trends, like the countless YouTube channels that feature toy unboxing videos.
This is a beneficial tidbit to consider when designing your own product's packaging.
2. Electronics
The Internet of Things (IoT) is growing every day, and new gadgets — for all ages — are released all the time. According to Transforma Insights, individual consumers account for the largest share of IoT devices, at 35%. They project that this number will grow to around 45% over the next 10 years.
In Amazon's "Best of Prime" 2019 report, the two highest-selling products were electronics: the Echo Dot and the Fire TV Stick. Other best-selling electronics products on Amazon include video doorbells, tablets, and smart plugs.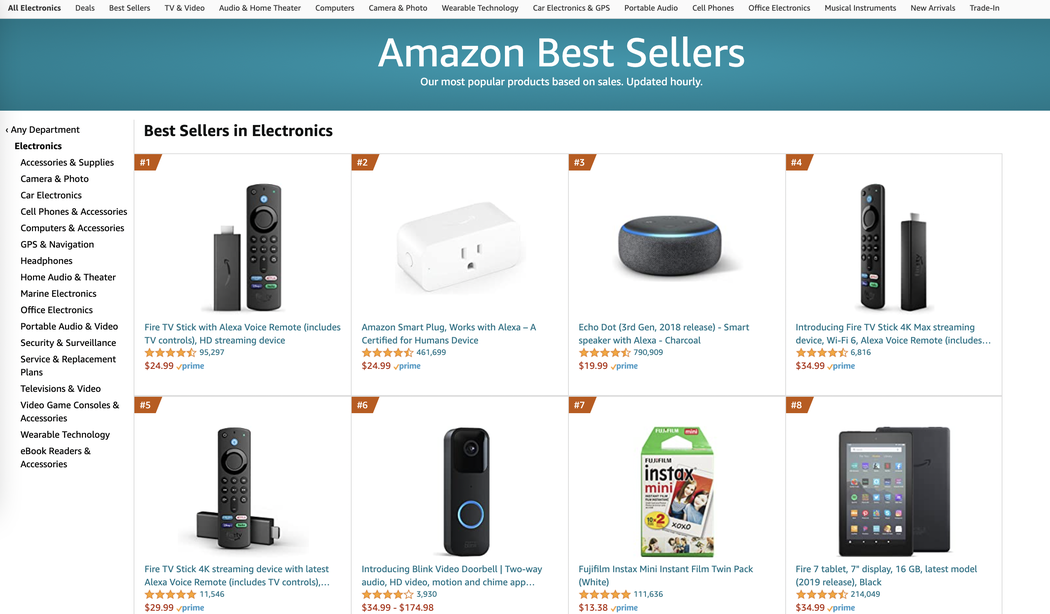 [Source]
As cable plans become less common and more people stream their favorite TV shows, products like Fire TV are becoming more popular. It's a one-stop option for customers to access games, apps, music, and thousands of channels.
Success in the Electronics category
The electronics category is dominated by larger, more established brands, making it more challenging to stand out from the competition and make a significant profit.
Find your niche
Instead of selling a wide range of electronic products (like most of these larger brands already do), consider which niche products you should sell within this category.
For example, within the Electronics category, there's an "Accessories & Supplies" subsection. Within this section, you can define the types of accessories you'll sell. This can be anything from computer accessories like memory cards and cables to home audio accessories like speakers and remote controls.
The more niche you get, the more precise your market research can be.
As you learn more about your audience and their needs and preferences, you can offer more specific types of products to appeal to a small but motivated audience.
3. Camera & Photo
With the surge in demand for cameras and all things image and video making, this is yet another standout category to invest your time and energy in. Whether you need a mini iPhone tripod to record your Instagram Reels or a drone to capture your island vacation, products in this category include a mix of cameras, camera accessories, and photography equipment.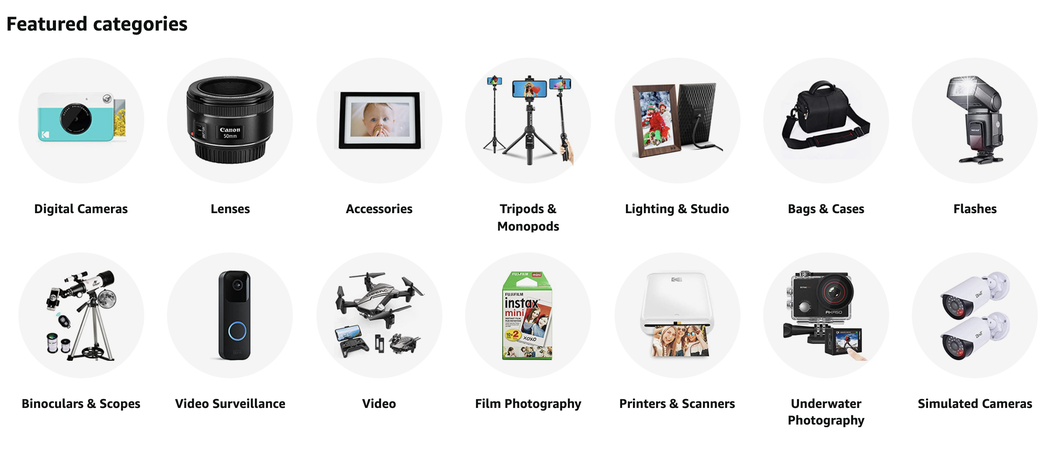 [Source]
Best sellers in this category include wireless home security cameras, Fujifilm instant film, and kid drones.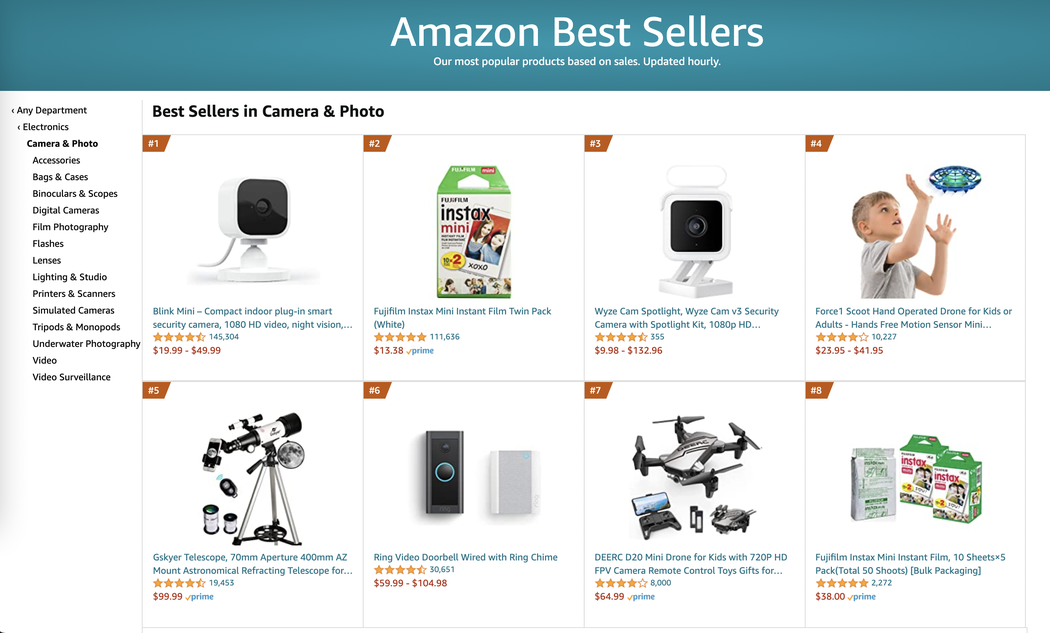 [Source]
As technology advances, personal home security options have blossomed. One product on the list above that stands out is Ring. Ring, which was launched in 2012, has an astounding success story and has grown to become a leader in home security. Moreover, the presence of Ring on doorbells has been shown to reduce burglaries in some neighborhoods.
Success in the Camera & Photo category
As an online seller, there are a few key points that you can learn from Ring's success on Amazon:
Sell products that have continual demand
Instead of selling one-time purchase products, consider selling products or services that require a refill or subscription, like Ring. For example, photographers who prefer film over digital will inevitably run out of film and need to come back to purchase more.
Get your brand in front of people
Ring used a celebrity influencer and innovative marketing tactics to broaden its reach. As a seller on Amazon, you can use Amazon's built-in advertising feature to get your camera products seen.
Many of Ring's ads incorporate user-generated content that shows real security footage and shares positive stories from using Ring.
4. Books
When Amazon first launched, it was one of the first online book retailers. Over the years, it evolved and now also offers digital options — like Kindle products.
However, contrary to popular belief, printed books still outsell e-books, according to data collected from 10 different countries.
The most popular books tend to be children's books, literature and fiction, and self-help. Some of the best-selling fiction are epic adventure novels — many of which have been turned into blockbuster films like The Hunger Games or Divergent. Like the other lists, this list is updated hourly and is influenced by the cadence of popular authors' book releases.

[Source]
Success in the Books category
Find a need and fill it
There are 36 subcategories in the Books category. You can sell anything from art and photography books to test prep books. Find a subcategory you and your audience are interested in and focus on that.
Promote your products
Use your Amazon product landing page, ecommerce website, and social media to share more about the types of books you sell and a few samples. If you don't already have an online store set up, you can easily create one through GoDaddy and seamlessly sell your products on Amazon and other marketplaces.
Follow audience interests
Use Google Trends, social media, or book forums to keep up-to-date with the types of books that are trending. This will also give you insight into the niche that resonates with your audience.
5. Clothing, Shoes & Jewelry
Many would be surprised to find out that Amazon is the leading fashion retailer in the U.S. Shortly after launching Amazon Fashion and The Drop, Amazon saw increasing success.
Fashion brands have made their way onto the virtual storefronts of Amazon pages include trending and popular brands like Savage X Fenty, The North Face, Michael Kors, and New Balance.
Clothing needs fluctuate according to the time of year. For example, during the winter and holiday seasons, you're likely to see the best-selling page featuring socks, cozy pajamas, slippers, and flannels.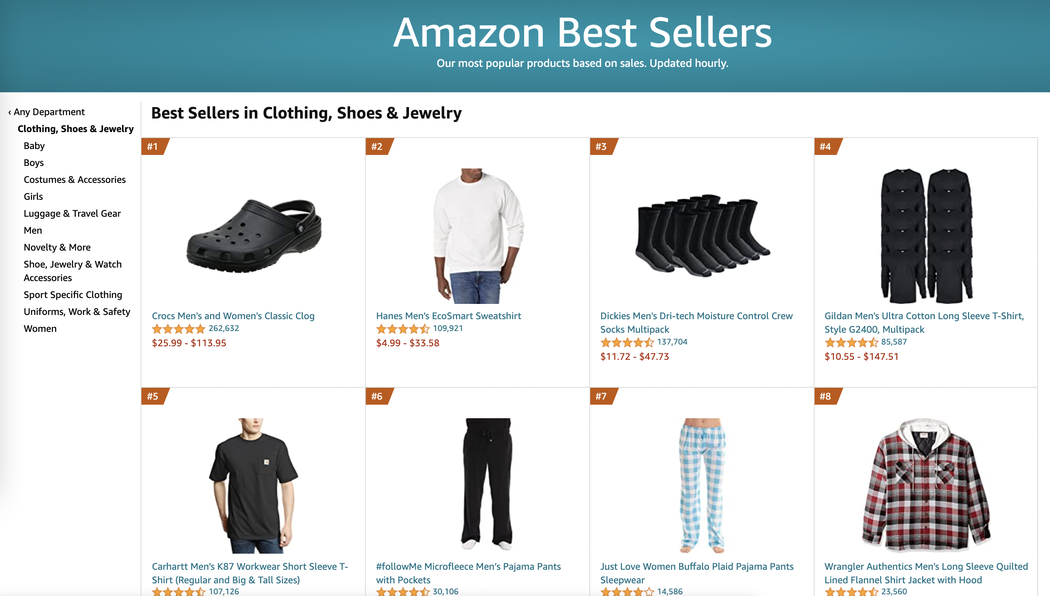 [Source]
Amazon's success selling clothing online and the profitability of this category can largely be attributed to millennials' shopping preferences.
In the age of immediacy, this generation is more likely to take advantage of Amazon Prime deals.
Success in the Clothing, Shoes & Jewelry category
Give customers control
To improve the convenience of shopping online, offer your products in multiple sizes, styles, and colors. This way, customers are more likely to have their needs met in one place before they buy something.
Promise quick delivery and an easy return policy
Customers prefer quick delivery and a flexible return and exchange policy. One of the reasons customers choose not to buy online is because they can't try on the clothes first.
Getting orders to customers fast and offering quick and simple returns act as motivation for customers to shop for your products on Amazon.
Use the right tools for your Amazon product categories
To be a profitable seller on Amazon, commit to ongoing research and development with the right tools. Tools like Google Ads or Ahrefs will assist you with keyword research, a key component in determining which Amazon product categories to pursue.
SellerApp is a great analytics tool that will provide you with data on Amazon product search volumes, rankings, and performance.
The more information you have, the more likely you'll make the optimal decision about profitable product categories for your business.
Once you've found your product category, you can determine your product. Once you've settled on the product, you can build a store on GoDaddy, and finally, you can optimize your exposure on Amazon. Before you know it, you might find yourself listed in the top eight of Amazon's best-sellers list!