One of the most beautiful aspects of the internet is that it provides everyone with a clean slate to build their business. Whether you're a small business, a solopreneur, a large conglomerate, or an influencer with millions of followers — everyone starts with the same first step — registering their domain name. And in the ecommerce realm, a .store domain name is a perfect fit.
New ideas are brimming every day and all they need is the right platform to thrive. In this article, we look at some of the world's largest brands and influencers along with startups and small businesses and the one thing that ties them together — a .store domain name.
What makes a .store domain so special?
A domain name is your online store's address on the internet, almost like a virtual real estate.
As such, it needs to be attractive and inviting to customers.
All of your branding and marketing efforts are driven towards inviting people into your store's website. So, you have to ensure that every piece of communication that's going out makes your store desirable for your customers. A .store domain can help you do exactly that.
The .store domain extension exclusively for ecommerce and retail brands. By designating your website as a store, you make it easy for your customers to easily understand the purpose of your website.
A .store domain name allows you to build a credible brand and makes it easy for your customers to find and connect with you.
Want to see if your .store domain is available?
What are the benefits of a .store domain?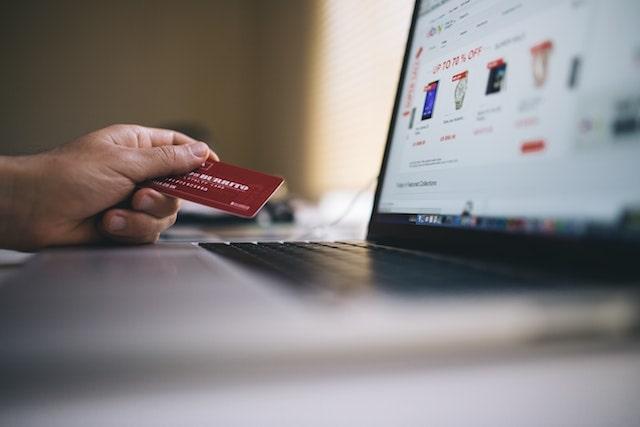 There are many branding and marketing benefits of a .store domain name. However, some of the primary ones are:
1. It's available
The chances of you seeing the domain you'd like to register as taken are negligible with .store. You get your first choice of domain name without making any compromise.
2. It saves you advertising dollars
The .store domain extension indicates that you're an online store, making it easy for you to communicate your business type to your customers without spending huge advertising dollars to promote it.
3. It helps you attract more customers
A domain name on .store is likely going to be shorter than other more common domain names, which makes it easier for your customers to find and remember you.
4. It's credible
The .store domain extension is a preferred choice of more than 350,000 successful business owners, some of whom we'll explore in this article. Your domain name communicates that you're selling something making your business credible on the web.
10 businesses using the .store domain
Good branding is an art, and a tool such as a .store domain extension empowers everyone from small and medium-sized businesses to the world's biggest influencers and corporations to carve their own special space in a niche. Check out these 10 businesses finding success with the .store domain.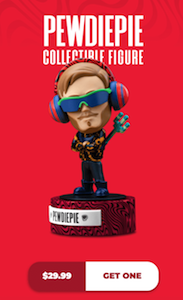 Felix Arvid Ulf Kjellberg, famously known as PewDiePie, is a Swedish YouTuber and comedian. He rose to fame from his Let's Play videos where he recorded himself playing video games in his own unique and funny way. He started his YouTube channel in 2010 and in a decade became one of YouTube's biggest stars with more than 105 million subscribers.
To expand his business and franchise further, PewDiePie built an online store on a .store domain name where he currently sells his own collectible figurines. The .store domain name helps him create a unique identity for his online store and the short and simple domain makes it easy for his fans to remember and visit the store to buy his figurines.
Known as the "Baddest Man on the Planet," Stipe Miocic is anything but bad. He is the defending UFC Heavyweight Champion of the World and he holds the maximum number of heavyweight title defenses to his name.
Stipe has created his own set of unique merchandise such as T-shirts, hoodies, beanies and more for the fans of UFC Heavyweight Championship. He is branding himself and his online store on a .store domain name for a more credible and meaningful online presence.
Soccer star Cristiano Ronaldo took his love for good jeans and launched his denim brand, CR7. Not just jeans, Cristiano Ronaldo also launched his own fragrance collection under the same brand name (CR7).
To give his merchandise a relevant and meaningful online identity, the football player used a .store domain name to brand his denim brand on cr7denim.store and his fragrance brand on cr7fragrances.store.
Billboard is one of the world's most influential music media brands that's built on the complete database of charts across all music genres. The website and the magazine is the ultimate destination for anyone who loves music and wants to stay abreast of the latest music trends.
While Billboard's commercial website is billboard.com, the music brand chose a .store domain name for its merchandise website where it sells apparel, hats, limited edition collections and more. The .store domain name gives the brand's merchandise wing its own unique and memorable identity that's different from its commercial one.
Emirates is one of the world's top airlines based in Garhoud, Dubai, United Arab Emirates. Owing to its global reach and popularity, Emirates not only focuses on creating a high-quality flying experience but also building a meaningful and relevant online brand.
While the airline uses emirates.com as its commercial website, it uses emirates.store for its merchandise vertical. If you search for "Emirates merchandise" or "Emirates store" on Google, its .store domain name precedes any other search result.
Based in California, Insomniac Games is a company founded by Ted Price in 1994. The company is known for developing some of the most popular PlayStation mascots, as well as the Resistance franchise, 2014's Sunset Overdrive, and 2018's Spider-Man.
The company believes in good online branding which is why its official gaming website is on insomniac.games and its online store where it sells its famous merchandise, is on a .store domain name.
The brand understands the value that can be derived from having meaningful online identities for different business verticals and its doing that through new and relevant domain extensions.
Andre Rebelo, better known as Typical Gamer, is a 28-year-old Canadian YouTuber who started his YouTube channel in 2008 playing Red Dead Redemption. Over the years he started live streaming other games such as GTA 5, Fortnite, Minecraft and more where he started gaining popularity and crossed a million subscribers. While Rebelo is winning the gaming world on YouTube, he's also building his brand by selling his exclusive merchandise on a .store domain name.
After being a famous movie star and a musician, Jack Black's next project involves becoming a YouTube gamer. Within a week of its launch, Jablinski the YouTube channel had over a million subscribers. To build a brand around his channel and promote its merchandise, Jack Black built his online store on a .store domain extension where he sells apparel and accessories that resonate with his YouTube brand.
With more than 50 million subscribers, Dude Perfect has the 10th most subscribed YouTube channel in the world.
What started as a vlog is now a multinational sports entertainment conglomerate based in Texas, Dude Perfect began with five friends, Cory Cotton, Coby Cotton, Garrett Hilbert, Cody Jones and Tyler "Ty" Toney. This group of friends filmed videos challenging each other to various trick shots and stunts.
Over the years, they have built a stellar online presence creating unique identities of their assets such as using a .store domain name for their exclusive merchandise store.
Related: How to make money on YouTube — The expert guide
Foster The People is an American indie pop band that was founded in 2009 and quickly rose to fame in 2010 with the song "Pumped Up Kicks." Other than giving its music fans great tunes to groove to, Foster The People is also building its brand on the internet. Along with its official website, the band also sells its official funky merchandise on a .store domain name.
In conclusion
The ecommerce space is getting more competitive by the day.
To truly stand out, businesses need to look at every minute detail and ensure they squeeze all the branding juice out of it.
Your domain name is one such detail and getting it right can go a long way in helping you build a credible online brand.