This article was originally published on April 7, 2015, and was updated on Dec. 5, 2019.
Does the idea of writing your first email newsletter fill you with dread? Do you worry about making every detail perfect? Are you concerned that your particular business type won't benefit from the effort of writing a newsletter?
Don't despair, GoDaddy Email Marketing makes it simple to create a newsletter for your business … fast.
Newsletters are a great medium for all sorts of businesses where other types of communication wouldn't work. It's also the perfect way to maintain a positive relationship with your customers.
Email marketing, done right, is an amazing way to create and maintain relationships with your clients and prospects.
But how do you create an engaging, interesting newsletter when you're already too busy to remember to eat breakfast? And how do you do it without spending your children's inheritance?
GoDaddy Email Marketing, that's how.
Building your first email newsletter campaign
Getting a newsletter up and running is simple and quick with GoDaddy Email Marketing. You can have a stunning newsletter created and sent in less than 30 minutes. Don't believe us?
Let's check out the process and set our timers. We're going to create an event invite for a special event at my restaurant. Ready, set and let's go.
First, I'm going to dive into my GoDaddy Email Marketing account and click Compose Campaign. Since I'm creating a newsletter to invite my subscribers to a special event, I'll choose the Event invitation template.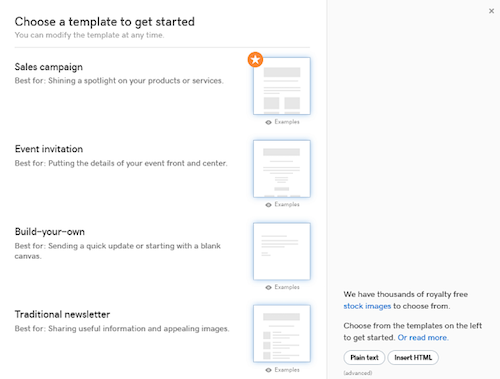 The composing window will automatically choose a color palette for you, but the one that it chose this time is too dark for my liking, so I'm going to change that using the Styles tab to the right. If you have colors specific to your brand, you can even create your own color scheme from the Styles tab.
Editor's note: Email marketing is built into GoDaddy's Website Builder — which makes it a snap to create newsletters that perfectly reflect the look and feel of your brand.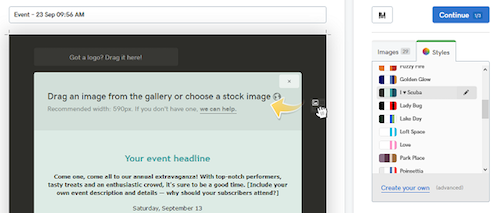 I'm titling it, "Join us for our prix fixe event!" Along with that, I'm going to upload some unique images that I can use to help make this newsletter pop and let customers know what they can expect.
It takes only minutes to drag and drop the images that I need from my desktop to the Images tab.
Since I'm advertising my restaurant's prix fixe menu, I'm going to add a banner image of one of the dishes we'll have available to really grab my readers' attention.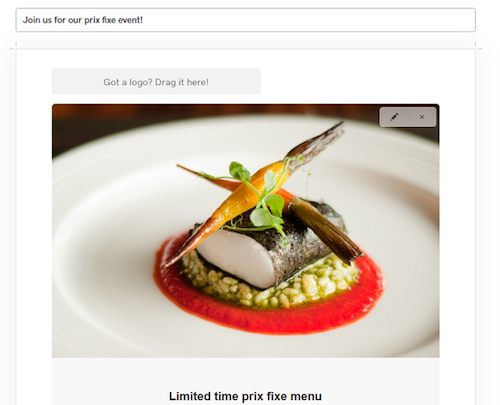 Now that I've got images added, I'm going to add content.
My customers will want to know when the event is running, what they can expect, and the price for the special menu. A few simple lines of information to spell it all out, and some pics to help tell the story, and we're good to go.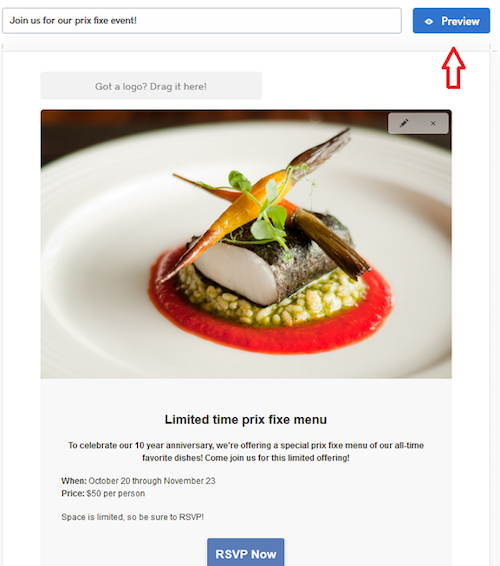 Finally, a quick preview of our newsletter to make sure everything looks like it should.

If everything looks good, you can click Continue on your campaign editor to schedule when you'd like the email to be sent and to which subscribers.
And voila! We have a stunning event newsletter and it took less than 30 minutes from start to send. So simple.
Versatile marketing at its best
Our newsletter creation process showed an event invite as an example, but you can use email marketing to send traditional newsletters, coupons, updates for your customers, offer holiday greetings, give birthday salutations, share important information and even keep your family reunion plans updated.
Using GoDaddy Email Marketing, you can begin creating meaningful relationships with your customers in no time at all.
What are you waiting for? Get GoDaddy Email Marketing and get going!
This article includes content originally published on the GoDaddy blog by Nancy King.