Mahatma Gandhi once said, "A customer is the most important visitor on our premises. He is not dependent on us. We are dependent on him. We are not doing him a favor by serving him. He is doing us a favor by giving us an opportunity to do so." Customer relationships are the most important thing to manage in a business: when you know how to serve your customers well, they will bring you more business — which is certainly a better investment in effort than constantly trying to find new customers. Because the secret to keeping customers is knowing them, using a customer relationship management system — and, if you have a WordPress website, understanding how to connect WordPress to a CRM — is a must for just about every business.
What is a CRM system?
A CRM system is a tool used to manage all the data regarding your company's relationships and interactions with customers and potential customers. It is designed to help improve customer relationships and customer lifetime value.
Before CRMs, companies stored information in written files—making them easy to misplace and difficult to access quickly. Nowadays, CRMs store everything a company knows about a customer in one centralized location.
Having this information — phone calls, emails, meeting notes, and general inquiries — in one place makes it easy for anyone on your team to pick up where another person may have left off with a customer.
Before initiating any new points of contact, members of your team can consult your CRM to look at past interactions and determine the appropriate next step.
The alternative is manually copying/pasting contact form information sent from your WordPress website to your CRM. This manual process can be fraught with errors and inefficiencies! As a busy business owner, there are certainly better uses of your time.
When looking for a CRM, consider the inclusion or absence of popular features that include: scheduling follow-ups, sharing files, analytics, and sales forecasting.
Popular CRMs to consider
If you aren't yet using a WordPress CRM, consider the following popular options used by many modern businesses:
Salesforce
Salesforce introduced the first Software as a Service (SaaS) cloud CRM system. Prior to that, CRMs were on-premise systems, meaning companies had to spend a lot on hardware and in-house IT personnel to actually make use of them. There are still some on-premise CRMs, but because of the ease of use and improved security in cloud-based CRMs, a majority of businesses use cloud-based solutions. Salesforce, which was introduced in 1999, is used by a majority of Fortune 100 companies, with a 22 percent market share among CRM providers.
Oracle
When Marc Benioff left Oracle to create Salesforce, there was an existing CRM division in Oracle that created the Oracle Sales Cloud. However, it wasn't until Oracle acquired Siebel Systems and Upshot CRM that they were really put on the map as a top CRM provider. Oracle has ~10 percent CRM market share.
Microsoft
Microsoft has a CRM offering in the form of Microsoft Dynamics, which was initially rolled out in 2015. Unlike other CRMs, which are focused on sales, Microsoft Dynamics focuses more on customer engagement and interaction. It works well with Outlook.
Editor's note: For a simpler way to manage customer contacts in your Outlook account, check out Outlook Customer Manager. This feature is available at no additional cost to users of Microsoft Office 365 Business Premium or Premium Security from GoDaddy.
Pipedrive
Pipedrive is a customer relationship and sales management tool designed especially for small teams to manage lengthy sales processes. It is used by 70,000 customers all over the world. Users love that it:
Focuses on activity-based selling.
Has a simple, easy-to-understand interface.
You can create more than one [sales] pipeline.
However, it is missing some enterprise-oriented features, making it limited to just small businesses.
Insightly
With more than 1.5 million users in over 25,000 companies, Insightly is another popular CRM for small businesses. Popular features include:
Contact management and relationship linking (it also tracks milestones).
Project management.
Workflow automation.
Email tracking.
Lead management.
Insightly has a very user-friendly interface and offers a mobile app so you can access your CRM on the go.
Highrise
Developed by the people behind Basecamp and Ruby on Rails, Highrise is a contacts-centered CRM which focuses on emails and tasks to further relationships with customers. When you look up a contact, you will be able to see all prior activities and notes. Additionally, you can easily send out mass emails to your contacts with the Broadcast tool.
HubSpot
HubSpot is best known for their marketing solutions but they also have a CRM solution, which they developed when they found out that most of their customers do not have a CRM service. If you're an independent contractor or solopreneur, this might be your perfect CRM solution.
A few more options: SAP has both on-premise and cloud-based CRMs. Other popular CRMs include Zoho and NetSuite.
The good news?
You don't have to have a big budget to make use of a CRM.
There are plenty of options to consider, from free to enterprise. Before comparing options, make a list of the non-negotiable features your business requires.
How to connect your CRM to WordPress
Written files or on-premise (non-cloud) CRMs are fraught with inefficiencies in today's modern world. The biggest inefficiency? Duplicating efforts when it comes to manual data entry.
Connect your CRM to WordPress and you'll capture leads as they interact with your website so you can focus on reaching out, not scrambling to record contact information.
By connecting your CRM to WordPress, you can capture leads as they interact with your website, empowering you to focus on establishing contact — not scrambling to record prospect information before you forget.
The following represent the best options to connect your CRM to WordPress:
WordPress CRM plugins
These plugins are designed (at least in part) to connect WordPress to a CRM: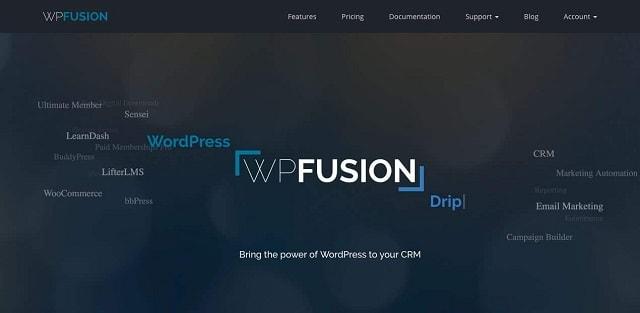 WP Fusion is a plugin that connects what happens on your WordPress site to your CRM. It can help you build a membership site, capture new leads, synchronize customer information and record eCommerce transactions.
WP Fusion offers WooCommerce and Easy Digital Downloads integrations and can trigger certain actions in your CRM when customers make a purchase on your website. It also offers a learning management system that integrates with Sensei, LearnDash, and LifterLMS, which is a great way to deliver online courses to your audience.
It also offers 24/7 support and dozens of integrations for lead generation, eCommerce, membership, and learning management.
CRMs/marketing automation platforms supported include: Infusionsoft, Salesforce, AWeber, Ontraport, Drip, ActiveCampaign, ConvertKit, Agile CRM, Interport and Mautic.

If you're already using Salesforce as a CRM and want to reduce the effort of bridging the gap between data from your WordPress website to your CRM, this plugin is one of the easiest ways to create that connection.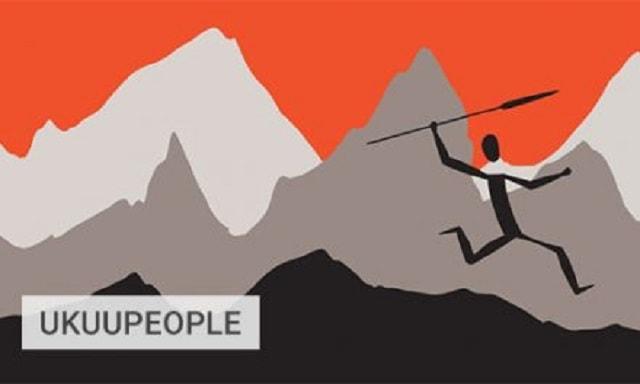 While most CRMs can get bulky and confusing, Ukuupeople is different because it focuses on simplicity. It only has 900+ installs so far, but its five-star rating points to high quality. The plugin is free, but you can purchase paid add-ons to integrate with Gravity Forms and more.

One of the most popular WordPress CRM plugins, WP-CRM has more than 5,000 installs. It is easy to use, offering forms that can be added directly to pages. One of the best things about WP-CRM is its extensive documentation, which tackles everything from setting up to using the plugin. The plugin is free to download and use, but integrations are paid.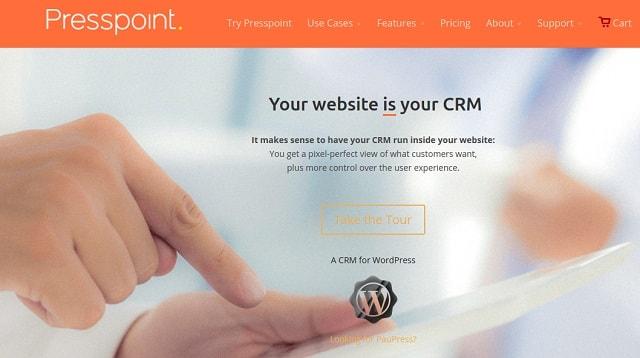 Presspoint is a powerful solution that can be likened to Salesforce and Zoho, sans the expensive price tag. It was designed especially for WordPress and allows you to create a single integrated profile for all customers, from eCommerce to memberships, email marketing, and more.
Connect WordPress to a CRM using WPForms and Zapier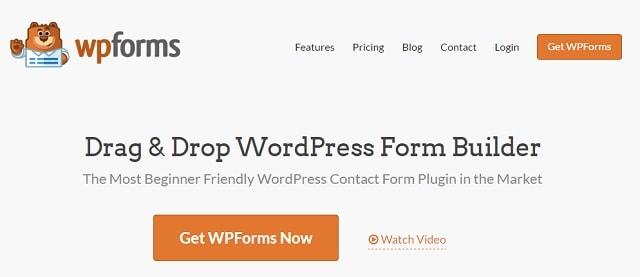 Besides using one of the above CRM plugins, you can also add your WordPress contact form submissions to the Salesforce CRM (or Hubspot) using WPForms — without having to export these entries.
In order to do this, you'll want to make use of the WPForms plugin. Once you install the plugin, create a contact form where you will capture information from your leads.
To import the leads from your contact form to the Salesforce CRM, you will need to install and activate the WPForms Zapier add-on. This add-on allows you to connect your WordPress form to over 500 web apps, including Salesforce and Hubspot.
Note that if you take this route for connecting your CRM to WordPress, you'll have to shell out some cash for WPForms' Pro plan or above, which will allow you to use Zapier.
Making a New Zap
Log in to your Zapier account and click Make a Zap in the top navigation. Since this Zap doesn't require more than three steps, making it doesn't require paying for a premium account.
Next, set a trigger for your Zap: this can be the Salesforce form or the Hubspot Connect form you created. You need to have at least one test entry on your form to proceed.
After completing the trigger setup, Zapier will complete a test run. Look for a confirmation message to determine that it worked!
Connecting your CRM to WPForms
After connecting Zapier to WPForms, you can now connect your CRM to WPForms.
First, choose your CRM (Salesforce/Hubspot). After choosing your CRM, you will next be asked to choose an action.
For Salesforce, you can:
Create leads
Create a contact
Create a custom new object
For Hubspot, you can:
Add a contact to workflow
Create a Calendar Task
Create a Social Media Message
Create or Update a contact
You will next be asked to connect and authorize the usage of your account. After giving permission to do so, connect each contact form field to the appropriate Salesforce/Hubspot field and click Continue.
After connecting, you can test out the fields you just updated by clicking Test. Then, check your Salesforce/Hubspot account to see if the data you entered synced properly. That's all there is to it!
Important note: Ensure that your Zap is on so that your contact form data syncs with your CRM automatically.
Using Ninja and Gravity Forms to connect to a CRM
If you don't want the hassle of setting up two accounts (such as Zapier and an online form tool), you have options!
Ninja Forms offers extensions for Zoho, Insightly, Salesforce, Batchbook, and Capsule CRM. These extensions enable you to directly send form submissions to your CRM.
Gravity Forms also offers add-ons for Agile CRM, Capsule CRM, Batchbook, Highrise, and Zoho. You gain access to these add-ons with a Gravity Forms Pro license, as well as the additional fee for the add-ons.
Final thoughts: How to connect your CRM to WordPress
Having a CRM helps your business keep track of all customer data and interactions that happen on the company website. Connecting your CRM to WordPress saves time and effort by syncing prospect and customer data.